Chiara Bullen tests the surprisingly sturdy Jack Wolfskin Force Striker Low walking shoe.
When these shoes from Jack Wolfskin arrived at my door, the full force of the U.K.'s lockdown followed shortly behind them. With the anxieties and stress associated with the small matter of a global pandemic came, naturally, the desire to escape it all. Nothing a quick Munro-bag couldn't temporarily fix, right? These news shoes, sitting neatly alongside my old, trusted pairs were a tantalising reminder of what many of us were missing.
With Jack Wolfskin claiming these shoes are perfect for 'high-intensity' day hikes, I wasn't willing to test them out solely on my lockdown approved daily walks; the river-side and woodland trails not exactly a challenge. But, from the 28th of May, the Kilpatrick Hills were within my sights – specifically, within the suggested distance we could travel for walks – and my Striker Low pair were able to make their debut. 
I was immediately struck by how solid these shoes felt. I usually prefer boots with heightened ankle support, but I felt secure enough in these to wander off-trail where appropriate. Although I was surprised by the blisters I felt forming by the end of the day – these shoes need a little breaking in, something I usually only feel the need to do with boots. The stiflingly hot heatwave had nothing on the breathable membrane – my feet stayed cool throughout the day's walk. The Vibram Megagrip outsole also remained true to its name, offering a decent grip for rocky paths and miniature scrambles at the Whangie. The terrain was mostly dry, with a brief stomp through some boggy marshland. The waterproof capabilities of the Texapore membrane held true, although I'd be wary of taking these out during a downpour.
Jack Wolfskin claims these shoes support 'dynamic and powerful' steps. I pondered what that meant as I marched on – would my usual walking style be transformed into one of elegance and efficiently? Unfortunately not. But, my usual lack of grace proved useful as the thick toe and heel caps demonstrated their use through a few clumsy stumbles of mine (it had been a while, after all) and mercifully my toes remained very much un-stubbed and intact. 
Overall, I'm always impressed by shoes that are both lightweight and substantial, and although it doesn't look like I'll be able to venture further afield for a while yet, it's nice to know these shoes are flexible and adaptable enough to accompany me on most summer walks.
The Great Outdoors Transparency disclaimer
The products mentioned in this review were provided free of charge by the brands. However, this does not affect our impartiality in any way. Unlike some of our competitors, who only review items from brands that advertise with them, advertising relationships aren't a factor in our gear reviews here at The Great Outdoors.
We have a long and proud history of robust, authoritative and trustworthy testing. Our highly experienced testers know what works and what doesn't, and we aren't afraid to tell our readers the truth about a product. If an item has flaws, we'll tell you. Equally, if it's outstanding, we'll do our best to highlight its good qualities. Honest reviews are very important to us at TGO, and we take this responsibility seriously.
Stay inspired: subscribe to The Great Outdoors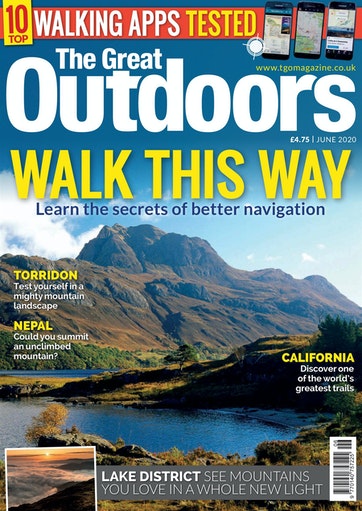 The lockdown is beginning to lift, but a 'full' outdoor life is still some way off. Even so, we're working keep your outdoor spirit alive, take you to places you can't go, and conjure the feelings that walking, wild camping and backpacking in the hills and mountains inspire. 
To show our readers our gratitude for their support, current subscribers have had their subscriptions upgraded to include free access to the digital edition of the magazine. We're also continuing to offer new readers: