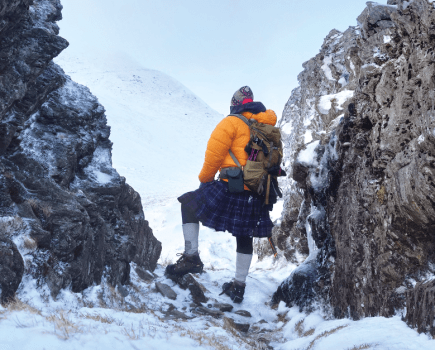 Tested by Peter McFarlane
Woodland Trust ranger Peter is a UK9, with a narrow heel, wide forefoot and average volume. He wore these boots regularly through 2022 and into 2023 on big hill days and backpacks, and in nature reserves and forests. Useful for gauging like-for-like performance were his deer fence inspection treks across open terrain in the Kilpatrick Hills. He weighed the boots on his own digital scales. 
Here's what Peter McFarlane thought of the Hanwag Banks II GTX.
With the Hanwag Banks II GTX, Hanwag have aimed for a hiking boot that gives the wearer durability, protection and comfort. The upper is leather and suede with all the seams positioned to minimise wear from walking in rough terrain. The ankle cuff is very high, which offers extra protection and from rocks and allows excellent weather sealing with gaiters or lace-hooked trousers.
The cuff is very flexible, however, the outer layer changing from leather to fabric around the level of the ankle bone. The ankle cuff and tongue are well padded. This padding extends in different thicknesses around the inside of the boots to help tune the fit and protect the foot. This does give the Banks a somewhat beefy feel, which is added to by the higher weight; but once broken in, they've never felt 'clumpy'. In fact the fit is excellent, and the dexterity and feeling of security of the construction adds a feeling of confidence on rough terrain.
These factors combine to make the Banks a 'hill only' boot for me, where some others in the review also feel at home on low-level paths. The lacing system is excellent with the laces running very smoothly through metal eyes and hooks. The Vibram outsole is aggressively lugged and grips across a wide range of terrain, the Gore Tex lining is still waterproof, and the leather upper should be proofable in the future. The lightly padded insole has performed well. The Banks is heavy, but the excellent features offset that in use; and the high price comes partly from European manufacture.
---