Here's our review of the Garmin Instinct 2 Solar…
In many respects, the Garmin Instinct 2 Solar is a big improvement on its predecessor, with a phenomenal leap in battery life, a new optional smaller size available (the 2S, not tested here), improved altimeter accuracy and extra software features. However, the watch has become far more complicated to set up, thanks to many new features aimed at multi-sport athletes.
See the best price on the Garmin Instinct 2 Solar
The original Instinct Solar felt like a more focused navigation tool; the Garmin Instinct 2 Solar requires sitting down with the manual for a couple of hours and switching off features you don't want before you can take it out on the hill. The price has also gone up.
The Garmin Instinct 2 Solar is a rugged-looking watch with a silicone strap, a clear monochrome display that's highly readable in all conditions, and solar charging. The interface is similar to other Garmins'. The circular cutout can show useful info such as elevation. Screens can be customised in-watch; this can take a while to set up, and can feel intimidating, but once configured is very powerful. Navigation features are comprehensive. It does all the basics well, including offline sync with your phone and OS grid reference at the push of a button.

Battery life on the Garmin Instinct 2 Solar is substantially better than its predecessor's, which was already excellent. The more efficient solar panel can now extend usable tracking time dramatically. Switch off the heart-rate sensor and you can easily get 100 hours of GPS-on time even with only a little sunlight every day.
The  Instinct 2 Solar is a great GPS watch for hill use, and the price is still attractive despite an increase; but you are paying for extra features that most walkers will never want. However if you're also a mountain athlete then this watch will give you a lot more data to play with. The non-solar model is worth a look for a £100 price saving.
See more from Garmin and other brands in our guide to the best GPS watches
---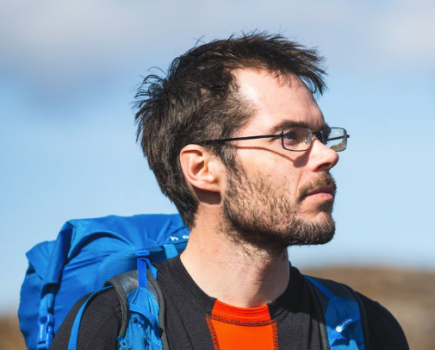 Written and tested by Alex Roddie
Alex tested these watches on a variety of day hikes and short backpacking trips in the Lincolnshire Wolds, Lake District, Scottish Highlands and Suffolk Sandlings. Weights stated include the standard strap, weighed on Alex's digital scale.