Chris Townsend likes the generous caffeine kick offered by these big coffee bags for big mugs.
If you like good coffee and want to enjoy it when out in the hills the simplest way is to use coffee bags. However, most bags are quite small – I like a big mug of coffee in the morning – and a few I've tried don't actually taste that good. This year new, bigger coffee bags have been launched by a new company called Faff. I've tried them on a few trips now and they're rather good.
Each bag contains 15 grams of speciality coffee from Guatemala. This is twice as much as most coffee bags. The coffee is Rainforest Alliance Certified, and the bags are compostable. Faff also says "we off-set the carbon of every purchase by planting trees and funding carbon reduction projects with Ecologi."
Making the coffee is easy. Dunk a bag in water just off the boil, squish it about a bit, leave it a few minutes (or longer for stronger coffee), squish it about a bit more, remove, and drink. Faff don't say how much water to use but they sell 325ml capacity mugs, so I guess that's around the maximum amount. My backpacking mugs are 300 and 400 ml respectively (insulated for winter trips, uninsulated for summer) so this is just right for me. The used coffee bags should be carried out of course.
The taste is what really matters of course. Faff says the coffee is 'roasted not too light, not too dark' and to 'expect notes of dark chocolate and sweet caramel and a smooth buttery body.' Hm. My palate isn't that sophisticated. The coffee is tasty, quite smooth, and not bitter. I find it a good hill replacement for the cafetiere coffee I drink at home.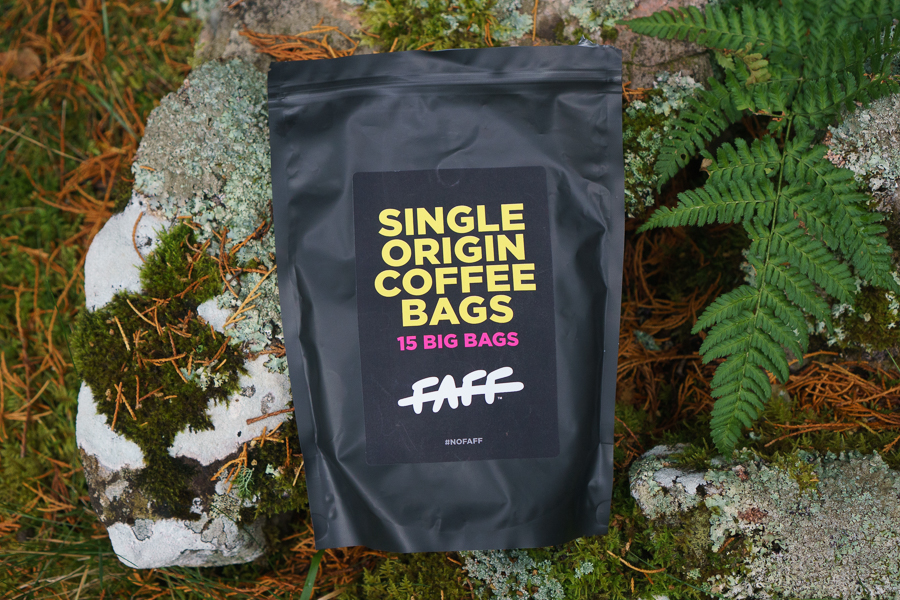 Faff coffee bags come in a resealable pouch with 15 bags for £11 or in packs of 30 individually wrapped sachets for £24. The latter are the most convenient for short trips as the ones in the pouch must be repacked into an airtight container if you don't want to carry them all. The cost is more than many other coffee bags but then there is around twice as much coffee per bag.
RECOMMENDED: This product has been awarded our 'Recommended' endorsement, meaning our reviewer believes it is a strong product which works well for its intended purpose.