There's plenty to like about the CAT S75 but this big and heavy device is let down by its camera, says Alex Roddie.
The CAT S75 is a chunky device: bigger and heavier than the others tested, making it difficult to use with one hand (a problem made worse by the inconvenient location of the power button). However, some of the thickness can be explained by the satellite communication hardware. Construction is solid but doesn't feel as premium as the Nokia or iPhone. The plastic outer shell is also smooth in the hand.
Stars: 3.5
Price: £549
Weight: 268g
Pros: Highly durable; affordable satellite texting; expandable storage
Cons: Big and heavy; poor cameras; power button placement; no Android 13
Size: 171 x 80 x 11.9mm | Screen: 6.6" IPS LCD, 400ppi pixel density, 120Hz refresh rate | Materials: Gorrilla Glass Victus screen, polycarbonate and TPU frame | Operating system: Android 12 | Storage: 128GB storage, Micro SD card slot, 6GB RAM | Battery: 5,000mAh | Cameras: 50MP f/1.8 (wide), 8MP f/2.2 (ultrawide), 2MP f/2.4 (macro), 8MP f/2 (selfie) | Features: USB-C port, face/fingerprint unlock, satellite comms (SOS & texting), 2x customisable buttons, IP68/IP69 dust/water resistant, 1.8m drop resistant, MIL-STD-810H compliant, 15W fast charging, wireless charging
SQUIRREL_BUTTON_12942756
There are two programmable buttons and the choice between a second SIM and Micro SD storage expansion. However, if you want to use the satellite features then this requires a separate SIM card, blocking the Micro SD slot. There's also a rear-mounted fingerprint sensor that I found reliable.
Like the Nokia, only 128GB storage is offered with the CAT S75, and the processor is a low-end MediaTek chip. I found performance to be adequate in real-world use although it felt slower than the Nokia, with frequent moments of minor lag.
The CAT S75 screen is large and crisp, although colour accuracy and brightness are the poorest of the devices tested. It's still ok to use in direct sunlight but I often found myself squinting to make out text. I also found the screen less sensitive and more susceptible to picking up dirt, dust and grime.
Three main cameras are included: wide, ultrawide, and a macro lens for close-ups. I found camera quality to be disappointing. While colour is fairly realistic, detail is smudgy and oversharpened, especially the ultrawide lens. A lot of noise can be seen in anything less than bright light. The selfie camera produces poor results with highlights that easily blow out. These cameras are all usable, but a long way short of the other devices tested.
Battery life is good but not excellent. Although the 5,000mAh battery is bigger than the Nokia, I found the Cat's battery life to be less consistent overall, especially with the screen at maximum brightness. It's still possible to eke it out for a couple of days with careful use, though, and 15W charging is reasonably fast. Wireless charging is available if needed.
Satellite comms are handled by the Bullitt Satellite Messenger app. Although the interface isn't very intuitive, and it can take a while to pick up reception, this does work – and supports SOS, check-in, tracking, and two-way texting. This is closer to the feature set of a dedicated satellite device. However, check-in only includes latitude and longitude coordinates, not a clickable link to a map showing your location. Plans are affordable, starting at €4.99/month (30 messages per months plus 12 months of SOS Assist included). This is still not a 1:1 replacement for inReach or SPOT, though, both of which offer more comprehensive features.
Built-in satellite messaging is the main standout feature of the Cat S75, which is otherwise a bulkier and less capable device than the others tested. The CAT S75 is a competent outdoor smartphone, though, and if planning an expedition to somewhere remote then this could be a useful one-device solution.
Compare more devices in our Buyer's Guide to smartphones for the outdoors.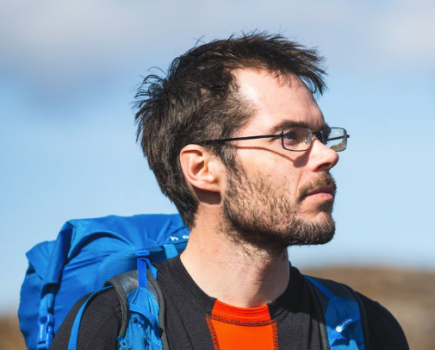 Testing conditions
Our tech expert, Alex Roddie tested these phones on a variety of day hikes and short backpacking routes in the Scottish Highlands throughout spring and summer 2023. Weights stated are as measured on Alex's digital scale. He is an iPhone user but has extensive experience with Android devices over more than a decade.
These reviews first featured in the September 2023 issue of The Great Outdoors.