Alpkit's Qark has been on the scene for a while. I've had one on extended test and am pleased with how it has performed which is why the Alpkit Qark features in our guide to the best head torches for hiking . I found the main beam hac three settings, operated by a handy and easy to find single button, The beam can be focused to send out 580 lumens on a shaft of light that reaches 150m.
---
Price: £40 | Weight: 111g | Output: up to 580 lumens | Power source: rechargeable 3.7V 800 mAh proprietary Li-polymer battery included (3 x AAA-compatible) | Features: focus control, three power settings and red, adjustable elastic cradle, IPX6 water-resistant
---
On full power, the battery lasts over two hours (Alpkit quotes 2.5) but most of the time low or medium power is sufficient. Medium is 270 lumens and over 5 hours of burn time; low is pretty dim at 30 lumens but it will last for 18 hours. There's also a red light, which has a continuous as well as a flashing setting for attracting attention. Like other hybrid models, the rechargeable battery can be removed and replaced with AAAs, which adds resilience and flexibility.

The battery charges with a micro-USB cable that is included. It's user-friendly, easy to handle in gloves or mitts, lightweight and powerful, so hits all the major points at an affordable price. 
I have a few minor gripes. I don't get on with the top strap on the cradle (it slips sideways, especially with a helmet), and in heavy rain the Cree XP-C LED creates a strobe effect, which could be an issue for some. A lock function is also lacking. 
With a rating of IPX6, it's very water-resistant, and has proven to be tough and reliable on test, ideal for the kind of conditions encountered in the mountains in winter. I like the simplicity, functionality and durability, which come at a really good price.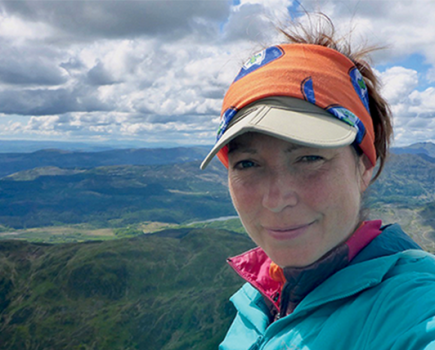 Tested by Lucy Wallace
As part of her day job, Lucy trains and assesses future Mountain Leaders, which involves a lot of night navigation exercises! All torches were weighed on her own digital scales and include batteries.