Step up for charity in 2018 by 'highpointeering' with High Point Ireland

For the incoming 2018 season, High Point Ireland will be running its second year-long 10,000m Challenge as an all-Ireland multi-charity fundraiser. During 2017 – its inaugural year – this unique challenge has been gaining recognition for its fundraising potential. Now charities are choosing to get involved in 2018. We spoke to Kieron Gribbon to find out more.
Please introduce yourself. Who are you and what do you do?
My name is Kieron Gribbon. I am the author of Ireland's County High Points: A Walking Guide, founder of High Point Ireland, and a member of the Outdoor Writers & Photographers Guild.
Tell us about High Point Ireland.
After the publication of Ireland's County High Points: A Walking Guide in 2012, I set out to compile a more comprehensive list of Irish high point locations. This developed to become the Gribbon list of Ireland's major geographical high points (or the 'Gribbon list' for short). The list was officially published as a book and on the High Point Ireland website on 5 December 2015. When a number of key initiatives were announced on 18 May 2017, High Point Ireland became the all-Ireland governing body for Highpointeering.
I've never heard of Highpointeering before. What is it?
Highpointeering is the new sports discipline which evolved from the informal pastime of high point 'bagging'. We have assigned a points-score value to each high point location in Ireland based on how it qualified for inclusion on the Gribbon list. Highpointeers can earn points each time they visit a Gribbon location, and we currently run a number of year-long all-Ireland Highpointeering competitions based on point-scores. These competitions are Highpointeer of the Year, Highpointeering Club of the Year, the Counties League, and the Provinces League. We also run the 10,000m Challenge as a unique charity fundraising initiative.

Tell us about the 10,000m Challenge. Why did you create it, and how is it different to other fundraising walking challenges?
The 10,000m Challenge was always intended as a charity fundraiser. The goal is for each registered challenger to visit at least 10,000 vertical metres' worth of Gribbon locations during the year, and to raise as much money as possible for their chosen charity. The challenge is self-guided, so it is entirely up to each individual participant to choose which locations to visit and when to visit them. It is as much a travel challenge as it is a walking challenge and encourages participants to experience parts of Ireland they might otherwise miss. The 10,000m Challenge also allows participants to collect metres from other events like local challenge walks and walking festivals.
How experienced do you need to be, and how tough is it?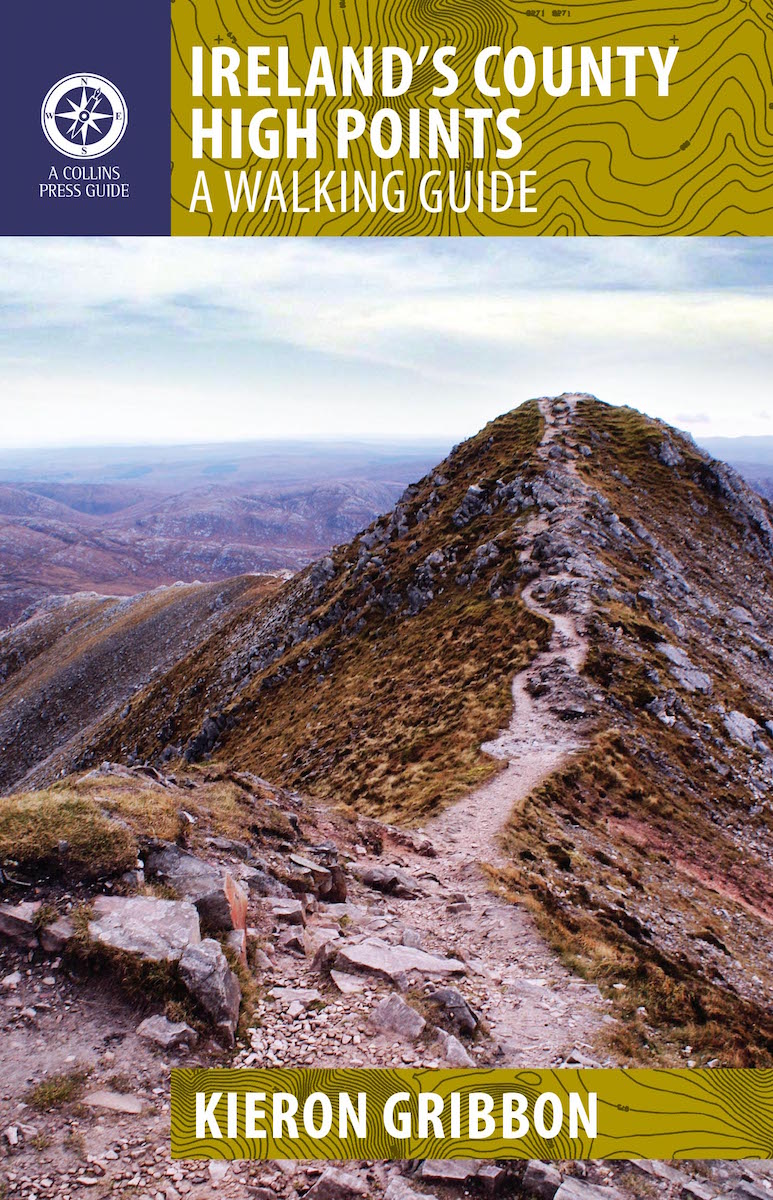 10,000 vertical metres' worth of Gribbon locations in one year may sound like a lot, but it is well within the reach of most hillwalkers. The majority of challengers are expected to be experienced hillwalkers already. We do expect some newcomers to register, although we encourage them to walk with hillwalking friends, walking clubs or professional guides. We recommend that participants gain a reasonable level of fitness and hillwalking skills before embarking on the challenge. The Gribbon locations range from just 50m above sea level to 1,039m, and almost half of them are below 400m. This allows less experienced hillwalkers to start off by collecting metres from easier locations before working their way up to the more difficult ones as their skills and confidence grows. A number of the locations can even be approached using hard-surfaced access roads. Some of these feature on the Junior Gribbons sub-list.
In your opinion, which are the top five in the Gribbon list of major geographical high points – and why?
Errigal Mountain, for its iconic shape and sea views;
Benbaun, for its 360° mountain views;
Carrauntoohil, for being the highest in Ireland;
Slieve na Calliagh, for its ancient cairns.
Slieve Donard, for being the one I've visited most (at least 20 times).
How do you hope the 10,000m Challenge will grow in the coming years?
In any one year, up to 30 charities can get involved in the 10,000m Challenge. Each participating charity is allocated 20 challenger places by High Point Ireland at the start of the year. Based on these limits, the challenge could potentially attract up to 600 challengers in a year. If the challenge fills up… great… but we don't want it to grow any bigger than that. Hopefully the challenge will grow each year in terms of the amount of money it raises for the participating charities. We are looking at ways to streamline the logging, entry submission, and verification processes. It would be great to see the 10,000m Challenge being replicated outside Ireland. For example, similar challenges in England, Scotland and Wales could easily be based on the Hardy list of the UK's high points.
highpointireland.com
Header image: Carrauntoohil by Kieron Gribbon