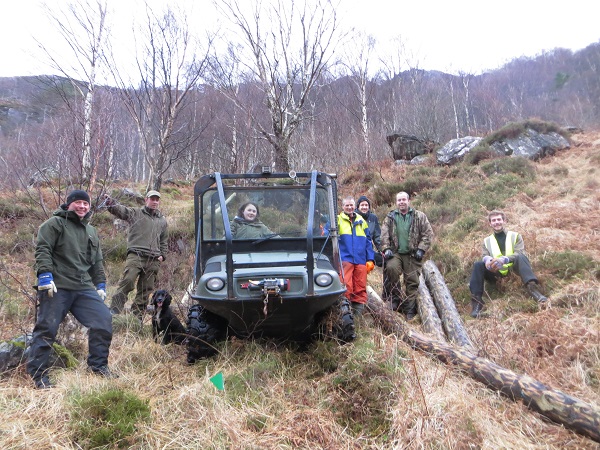 A collaboration between the Nevis Landscape Partnership (NLP), Rio Tinto and Bidwells is helping to expand woodland cover in upper Glen Nevis as part of the 'Future Forests' conservation project, supported by the Heritage Lottery Fund.
---
Scots pine once formed 1.5m hectares of diverse, species-rich habitat in Scotland. However the habitat started to decline approximately 4,000 years ago and recent surveys show the species covering less than 1% of the original area and are predominantly confined to Highland Scotland.
It is thought climate change, agriculture, grazing pressure and timber requirements for building and wood-fuel have all had a marked effect on this coverage.
Condition and work has been ongoing to collect local seed and root stock from Scots pine and aspen to provide seedlings for habitat regeneration. The 'Future Forests' conservation project is a small step towards creating a seed source and it is hoped that it may form the basis for larger woodland habitat regeneration over the next three years.
The partnership aims to improve public understanding of the habitat while simultaneously contributing to the improvement of the environment for future generations to enjoy. Public engagement has been a priority and volunteers have been encouraged to get involved in seed collection, site preparation and tree planting in the several small deer-proof enclosures.
Lewis Pate, Nevis Landscape Partnership Conservation Officer, commented: "We have been working hard to establish locally collected seedlings to plant out in the Glen in an attempt to start a natural regeneration process that has been missing for many years. Having the support of the local landowner is crucial to the success of the project and we have had excellent support"
Another NLP project is focussing on improving the main mountain track with further 'regeneration' enclosures planned for some of the path corners. This is to encourage natural habitat regeneration and the fencing will eventually be removed once the trees have grown enough to be safe from browsing deer.