TGO contributor James Roddie wins award for stunning images of the Scottish Highlands at the 2018 British Wildlife Photography Awards.
By Alex Roddie
Every year, the British Wildlife Photography Awards celebrate the very best nature photography, covering everything from animal portraits to landscapes, conservation photo stories to macro shots. The BWPA is widely respected as one of the top nature photography awards in the UK.
This year, TGO contributor James Roddie was named Category Winner in 'Wild Woods' for his image 'Seasonal Overlap', capturing beech trees on the cusp of winter near Aviemore in the Scottish Highlands. He was also Highly Commended for a second image, 'Some Gold Among the Silver' – captured on the same morning as the first, and at a nearby location.
As it happens, James is my brother. He was able to arrange tickets for my wife and I to attend the BWPA awards ceremony and book launch on Tuesday 6 November at the Mall Galleries, London.
I've always believed the best way to appreciate quality photography is to see it on paper, ideally printed as big as possible. We're bombarded by so many images every day on social media that it can sometimes feel that the impact of photography is being diluted, but there's nothing like seeing images in an exhibition for their true meaning to shine through. It was busy in the exhibition – dozens of photographers milling around, along with their family and friends, and an aura of palpable excitement – but as the crowd flowed we found time to appreciate each group of photographs in turn.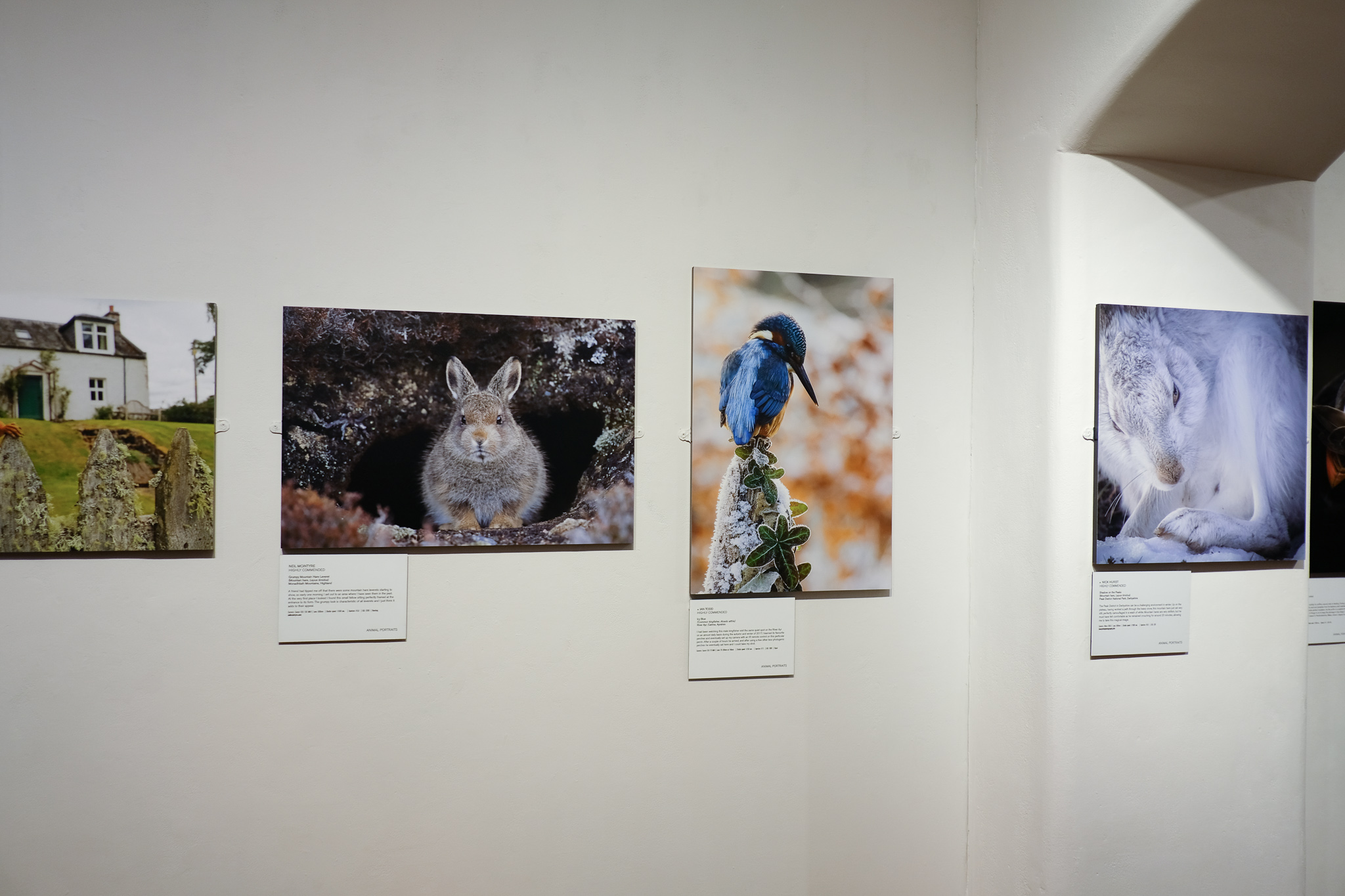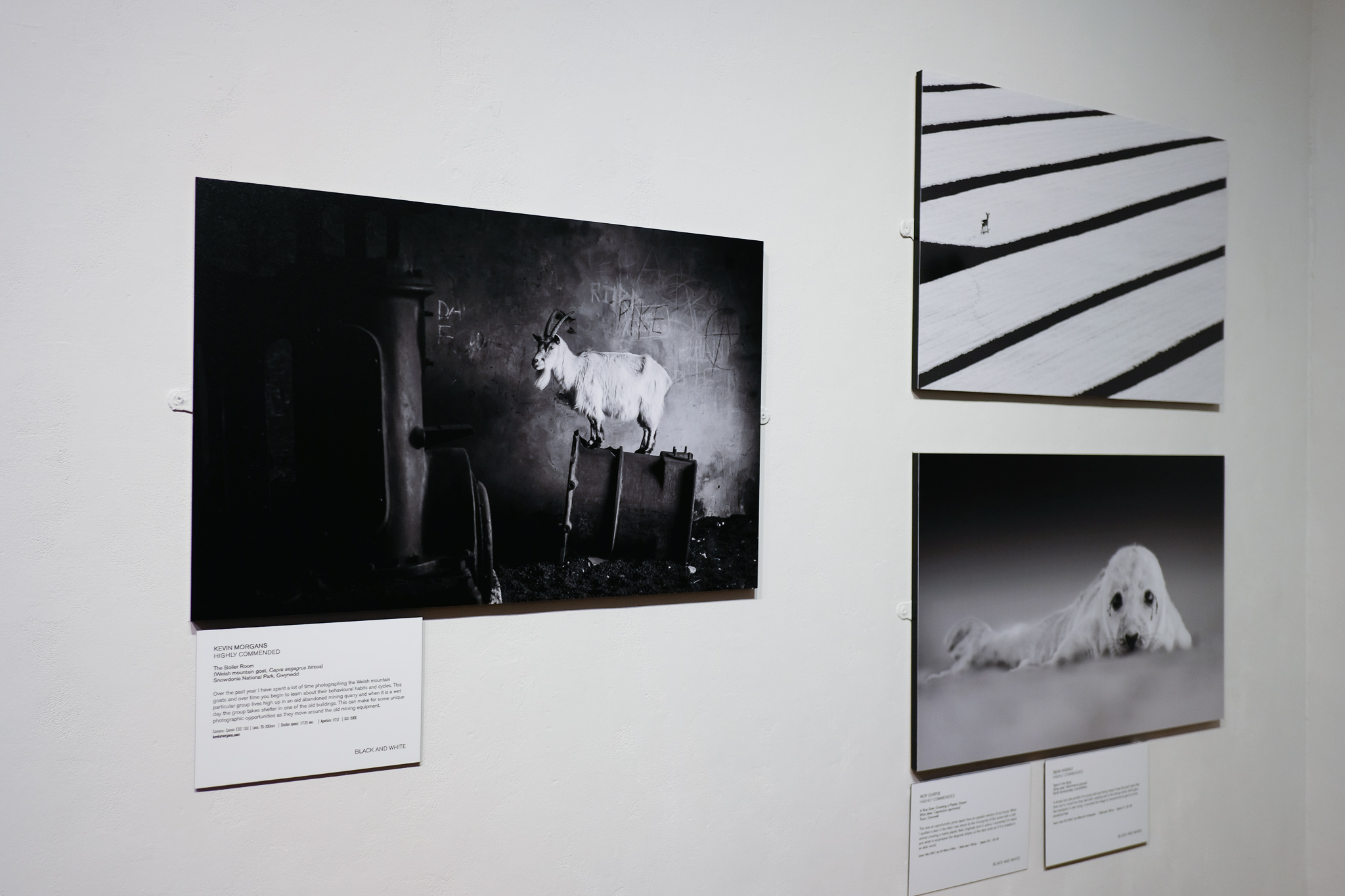 The winner of this year's competition is a spectacular monochrome image called 'Contrails at Dawn', depicting Daunbenton's bats. The photographer, Paul Colley, developed a unique infrared camera and lighting system to tackle this particular subject – a process that took 14 months. "No other image in my portfolio had been so clearly conceived and yet so difficult to achieve," Paul Colley said. "My artistic intent was to capture this extraordinary little bat's speed of movement and hunting flight path, but the journey to success was littered with disappointing failures."
We came to James's images, hung alongside another Highly Commended photograph depicting the phenomenon of crown shyness by Max More. I'd seen James's woodland images before, of course, but in real life they're even more striking. Like all good photography, simplicity is a key factor, in this case combined with the careful use of colour in otherwise monochrome winter compositions.
James Roddie said:
"It is a real thrill to be one of the category winners in the BWPA this year. Every year the standard of images gets higher, and it's always an honour to be included amongst such highly talented and hard-working photographers.
"My awarded images were both taken on the same morning near Aviemore in the Cairngorms. An early snowfall coincided with lingering autumn foliage, creating beautiful 'pools' of colour amongst the snow. I'd driven down to Aviemore from Inverness before dawn in the hope of finding these kinds of conditions, and I spent the morning exploring the woods looking for interesting compositions.
"The BWPA always features a good number of images from the Highlands. I really enjoyed seeing James Shooter's wide-angle image of a crested tit amongst the Caledonian forest, and Mark Hamblin's image of a feeding golden eagle really takes your breath away."
James has been a contributing writer and photographer for The Great Outdoors for several years. You can view his portfolio at jamesroddie.com.
The awards were handed out – the youngest photographer was only nine years old – and Paul Colley spoke about the months of hard work that went into the creation of his winning image. However, as the presenter was eager to point out, all the commended and winning images in this year's award were of a tremendously high standard, and the judges had a hard time selecting the winners. You can view the images online, in the new book, or in person at the exhibition – which is how the images are meant to be viewed.
The BWPA exhibition is open at the Mall Galleries until 1pm Sunday 11 November. A full list of exhibiting galleries in the exhibition tour can be found at bwpawards.org/c/galleries/exhibitions.
The book, British Wildlife Photography Awards 9, showcases the very best entries from the British Wildlife Photography Awards in 2018. This stunning coffee table book is a celebration of British wildlife as captured on camera by today's best amateur and professional photographers. (Ammonite Press, £25)