Plan an annual adventure blow-out, escape for a mid-week wild camping trip, discover the best dawn-to-dusk walks for long mountain days, and dip a toe into the bracing world of wild swimming – all in the July issue of The Great Outdoors.
Summer is the season for big backpacking expeditions; balmy boat rides to hidden lochs; swimming wild in tarns and camping wild under star-scattered skies. In the summer issue of The Great Outdoors, we've rounded up the best warm-weather hikes in Britain. From huge Munro-bagging expeditions that make the most of long daylight hours to cracking coastal walks, waterfall wanders and glorious swim-hiking, it's instant inspiration for your summer mountain adventures.
Also in this splendid summer issue:
Carey Davies backpacks the famous Lochaber Traverse
Iona Andean extolls the joys of being part of a walking group
Norman Hadley enjoys a 'nano-adventure' in the fells of Wasdale
Jenny Tough picks out her top moments from running 4,500km across six mountain ranges around the world
PLUS: meet the family who lived in a tent for a year, hike the Ben Lawers group, read about the rebirth of Britain's access movement, family and group tents reviewed, 5 wild walks and much more…
How to get a copy
Order a single copy of this issue and get it delivered with free postage.
Take out an annual subscription and take advantage of our new subscriber offer (£15 for your first 6 issues).
Download the digital version to your tablet or smartphone and start reading straight away.
Take advantage of our special lockdown offer (3 issues along with the accompanying digital editions for just £9.99 plus free postage, with no ongoing commitment to subscribe.)
Buy it in shops across the UK.
Read more: a look inside the summer issue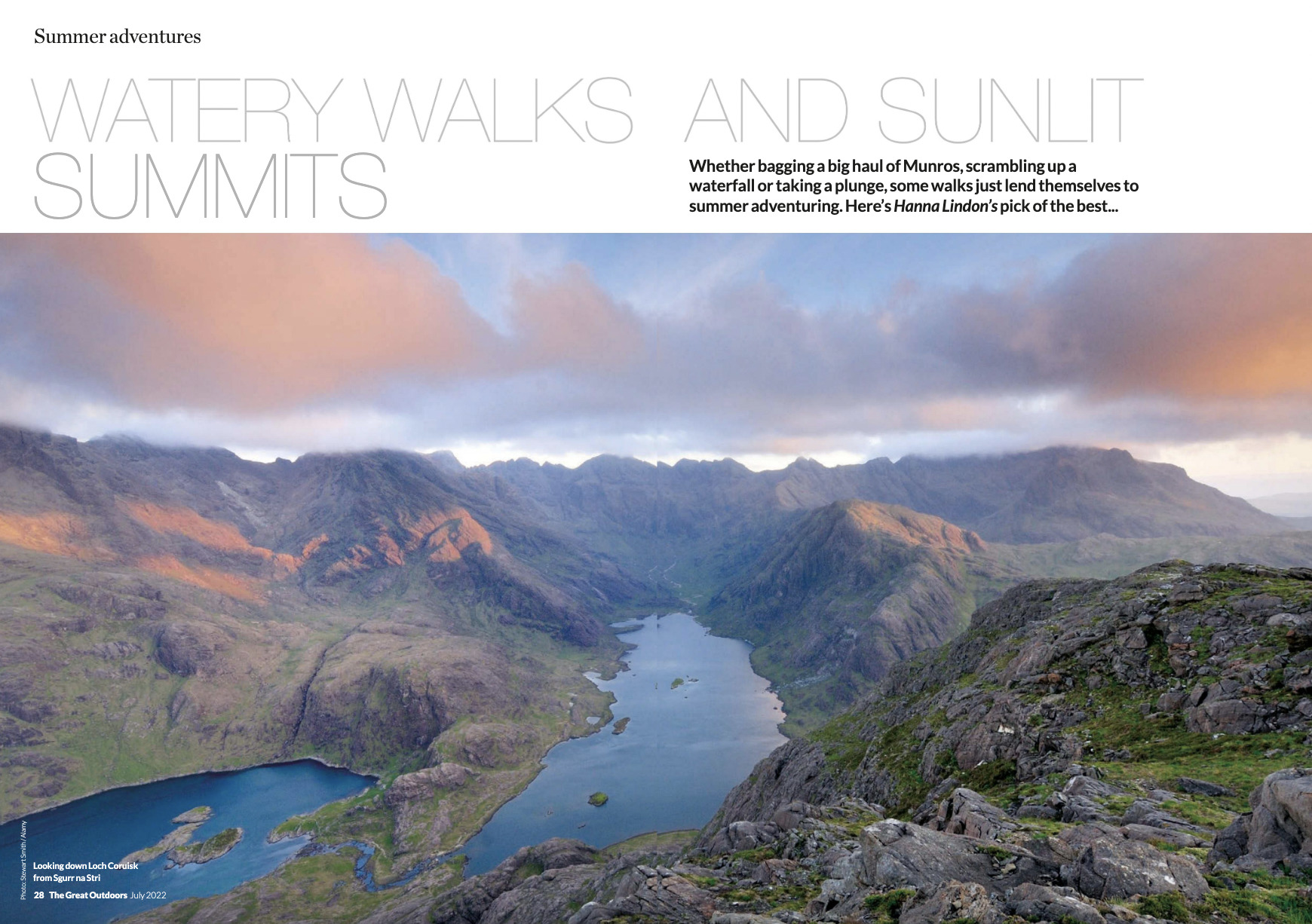 Watery walks and sunlit summits: Whether bagging a big haul of Munros, scrambling up a waterfall or just taking a plunge, some walks just lend themselves to summer adventuring. Here's Hanna Lindon's pick of the best…
Summer is the season of opportunity for hillwalkers.The days are long, the temperatures hover reliably above freezing, and the tarns and lochans that would normally give you an outbreak of goose pimples are suddenly tempting you to roll your trouser legs up and get stuck in. Best of all, there's nothing to stopyou throwing a few bits in a lightweight pack and hiking from dawn to dusk. For days when the sky is blue, the breeze is balmy and the great outdoors is calling, these walks are just the ticket.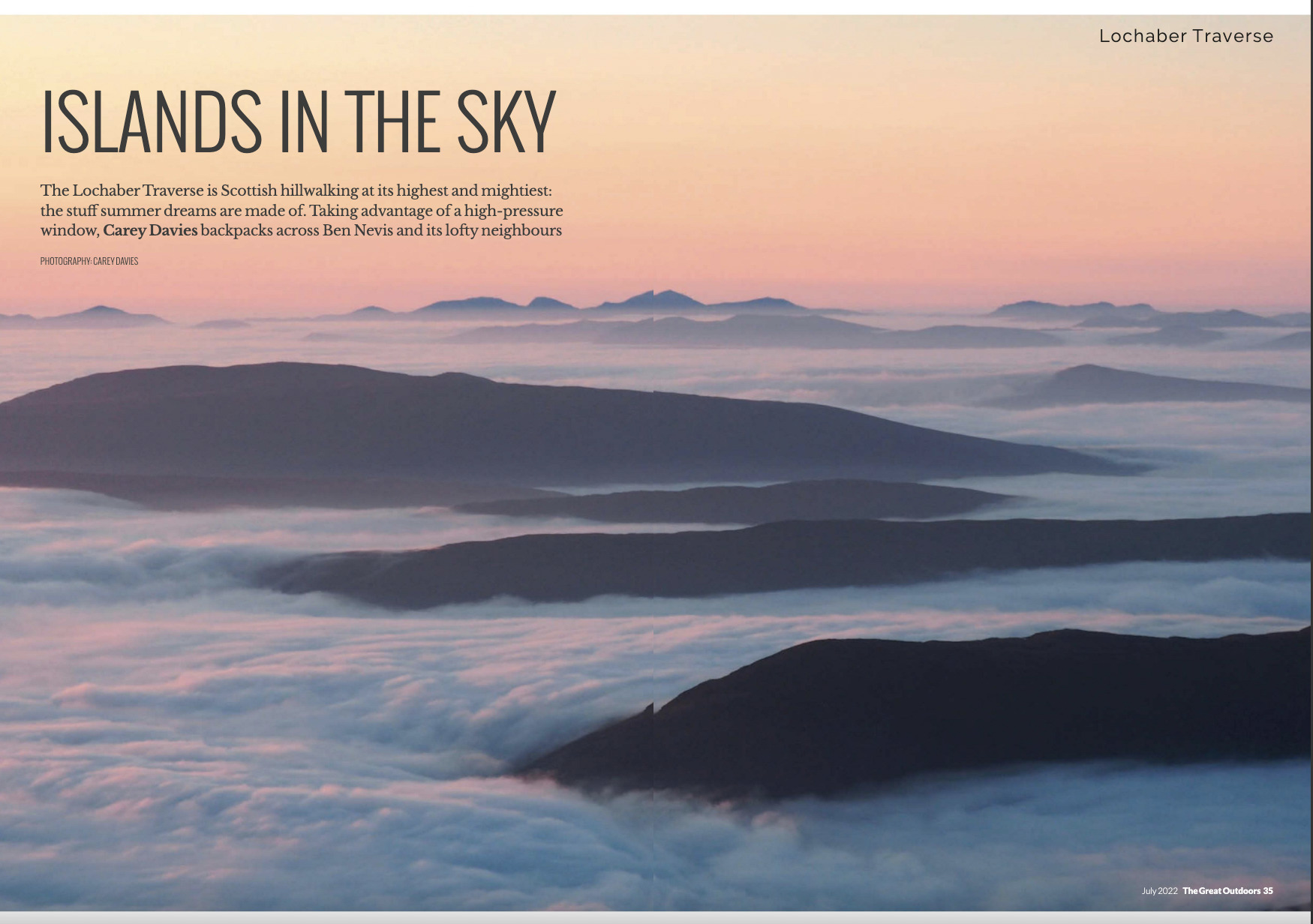 Islands in the sky: The Lochaber Traverse is Scottish hillwalking at its highest and mightiest: the stuff summer dreams are made of. Taking advantage of a high-pressure window, Carey Davies backpacks across Ben Nevis and its lofty neighbours.
"From my 1234-metre-high perch, with virtually still air and flawless visibility, I could see from the Arrochar Alps to Affric, from the Cuillin to the Cairngorms – a huge swathe of the Highlands and the Hebrides. And beneath the summits, a vast and unbroken cloud inversion had formed overnight, extending to every horizon, wrapping around the ridges and peaks so that only their tops poked free. I went to sleep on an 'ordinary' mountaintop, but I had woken upon top of one of the highest summits in an enormous archipelago of sky-mountains, a vast and uncountable array of island-peaks floating on a sea of white cloud."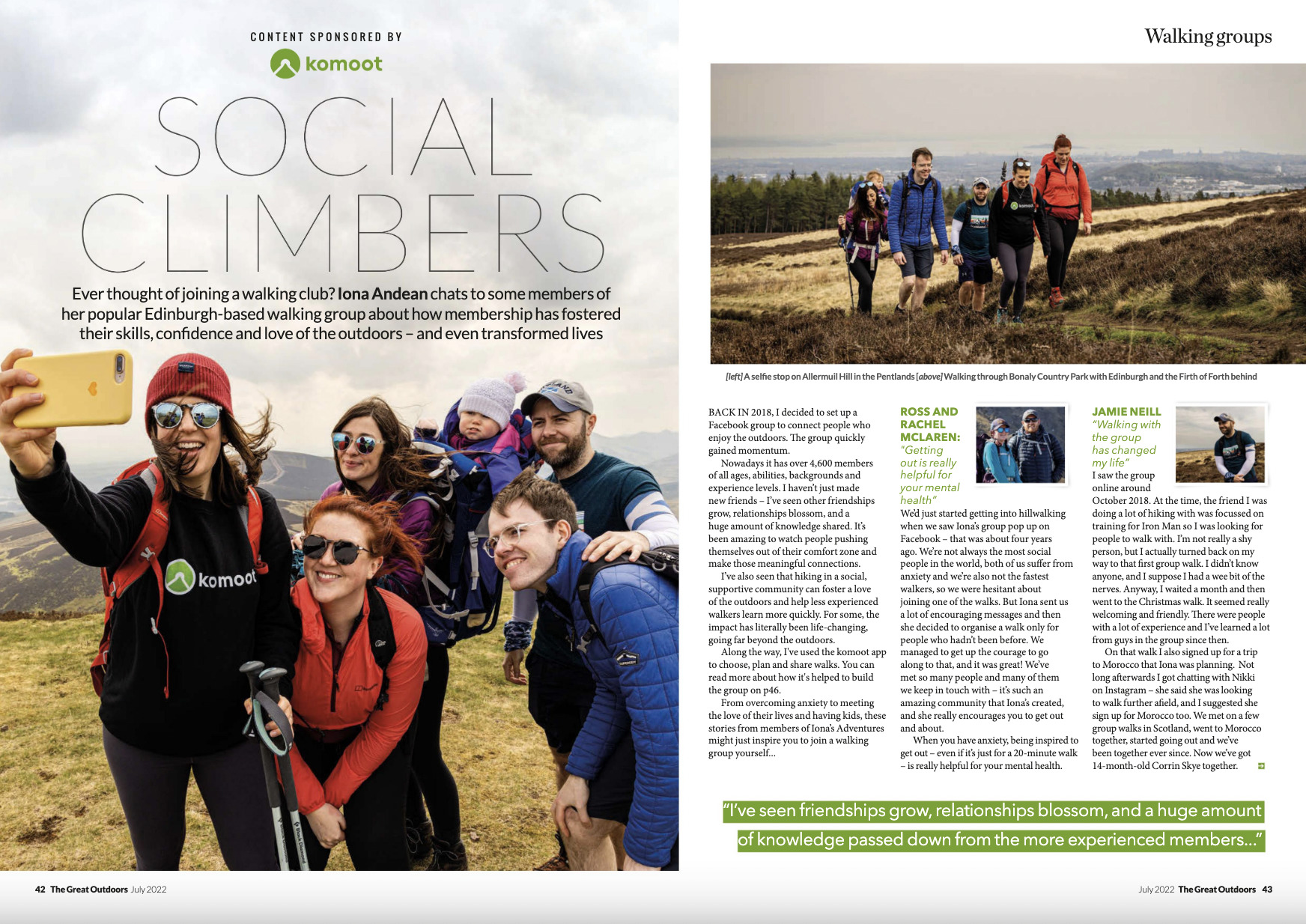 Social climber: ever thought of joining a walking club? Iona Andean chats to some members of her popular Edinburgh-based walking group about how membership has fostered their skills, confidence and love of the outdoors – and even transformed lives
"The group has changed how I prioritise my hobbies. We've done eight Munros with Corrin (our baby), paddle-boarded and explored local trails – plus I completed the 282 Munros in September 2021, and soon I and my friend Jocky from the group will be attempting 50 Munros in seven days for Scottish Mountain Rescue. It's been one door opening after another – just because I wanted to meet other people."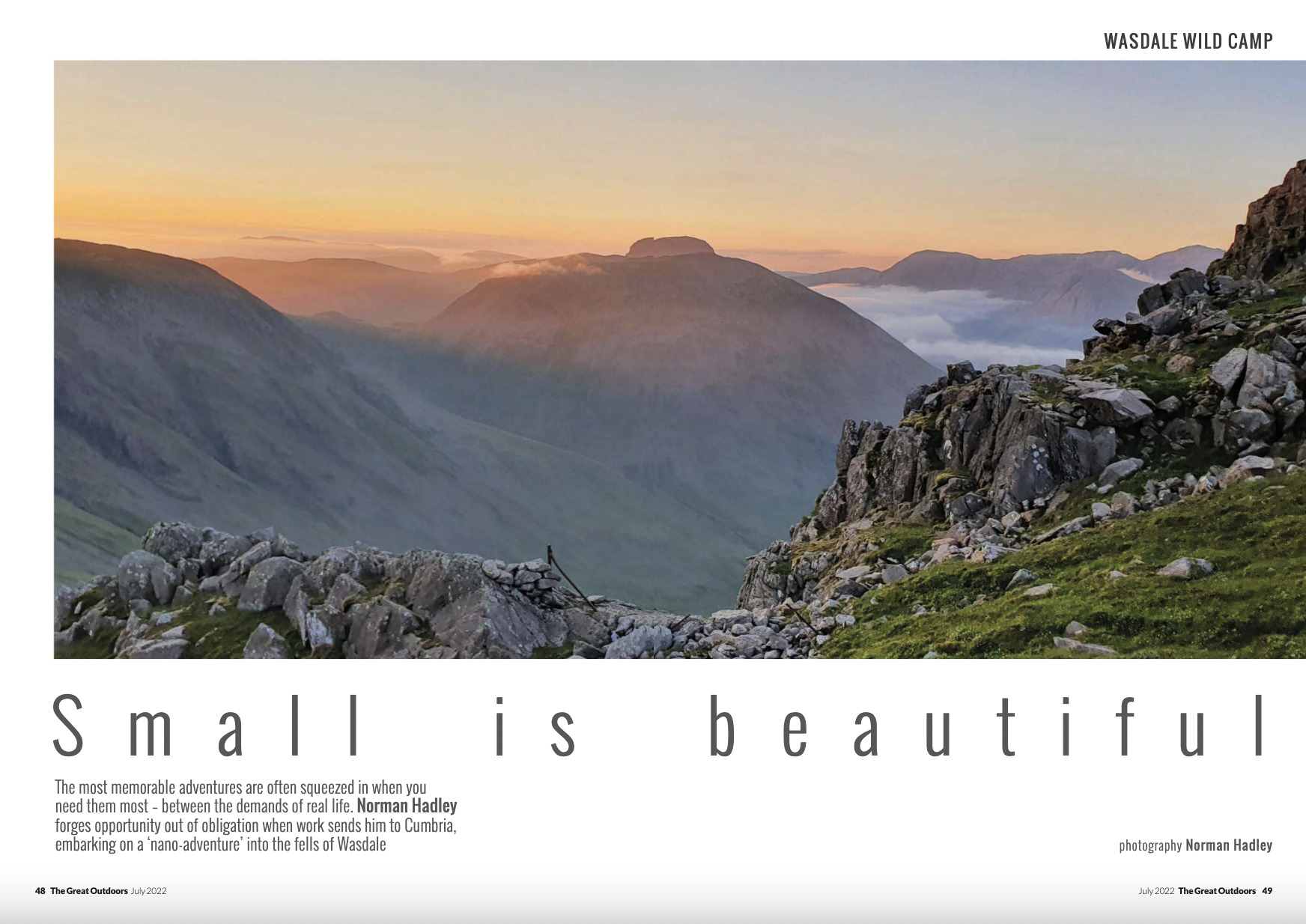 Small is beautiful: the most memorable adventures are often squeezed in when you need them most – between the demands of real life. Normal Hadley forges opportunity out of obligation when work sends him to Cumbria, embarking on a 'nano-adventure' into the fells of Wasdale.
"Already, shadows were starting to lengthen, and a warm glow glanced across the monumental wall of the Wast Water screes, picking out buttresses in sharp relief. Great Gable stood like a diamond at the lake head, symmetrically buttressed by Yewbarrow and Lingmell. Two paddle-boarders glided across the lake, serene as swans. Yellowhammers twittered in the fields.There was such a sense of calm in the air that it was tempting to linger, but lingering wasn't going to get me to my high camp."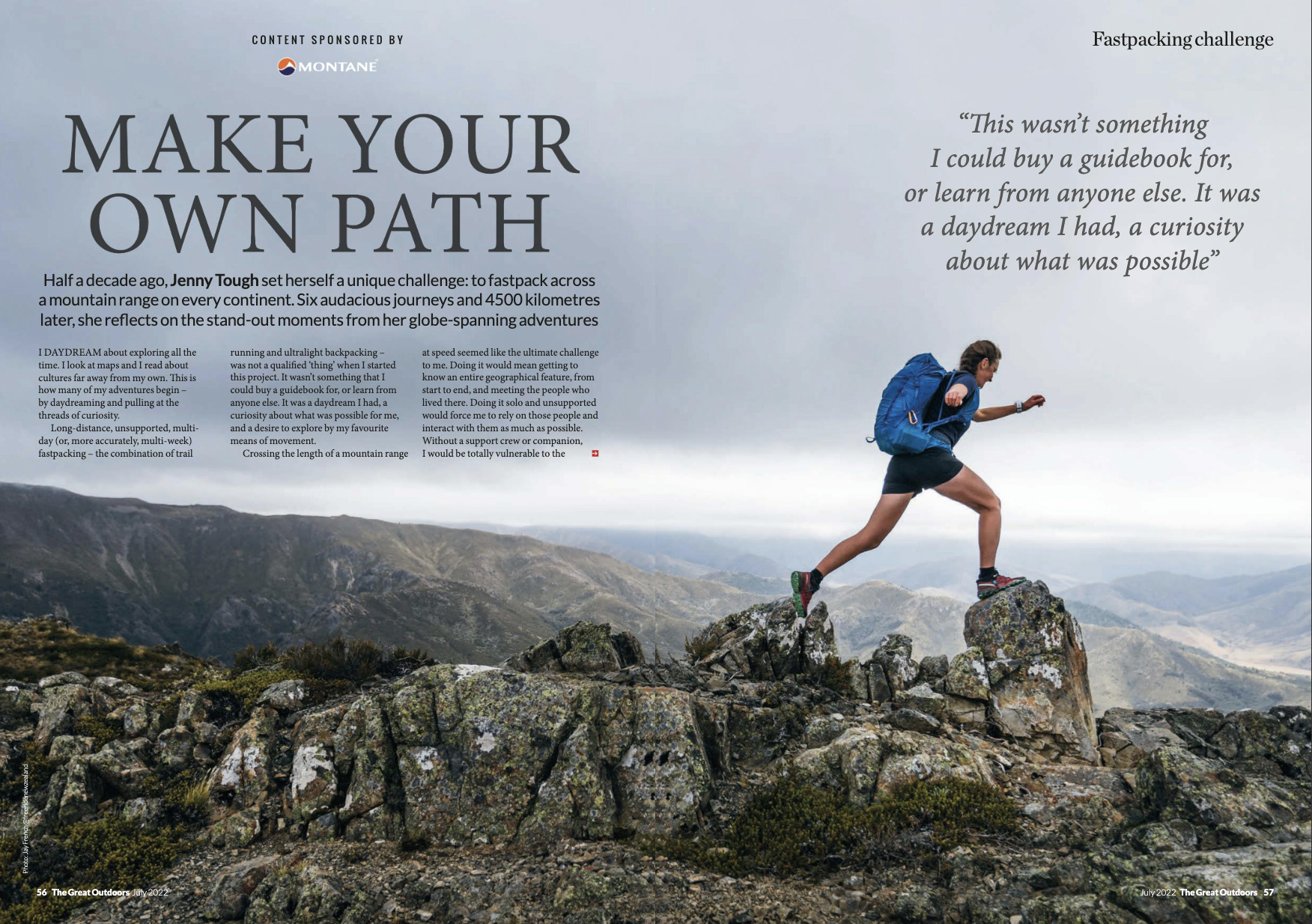 Make your own path: Half a decade ago, Jenny Tough set herself a unique challenge: to fastback across a mountain range on every continent. Six audacious journeys and 4500 kilometres later, she reflects on the stand-out moments from her globe-spanning adventures.
"I'll never forget the wonderful cosy nights I spent with the nomads, staying warm by their small stoves and laughing as we attempted to communicate without any words of common language; but the most memorable for me came at Song Kol, a famous high-alpine lake in the middle of the country and roughly my halfway point (490km) on the run. As the sun was setting, a friendly shepherd whistled at me over the jailoo, and ushered me into his yurt to join his family for tea and bread, and then to stay for evening dinner and stay the night. As the temperature outside dropped below freezing, we were warm next to their lingering stove, all lying on mattresses in a row under the thick canvas."
Order a single copy of this issue and get it delivered with free postage.