Photographer Quintin Lake has completed a five-year challenge to walk the full 10,000 kilometre perimeter of mainland Britain. He talked to TGO about how he fell head over heels for Scotland – and why all long-distance walkers should have a barbed wire cover in their pack.  
Photos: Quintin Lake
It's taken five years, 455 days on the trail, 268 days of photo editing and countless days of planning, but photographer Quintin Lake has finally finished his 10,000 kilometre (6,200 mile) journey around the perimeter of mainland Britain. His aim was to document the experience photographically and learn more about "our mysterious island nation" in the process. Here, he looks back on the challenges, the highlights and the endless delight of Britain's ever-changing topography.
What did it feel like after 5 years of working on the project to finally finish?
My first reaction was relief because it's been such strain – physically, creatively and financially over such a long period of time. My second feeling was satisfaction. I feel pretty content now! My mind keeps going to planning the next day and the next bit of logistics and realising that's now an empty box. But I've done a lot of long-distance walking and I've never had that feeling of post-expedition blues. I often looked back at a headland that I had come from and been conscious of the fact I was unlikely to ever come back here so I tried to stay in the moment during the walk.
How did the experience of walking Britain's perimeter differ from your expectations?
It was far, far harder than I thought it would be at the beginning. In fact, I don't think I would have done it if I'd known the toll it would take. In the south there was a lot of accessible, structured day walking, but I spent 200 days in Scotland where there was mostly no path, few facilities and it was very slow going. My mileage per day was sometimes a third of what it would be on a well-marked trail, even though I was moving from dawn to dusk. Creatively, though, it really delivered – every single day I found inspiring and there was a story I was interested in. Obviously I got tired, morale dropped, but I never thought 'why the hell am I doing this?'. I'd almost go as far to say that it felt like a beautifully choreographed piece of music – one or two weeks had a particular flavour and then that flavour would change. On long travels in other countries, it can seem that the topography is similar for days or weeks on end, but in Britain the topography changes at a walking pace.
Were there any parts of the walk that changed your perspective on Britain? 
I've gone on regular hiking trips to Scotland since I was a young teenager, but it still surprised me how wild Scotland is. I often wouldn't see anyone for three or four days. Even in England away from car parks and dog walking areas it was surprisingly quiet – in Northumbria, which was incredibly beautiful, I barely saw any people. There was a very tangible difference between Scotland and England regarding access. I camped most of the time and in England it was stealth camping. I was having to hide! In Scotland things were immediately different. The first farmer I met beckoned me over – I thought he was going to tell me off, but he just wanted to give me the best advice on how to cross his land. He even offered me water. I completely fell head over heels for Scotland, even more so than before. As a hiker you feel that it's genuinely your land. It was sadder for me to leave Scotland than it was to finish the journey.
Could you pick out a favourite wild camp?
There are several contenders for most memorable pitch. It might be the moonless night in Pembrokeshire where the stars pierced the sky and Venus was brightly reflected in the Irish Sea. Or a warm summer night on the Kintyre peninsula where the breeze just kept the midges away, and I watched the sunset behind the Paps of Jura.
But I think despite these memories, the night I was most grateful to have a tent with me was after navigating around the edge of the Knoydart peninsula – the most beautiful and the toughest section of the walk. As the mountains fall steeply to the sea, the easiest route in this pathless terrain is via ridges and passes, which was complicated by the wet winter and gale-force winds. 
As it was winter, four hours of every day involved night hiking with a headtorch. Each evening I poured water out of my boots and peeled off wet clothes before entering the sanctuary of my tent. It became less the key to adventure, and more an essential element of my survival. Waking by Loch Hourn with the hardest terrain behind me and better weather ahead, I truly felt grateful to be alive.
Do you have a history of long-distance backpacking journeys?
Yes, when I was ten years old my mum had this brilliant idea of walking from John O'Groats to Glasgow…so that normalised long walking journeys for me. Then, when I was 20, I walked from Land's End to John O'Groats in winter for charity. Since then I've done nearly all the national trails. I've always walked for recreation, but 10 years ago I began to combine it with photography. I walked from the source of the Thames to London and those prints sold well enough that I could afford to spend the time doing it for a living without that just being a fantasy.
What were the longest periods you were walking and wild camping for, and how did you plan for those periods logistically?
I was completely self-sufficient with power banks and batteries for five-day sections, so I'd spend five nights in a tent and one night under a roof somewhere. I made food packs for myself and sent them ahead to a hostel, a B&B or to someone helping me out as I found if I left it to chance I'd end up eating a lot of poor quality food and my performance suffered. On that rest day I would charge my camera, wash and prepare for the next few days.
Nine weeks was the longest I spent on the trail – that was in Scotland. The further north I went it became increasingly time-consuming and expensive to travel up. To get somewhere like Torridon you're looking at a day and a half by public transport.
Any gear essentials?
I certainly learned what's durable and what isn't! I started as an ultralight American-style backpacker with fell running shoes and cuben fibre gear. But it just wasn't strong enough – it got shredded! I ended up with Scottish winter mountaineering gear – heavy Gore-Tex kit and leather boots – so I started off with a pack base weight of 8kg and ended with a base weight of 15k. With food and fuel, I was carrying 20kg at the end. As I was carrying 5kg of camera gear I had a very minimal camping setup to save weight.
In terms of essential gear…in Scotland a barbed wire cover was really useful because it meant I didn't need to find gates and stiles. The minor downside of the Right to Roam is footpaths are often non existent or ill-defined, I'd often get caught in a maze of big deer or cattle fences and it was a real time-saver to be able to wrap the barbed wire with this canvas strip and hop over it. I used a Garmin Inreach mini to stay in touch with home via Iridum –  a lot of the Scottish coast has no phone signal.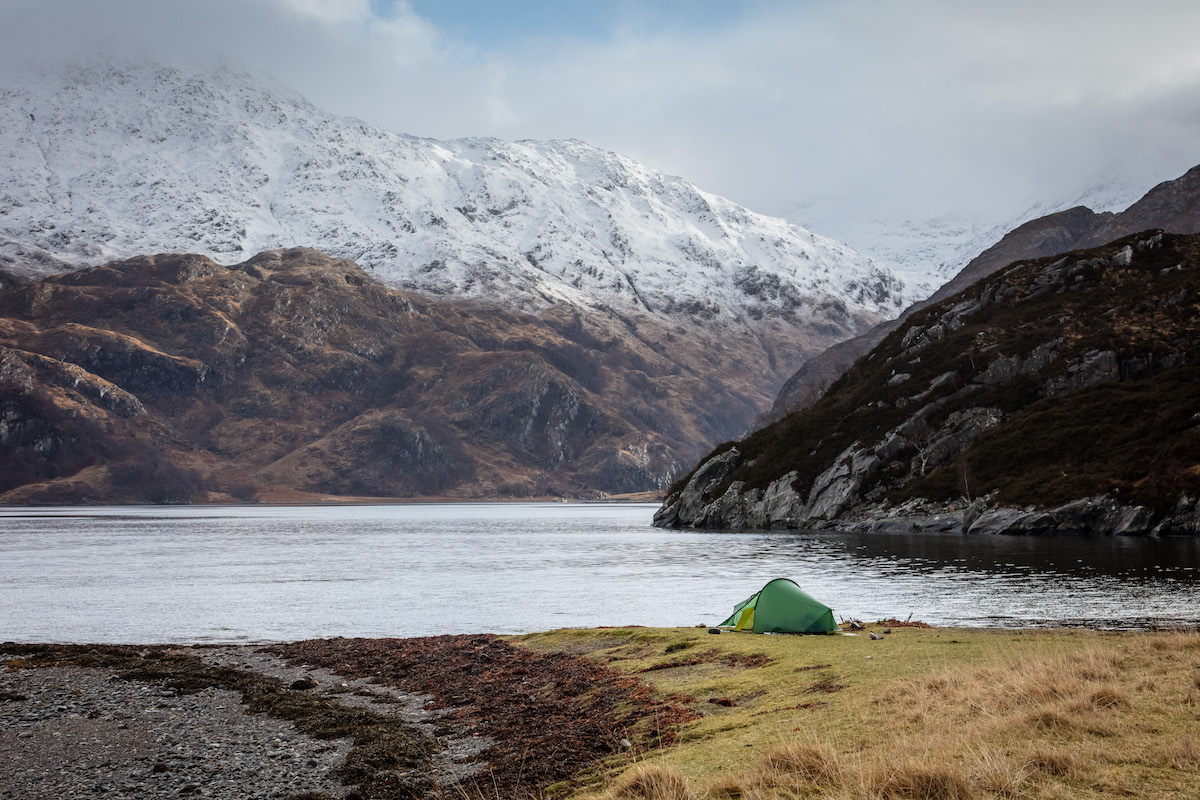 Any favourite sections of coastline?
If you look at the map and there's a peninsula on it, they are almost all amazing! They aren't on the way anywhere, so most people aren't going there which means history and nature are often better preserved. The Ardnamurchan peninsula, Knoydart, Mull of Kintyre, the Llyn Peninsula in North Wales – all beautiful. Cornwall, I suppose, is itself a peninsula! Northumbria was spectacular and the history of that area is fascinating. Cumbria was a big surprise too, because I've always headed to the mountains for walking holidays and it never occurred to me to do the coast…which is beautiful with the Lakes as a backdrop.
How did it feel being away from your family for such long periods?
I found that when I was at home I was the dad and the husband and when I was away I was the photographer. I had to really flip from one to the other. Of course I missed my wife and children, but I never found it too long. A month was about the right amount of time – and I was home more than I was away. I can't recall a time in my life of feeing lonely, especially in nature. I find being alone in nature is very fulfilling. Even in the family home, I try to go for a walk every day alone – so it wasn't a hardship for me.
Did you think about the perimeter walk as a 'challenge' in the sense of bagging the Munros or the Wainwrights, or was it purely an art project in your mind?
Good question…I don't quite know why I've been so fastidious about it, because I have been fastidious in terms of the challenge element. With something difficult I would always do it to stick to the coastline – for example it took weeks of work to figure out how to do the Broomway in Essex. I think I'd be lying if I said it was just about work, but it never felt like a box-ticking thing. It's just that, if I was doing the edge, I wanted to do it as thoroughly as possible. So yes, the challenge was really important, but if I hadn't felt it was producing work of artistic merit then I wouldn't have thought it was worth the time. If I felt the storm in my face for a few days and I felt the soil because I was sleeping on it, then I could also feel the better pictures. I find that if I drive somewhere to take pictures then I just end up taking postcard views.
What's the next step now you've run out of coast to walk?
The next adventure will be writing a book and publishing a photo book, and if I get institutions excited about it to do an exhibition. I'm expecting that will absorb at least a year of time. And after that, perhaps the coast of Ireland and the islands!
See more of Quintin's photos and buy prints at https://theperimeter.uk.
Subscribe to The Great Outdoors

The Great Outdoors is the UK's original hiking magazine. We have been inspiring people to explore wild places for more than 40 years.
Through compelling writing, beautifully illustrated stories and eye-catching content, we seek to convey the joy of adventure, the thrill of mountainous and wild environments, and the wonder of the natural world.
Want to read more from us?