Scale the fairytale peak of Suilven, hike from a summit to the sea, go backpacking in the Colorado wilderness and flick through our 32-page Snowdonia special to uncover the secrets of Wales' uplands – all in the September issue of The Great Outdoors.
With its skyline-straddling ridges, spicy scrambles, summit-to-ocean views and ethereal upland landscapes, Snowdonia packs a whole lot of mountain magic into a relatively small area. In the September issue of The Great Outdoors, we celebrate the splendour of North Wales' high places with a 32-page Snowdonian special.
Get the local perspective from Nick Livesey, who traces his journey from 'clueless lad' to Mountain Leader in a stunning photo essay. Join Francesca Donovan as she walks from a summit wild camp on Cadair Idris to the sea. Then get inspired to embark on your own Snowdonian epic with six classic routes from across the national park rendered in beautifully-illustrated detail.
Also in the September issue:
Jim Perrin sings the praises of Mynydd Enili
Alex Roddie tackle the iconic Suilven circuit
Andrew Terrill discovers blissful solitude in the mountains of Colorado
PLUS: discover the dramatic impact climate change is having on our mountains, meet the woman who is walking Britain's coastline and the man who hiked the Wainwrights without a car, check out our review of 3-season boots, 5 amazing wild walking routes, and plenty more…
How to get a copy
Order a single copy of this issue and get it delivered with free postage.
Take out an annual subscription and take advantage of our new subscriber offer (£15 for your first 6 issues).
Download the digital version to your tablet or smartphone and start reading straight away.
Take advantage of our special lockdown offer (3 issues along with the accompanying digital editions for just £9.99 plus free postage, with no ongoing commitment to subscribe.)
Buy it in shops across the UK.
Read more: a look inside the issue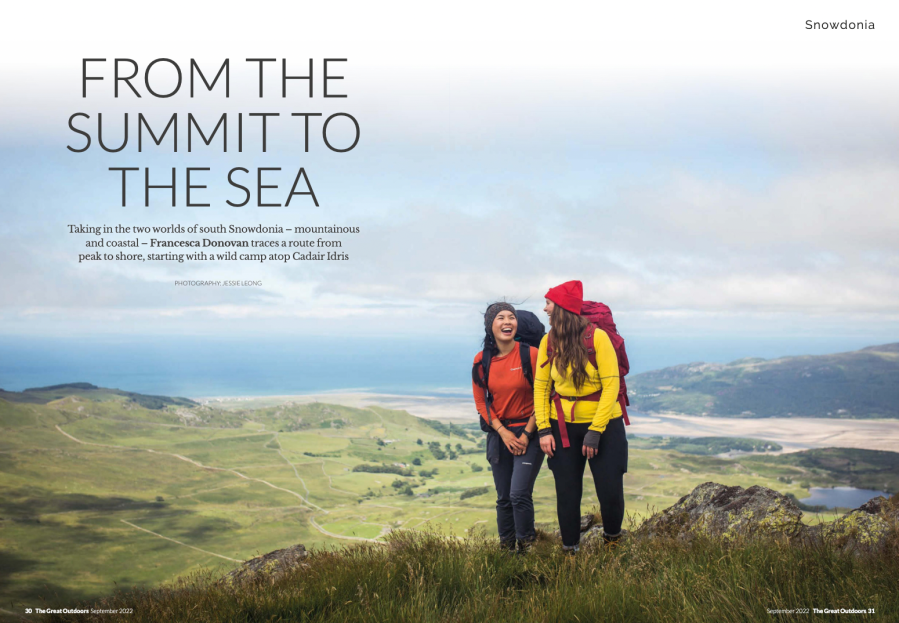 From the summit to the sea: taking in the two worlds of south Snowdonia – mountainous and coastal – Francesca Donovan traces a route from peak to shore, starting with a wild camp atop Cadair Idris
"Walking a section of the Cambrian Way and beyond, we hit the peaks of Terra Mawr, Craig-y-Ilyn and Briach Du. The peaks alone may not necessarily be noteworthy for their height or stand-out features. But, together, they form a glorious undulating mass that snakes towards the coast, rising and falling, like the back of a dragon. Passing Llyn Cyri, which was sparkling blue, it felt like we had finally arrived in summertime."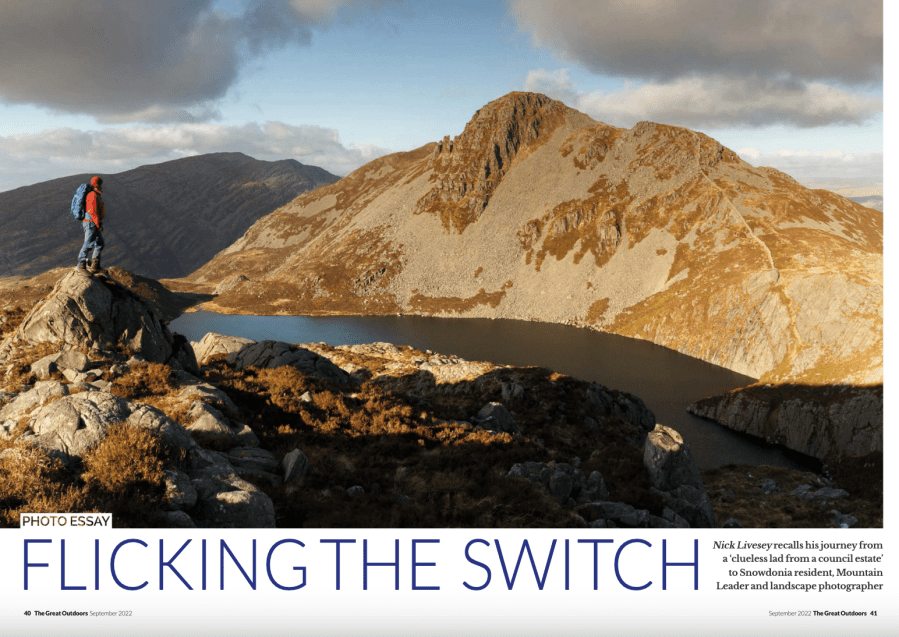 Flicking the switch: Nick Livesey recalls his journey from a 'clueless lad from a council estate' to Snowdonia resident, Mountain Leader and landscape photographer.
"Where else in Britain does language and landscape, history and folklore and industrial heritage coalesce to create such a rich arena of study as here in north-west Wales? A rhetorical question, of course, but were it not then I would have no interest in the answer, for here I have found my cynefin – my 'place of multiple belongings', somewhere that makes sense to and of me. And here, for better or for worse, I will stay."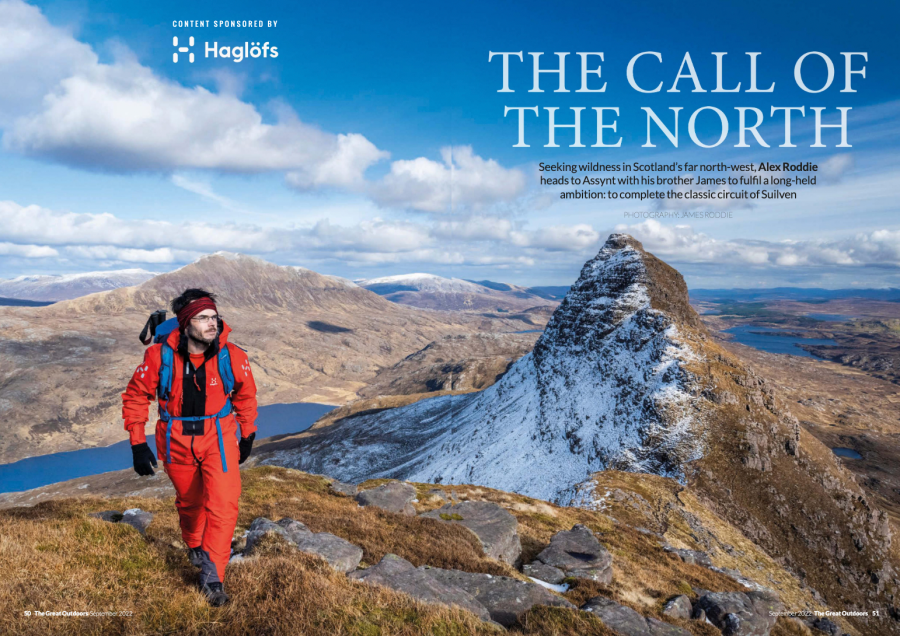 The call of the north: seeking wildness in Scotland's far north-west, Alex Roddie heads to Assynt with his brother James to fulfil a long-held ambition: to complete the classic circuit of Suilven.
"I'd heard that the view from Suilven's summit was regarded as one of the best in Scotland, and as we sat down for a break at the cairn I found it hard to disagree. Cul Mor's snowy ramparts looked Arctic and forbidding to the south. Across the silvery waters of Loch Sionasgaig, Stac Pollaidh stood out as a bristly back tooth against a backdrop of white mountains. But the real star was the brashly cinematic crest of Suilven itself: an impossible arc of finely wrought rock, airbrushed with snow and chiselled to a tapered point as if by a sculptor. What a place. What a mountain."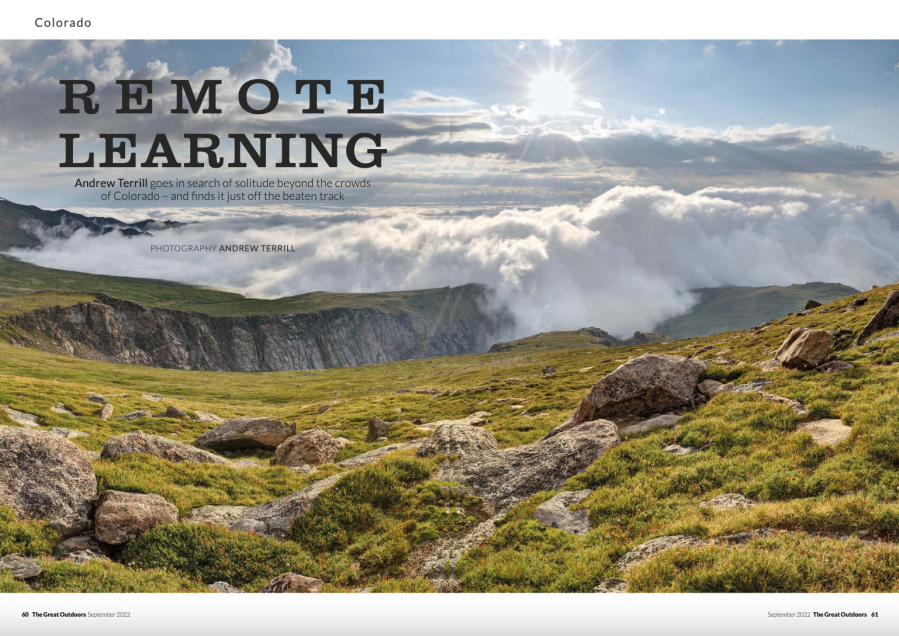 Remote learning: Andrew Terrill goes in search of solitude beyond the crowds of Colorado – and finds it just off the beaten track.
"When the Mount Evans Wilderness was created in 1980, critics argued that it was too small and congested to deserve official wilderness designation. But the critics missed something important: that wildness can't only be defined by scale, but also by the integrity of the land and its natural community, as well as by how it feels – by the awe and wonder it inspires. Where I walked, with no evidence underfoot suggesting anyone else had ever visited, awe was definitely present."
Order a single copy of this issue and get it delivered with free postage.