An interview with Ash Routen on the Baikal 2018 expedition
Last week, we reported that Ash Routen and Phil Sturgeon are planning to cross frozen Lake Baikal in Siberia. The 550km trek is expected to take 20-22 days and will be a real test of endurance and logistics in a wild and unforgiving environment.
We got in touch with Ash to find out more about the team's plans.
---
Please introduce yourself. Who are you and what do you do?
I work as an academic at Loughborough University in the field of Physical Activity and Public Health, and the main focus of my research is the health and wellbeing of school children. However, I grew up on the edge of the New Forest, and from starting in the Cubs and Scouts twenty-odd years ago I've always been active – hillwalking, rock climbing, camping, cycle touring etc.
In the last two years I've transferred this outdoors grounding into working towards my long-held ambition of going on trips to the cold and wild places of our planet. I'd had enough of dreaming, I thought it was time that I got busy doing!
What's the goal of the Baikal 2018 expedition?
The goal of the expedition is to complete a safe, happy and fast foot crossing of Lake Baikal from Listvyanka in the south to Severobaikalsk in the north. Lake Baikal is located in Siberia, a few hundred kilometres from the Mongolian border. By volume, it's the largest lake in the world and also the deepest. It's crazy to think in places it is 1.6km deep, and holds around 22% of the world's fresh water – mind boggling!
To be transparent, this won't be a full-length crossing as we are starting a little north of Kultuk (the usual start point), and we want to make sure we don't run over our thirty-day visa. At 550km it's still a decent-length trip though.
My experience of this sort of travel is that 80% of it is in your head. As long as you have a good base level of fitness, and the ability to be on your feet for 8-10 hours per day, deal with the cold and put one foot in front of the other, you will be OK
For us as individuals the goal was to find an objective that would challenge our current experience level, and is remote enough and unfrequented enough that we get a good feeling of being 'out there'. It's pure hedonism.
Tell us a bit about the training regime you've undertaken to make yourselves ready for this challenge.
The main areas to prepare for this trip are physical, mental and technical.
In all honesty we haven't followed an evidence-based or regular strength and conditioning training programme (I must hang my head in shame here as I work in the National Centre for Sport and Exercise Medicine!). I've been out dragging a tyre around local farmland and getting out for a walk in the hills or a run ad hoc. Phil has recently got into cross fit, and gets out walking and trail running in the hills when he can (he completed the Spine Race a few years back).
The realities of a busy job, a long-distance relationship and trip logistics have left physical training (and the motivation for it) further down the list. With around a month to go I'll try and get some good time in on the turbo trainer however.
That might seem a bit blasé to some, but my experience of this sort of travel is that 80% of it is in your head. As long as you have a good base level of fitness, and the ability to be on your feet for 8-10 hours per day, deal with the cold and put one foot in front of the other, you will be OK.

Previously I have been on two similar but shorter trips to Norway, including a polar training course, and this layered on top of going out in the British hills in all weathers leaves me confident that mentally I have the experience of knowing what it is like to suffer a little.
Finally, Phil and I met on a guided trip across Finnmark (Norway) two years ago where we tweaked most of our general outdoors skills to be fit for cold-environment travel. Since then I've been on my own trip across Hardanggervida (also Norway), so we have our camp craft, navigation, use of clothing, and emergency procedures pretty well dialled in.
Oh and I shouldn't forget to add that my girlfriend Chiara has enjoyed (far too much!) trying to fatten me up with her Italian home cooking!
What equipment will you rely upon during your journey, and how did you go about selecting it?
We'll be carrying everything in our pulks (sledges), which are our lifeline out on the ice. In these we'll have all our sleeping and cooking gear, food, electronics and communications, medical supplies, spares, clothing etc. We'll be hauling two pulks apiece.
The main criteria we've used for all pieces of equipment are capability in the cold, resistance to high winds, and of course making sure the item is not too heavy. Weight is the obsession of the 'polar' traveller. Some folks go as far as re-bagging dehydrated meals, chopping down toothbrushes, removing clothing labels, and even not taking tea bags – they get heavy when you're carrying 80-odd used frozen tea bags with you! We won't be going to those lengths.

We've been lucky to receive discounted products from a number of brands, and have clothing sponsorship from
Sub Zero
, and thermos sponsorship from
SIGG
. The Sub Zero factory is just down the road from me so I've enjoyed popping in and trying on, learning about, and collecting an array of kit such as gloves, base layers, balaclavas, mid layers etc. I've also got some products on review from an online retailer. This game ain't cheap so every little helps.
Thanks to climate change, it's estimated that the average surface temperature of Lake Baikal has risen by almost 1.5˚C in the last 50 years. Do you anticipate problems caused by thin ice or open water? And what do you think the future holds for explorers with ambitions to cross Lake Baikal?
We do expect to come across leads (sections of open water), and where they can't be stepped across or jumped over, we will have to walk parallel with them until we find a suitable crossing point. From my research, we are unlikely to encounter the large areas of open water that you might face in the Arctic Ocean on a Geographic North Pole trip. We do also expect to come across areas of thin ice, and it'll be a learning curve in the first few days regarding being able to spot and avoid these sections.
I've been reviewing the last ten years of satellite images of the lake. The period when it freezes over fully is usually late January or early February (for some reason it takes longer to freeze than other local bodies of water). It's amazing how quickly it freezes though. A few days ago our start point was water; now people are out walking on the ice, from what I can see on the webcam.
You often see exaggerated temperatures and wind speeds reported in the media, but it does have the potential to be pretty wild for us
I don't really know anything about climate science, so I've no idea for how much longer folks can go walking across Baikal, but I would imagine it would be for a few decades to come. Before that changes, in pure sporting terms there are still speed records to be broken, and I don't think anyone has done a full unsupported circumnavigation of the lake in winter.
What other challenges – environmental, physical or logistical – do you expect, and how do you plan to manage them?
In addition to thin ice we'll also have to navigate around or simply make our way through pressure ice ridges known on Baikal as 'Toros'. This could well slow us down on certain sections of the lake.
The other main challenge is the cold and the wind. We're well equipped with clothing and will be wearing a variety of materials (e.g. Pertex, pile, Gore-Tex). First and foremost our clothing needs to be windproof, but a degree of water resistance helps as we expect to encounter quite a bit of humidity on the lake. Ray Zahab, who holds the speed record for the full crossing, reported soaking-wet clothing and sleeping bags due to this.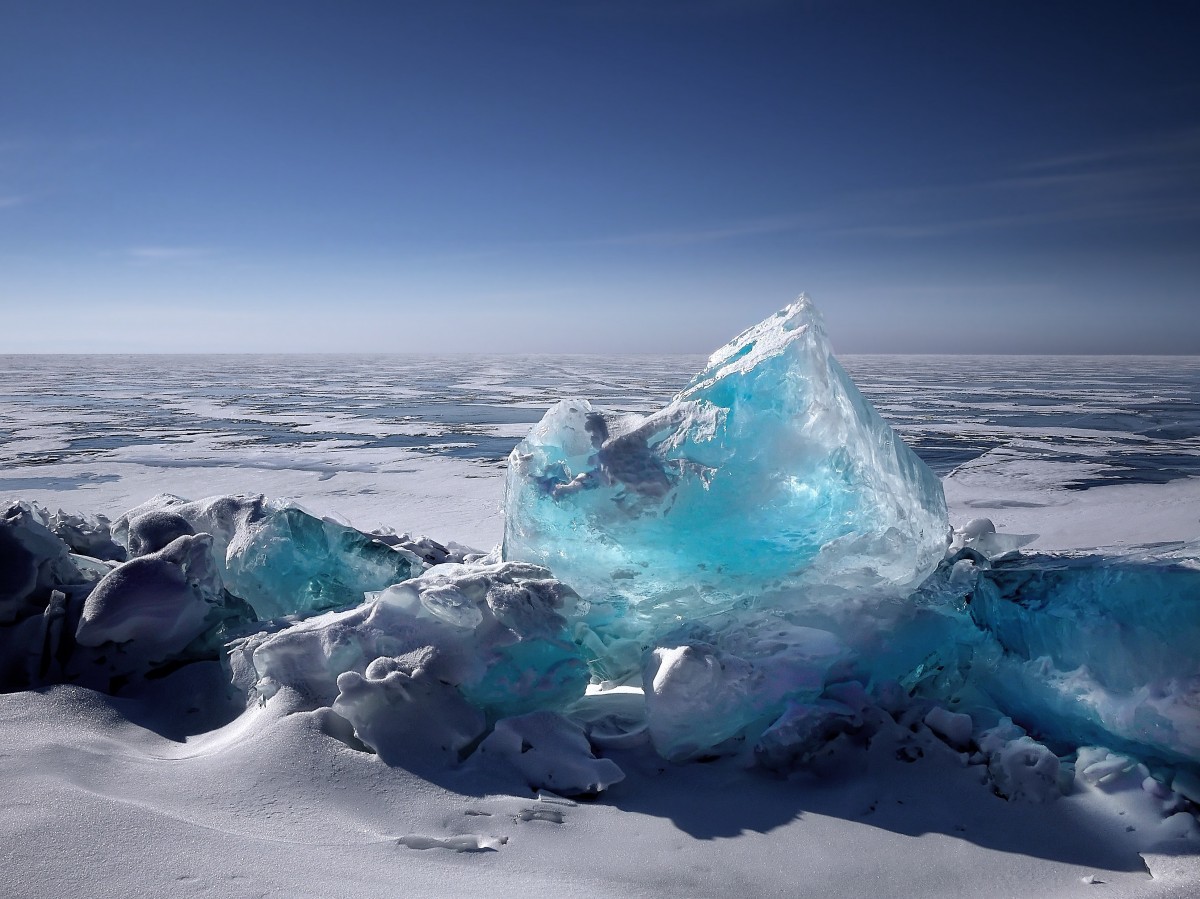 You often see exaggerated temperatures and wind speeds reported in the media, but it does have the potential to be pretty wild for us. Last week it was -47˚C with wind chill on Baikal. The winds can also be brutal, topping out at 40 m/s. Gavan Hennigan told me the wind's "out of control". We're taking a Nordisk tunnel tent as I understand the winds blow consistently from one direction; we'll also be doubling up on the poles and using ice screws and snow stakes.
Finally, once we reach the end we'll take a lengthy sleeper train back to the city of Irkutsk – it takes two days or so and must stop in each little place in the a*** end of nowhere!
Have you been in touch with other people who have experience of ice travel on Lake Baikal? How have they helped you?
I've cast the net far and wide to get as much 'beta' as I can. Conrad Dickinson did the first British crossing back in 2007, swiftly followed by Felicity Aston in 2008, and I've gleaned some information from them via email and trip reports. I've also had some great tips from Gavan Hennigan, an Irish adventurer who ran the full length of Baikal a few years back.
Our logistics are being sorted by our 'fixer' Eugene Kapluneko who runs a local adventure company. He's our best source of information on the conditions of the ice, route etc. and will serve as our emergency contact.
Geoff Somers MBE is our expedition patron, and he's kindly answered questions on anything from attracting sponsorship to the utility of overbags for our sleeping bags. Among various polar exploits, Geoff was on the team who crossed Antarctica (6,000km) by its greatest axis in 1990.
Finally, another experienced polar veteran and my 'polar mentor' Mike Thornewill has been a great help with bits and bobs of kit, as well as helping fill in gaps in my technical knowledge. He hasn't been to Baikal but among various polar accomplishments has guided up in the Arctic Ocean and completed the first crossings of Great Slave and Great Bear Lakes in the Northwest Territories of Canada.
So all in, I have to say a big thank you to all of the above.
Can you tell us anything about future expeditions planned after Baikal?
In a hypothetical world, money being no barrier, I'd love to get out onto the Greenland ice cap. My first choice before Baikal was to fly up to Constable Point in Jameson Land, East Greenland. With this as the start point I would charter a helicopter to head deep into northeast Greenland – to the best of my knowledge there is a world of potential to ski areas where no-one else has travelled before.
Where can our readers find out more and follow your expedition?
You can read about the trip and our preparation at www.ashrouten.com.
Very soon I'll have a link up on my site to allow visitors to follow our GPS tracks (provided by followmychallenge.com). We're renting a SPOT Gen3 GPS tracker/satellite messenger, as well as an Inmarsat satellite phone (IsatPhone Pro).
I'll also be sending out a daily location link via my Twitter profile @ashrouten when we're on the ice.