Our review of Quest into the Unknown, an exciting new book on climbing, trekking and exploration by Tony Howard – plus a revealing interview with Di Taylor.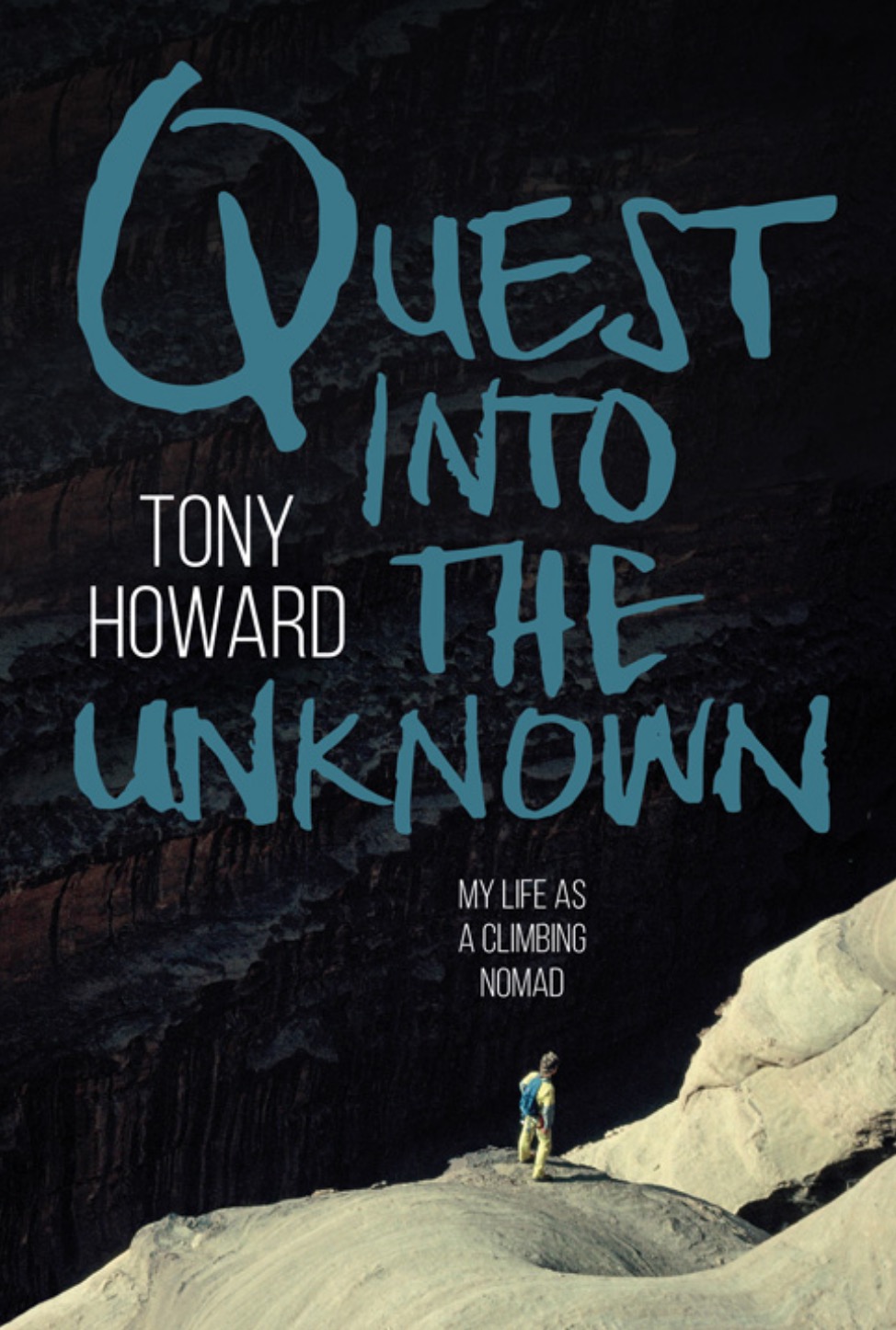 Review by Noel Dawson
Quest into the Unknown tells the life story of Tony Howard. Here is a man who, we quickly learn, has lived life to the full; a man happiest when venturing where few, if any, have travelled before. Tony's detailed narrative records an idyllic childhood of harvest summers, sledging winters and treacle butties. Tony reminisces about a climbing age when the leader could not fall.  He remembers the simple beginnings of the Rimmon Mountaineering Club and years of climbing in the Romsdal Valley in Norway which saw the Rimmon Route put up on the Troll Wall.
In 1983, Tony watched Lawrence of Arabia and he was hugely influenced by the stunning scenery the film depicted. Tony, Di Taylor, Mick Shaw and Alan Baker travelled to Jordan to the Rum Valley. They were immediately overawed by the scale and immense beauty of what they found. The valley was a spectacular vision offering everything they were looking for. They had, in many ways, found a second home.
Tony and Di returned again and again to Jordan, trekking extraordinary landscapes, viewing the remains of centuries of fascinating history and enjoying much good climbing. Tony's descriptions carry the reader to remote camps buzzing with activity and filled with Bedouin, a colourful, hospitable people who made Tony and Di so welcome. We follow the incredibly testing journey towards the creation of the Jordan Trail. Reading of Tony and Di's expeditions, it is no surprise that Jordan has become such a popular location for the adventurers of today.
"This book offers a voyage into the social history of many peoples. It would sit comfortably in any library recording great exploration"
The book also describes visits to other countries, Tony's climbing around the world with close friends and the story of Troll, the climbing equipment company which developed a range of mountaineering aids including the revolutionary 'belay loop harness' the Troll Mark 5. We read about n.o.m.a.d.s. (New Opportunities for Mountaineering, Adventure and Desert Sports), a company set up by Tony and Di to open up adventure travel in countries which had not previously been considered or promoted as obvious destinations.
Tony does not retell the story of the Troll Wall climb in this book. He has squeezed in an amazing number of photographs which really enhance the text, depicting many of the staggering landscapes experienced and the happy local peoples encountered. The book would have benefited from the use of maps to help the reader navigate some of the unfamiliar places visited.
Quest into the Unknown is a long and quite intense read. We share expeditions into such a wide range of environments and, almost inevitably, some capture the imagination more than others. Many pages are crammed with remarkable detail and Tony and Di's passion for the unknown and their occasional encounters with danger certainly push the reader deeper into the text. This book offers a voyage into the social history of many peoples. It would sit comfortably in any library recording great exploration.
Tony and Di are modern-day inquisitive wanderers. Their quest is to journey to astonishing places, enjoying the exhilaration of not always knowing where they are venturing and what they might find the next day. Tony's observations are so vivid and colourful that you quickly become immersed in his excitement as he views new, overwhelming landscapes. We share how Tony and Di have savoured amazing beauty but how they have also witnessed the harsh realities of troubled lands. The book leaves the reader with so much to consider and reflect upon. The world is at our feet and it still offers the most enticing unknowns.
Quest into the Unknown: My Life as a Climbing Nomad by Tony Howard will be published by Vertebrate Publishing on 4 April 2019 (paperback, £14.95)
---
Interview with Di Taylor
Vertebrate Publishing got in touch with Di Taylor – and discovered some fascinating insights into the adventures described in this book.
Vertebrate Publishing: How did you get into climbing? Were you always off on adventures as a youngster?
Di Taylor: "I always enjoyed sport at school and riding horses, but never climbed till I joined the Rimmon Club when I was about seventeen."
Have you ever thought about writing an autobiography about your adventures with Tony from your perspective?
"No, I leave it to Tony; I am no good at these things."
Tony is well known in the climbing world for his new routes and contribution to local guidebooks, but what is he like to travel with?
"He is just a good friend; travelling and climbing together is fun. We both enjoy the same things. Even when things go wrong, as they sometimes do when we are off the beaten track, one or the other of us manages to sort it out. It's part of the game. Disasters like inadvertently being in a closed military area in Egypt made a mess of our explorations there, but were interesting experiences! We are still trying to get permission."
If you could pick your top five destinations or a guaranteed good adventure, where would they be?
"India, Madagascar, Jordan, Mali, Morocco, Norway."
Have your adventures taken you to places that are more difficult for women to travel through, and have you noticed this change over the years?
"Egypt and Sudan can sometimes be difficult. Always respect the culture but even then it can sometimes be tricky. It's always best to wear a wedding ring."
In the book, you are often the only woman in the party. Did this register or was it at all an issue or difficult in any way?
"I never found it a problem, though in many strongly traditional Muslim countries men sometimes ignore women, or won't shake their hand when meeting them, and they may expect you to stay with other women in a different room or in the women's part of the Bedouin tent. Mostly I was treated as an honorary man and in Wadi Rum as an equal. If I meet young boys in Rum village who don't know me well, they sometimes call me Tony!"
Is it hard to get the balance right between being a mum and being an adventurer?
"Well, I was at home with the kids and my smallholding until the youngest was about sixteen, though I was in Morocco with my youngest son, Mark, when he and Tannith were ten. On trips in the following years, a friend was there if I was away. It seemed to work well."
What would you say are your greatest achievements?
"1. Raising three nice children – four with Tannith in her teen years – and still being close friends with them all.
"2. Discovering Wadi Rum in Jordan with Tony, Alan and Mick was also pretty good and I'm very happy what we did has been of huge benefit not only to the local Bedouin, who are now like family to us, but also to the development of Jordan's adventure tourism. Exploring and opening up treks and canyons all over the country was also a great experience, especially being told by a young Jordanian that our guidebooks 'gave them the love of their country'.
"3. Similarly, I'm happy that our projects elsewhere like Palestine and Oman have also been beneficial to the host country. Being asked to write the guide to Walks in Palestine and the Nativity Trail was something both Tony and I were particularly pleased about.
"4. Having the idea for the Jordan Trail. When we finished our trekking guide in 1999 we were wondering what to do next and realised it might be possible to connect some of our treks to make a trail all the way down Jordan from Um Qais near the Syrian border to the Red Sea. It wasn't easy at first; before that we had a vehicle and driver provided by Queen Noor to drop us at the start of a day's trek and pick us up at the end, but King Hussein had died and Jordan had a new king, Abdullah. His wife, Queen Rania, was busy with her own new projects so couldn't help, so we just did what we could, but after a few years a friend from Palestine, Mark Khano, joined us. With other friends from Jordan joining in, it finally all came together and we were guests on the first official through walk in 2016, receiving an award from Her Excellency Lina Annab, the Minister of Tourism and Antiquities."
Header image: Entering Petra with 'extreme adventures' Sean Conway (left) and Leon McCarron (right) on the Jordan Trail, 2016.