The Met Office has launched a new weather forecast mobile app, enabling people to stay both safe and one step ahead of the weather
---
The app is designed to deliver fast and accurate forecast information and warnings across across both iOS and Android devices, for up to seven days in advance. It also features pollen alerts and a UK rainfall map of forecasts and radar observations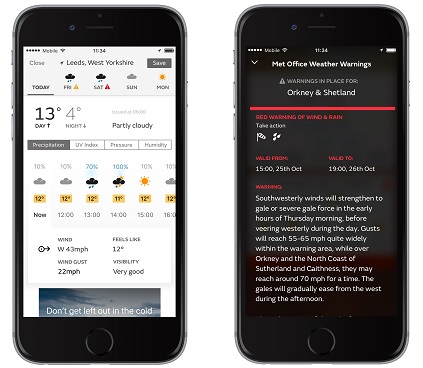 This app also aims to personalise the delivery of information, focusing on the user's specific requirements. Hourly updates and push notifications are available for those on the go, while the delivery of UK National Severe Weather Warnings are vital to ensure planning and safety in the event of severe snow, strong winds, ice or fog.
Derrick Ryall, Head of the Public Weather Service, said: "We know that more and more people are choosing mobile devices to access their weather information from the Met Office and it's vital we continue to address this changing behaviour so we can deliver our world-class weather service. The new app technology will enable us to evolve our digital presence and the ways in which people want to access their weather information in the future."
The mobile app is available to download now for free from the App store and the Android store – search for 'Met Office'.