From beginner wild camping tips to a life-defining walk across Europe, feel the call of the wild with our adventure-packed May issue.  
Watching the sun set from a summit. Waking up to a cloud inversion. Taking an early morning dip in a tarn. Nothing quite compares to the thrill of wild camping in the mountains – and the May issue of The Great Outdoors is here to help you (and your tent) get out there.
Whether you're completely new to the notion of wild camping or a seasoned pro after some inspiration, we've got plenty of ideas for making the most of your post-lockdown freedom. In this issue:
Kick-start your wild camping career with James Forrest's top tips for newbies
Join Helen Iles as she scans the night sky for comets in the Rhinogydd mountains
Escape to the Fisherfield Forest with Alex Nail's glorious photo essay
Read Andrew Terrill's account of climbing 'the Great Rock of Italy' during a pan-European journey
PLUS: how to choose a backpacking tent, mountain nutrition tips, Chris Townsend reviews lightweight two-person tents, backpacking meals tested, 5 'wild walks' from around the country… and lots more.
How to get a copy
Order a single copy of this issue and get it delivered with free postage.
Take out an annual subscription and take advantage of our new subscriber offer (£15 for your first 6 issues).
Download the digital version to your tablet or smartphone and start reading straight away.
Take advantage of our special lockdown offer (3 issues along with the accompanying digital editions for just £9.99 plus free postage, with no ongoing commitment to subscribe.)
Buy it in shops across the UK (subject to lockdown opening).
Read more: a peek inside the issue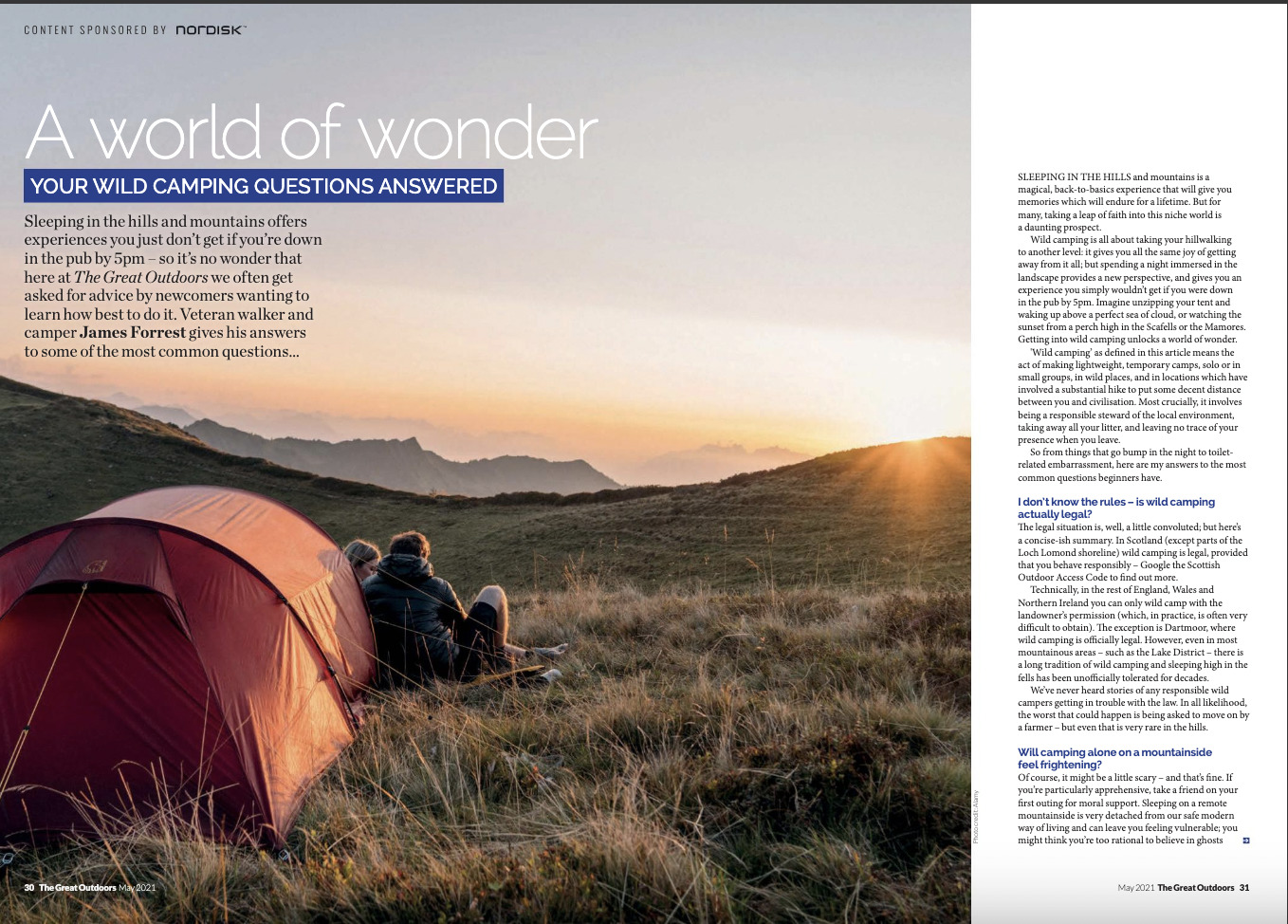 A world of wonder: sleeping in the hills and mountains offers experiences you just don't get if you're down the pub by 5pm – so it's no wonder that here at The Great Outdoors we often get asked for advice by newcomers wanting to learn how best to do it. Veteran walker and camper James Forrest gives his answers to some of the most common questions…
"Wild camping is all about taking your hillwalking to another level. It gives you all the same joy of getting away from it all; but spending a night immersed in the landscape provides a new perspective. Imagine unzipping your tent and waking up above a perfect sea of cloud, or watching the sunset from a perch high in the Scafells or the Mamores. Getting into wild camping unlocks a world of wonder."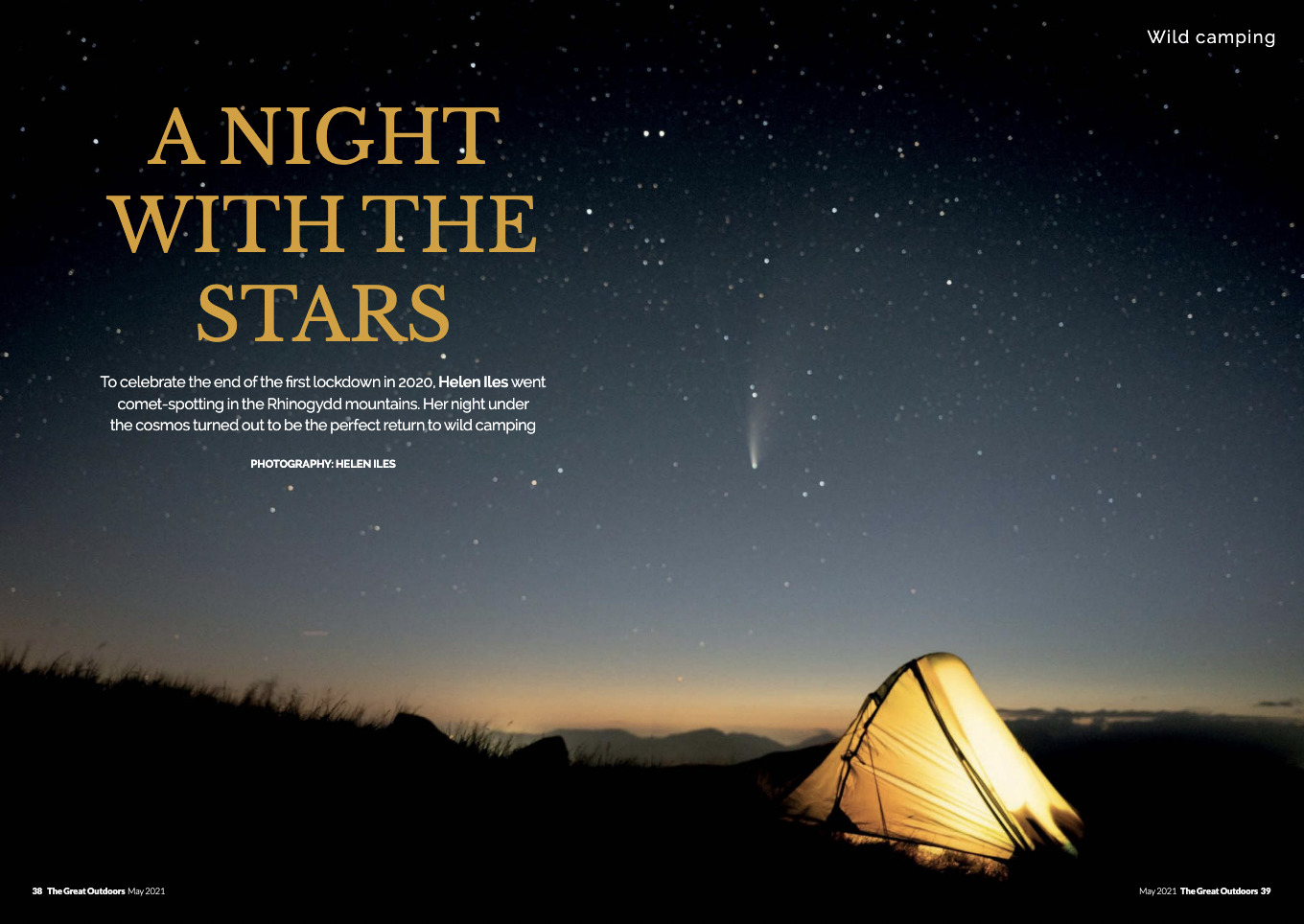 A night with the stars: to celebrate the end of the first lockdown in 2020, Helen Iles went comet-spotting in the Rhinogydd mountains. Her night under the cosmos turned out to be the perfect return to wild camping.
"Over the past few weeks, I'd been following reports of a comet discovered by NASA: Neowise. Images I'd seen showed a beautiful two-tailed celestial object flaming through the northern skies. At a distance of 250 million kilometres from the Earth, the comet was only going to be visible for a few more weeks. Would I be able to see it with the camera? Would I be able to shoot it?"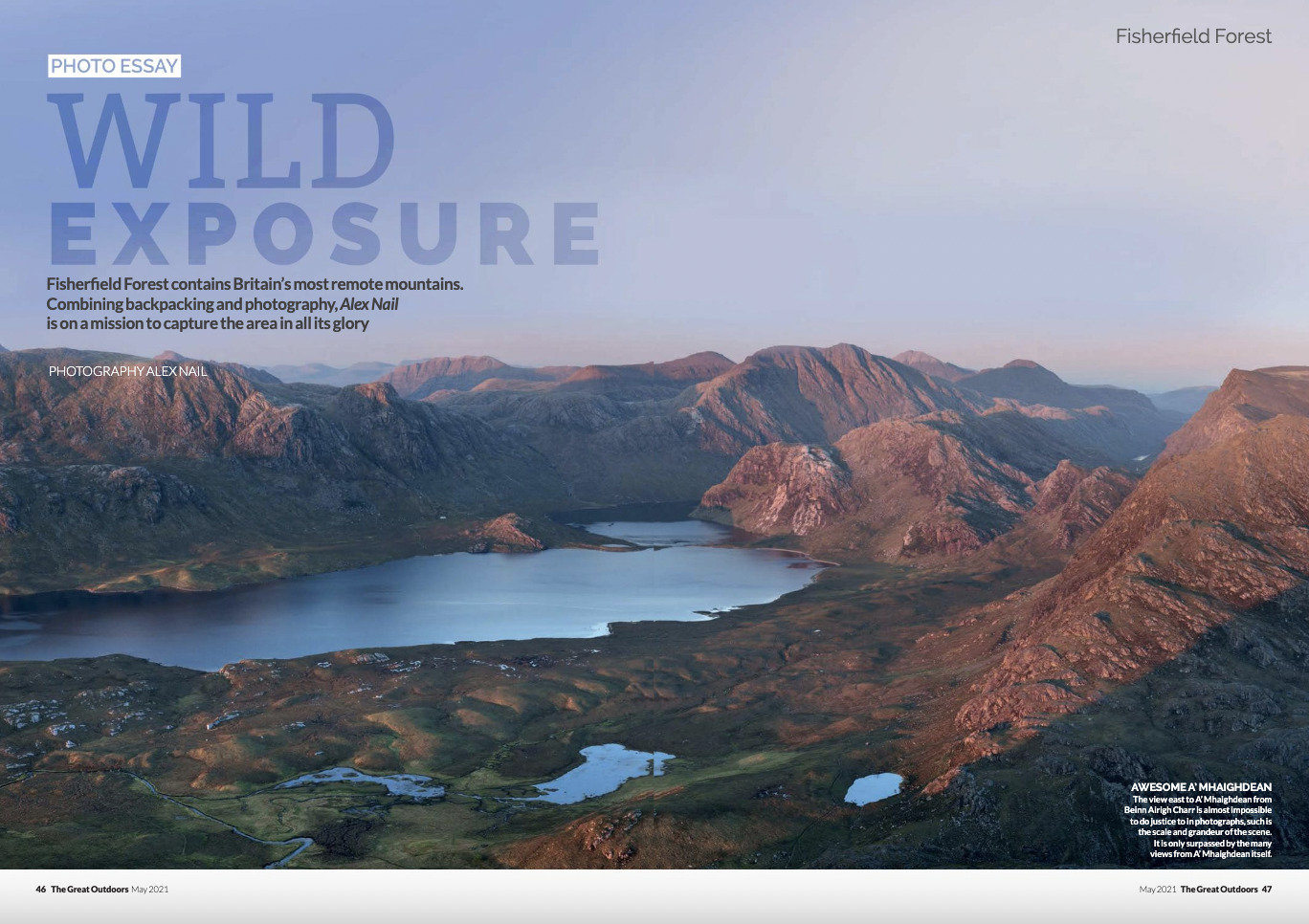 Wild exposure: Fisherfield Forest contains Britain's most remote mountains. Combining backpacking and photography, Alex Nail is on a mission to capture the area in all its glory.
"Fisherfield has been dubbed 'The Great Wilderness'. Whether or not you believe that any area of Scotland can truly be referred to as 'wilderness', there's no arguing with either its remoteness or the power of its landscape. The UK's 'middle of nowhere' – the spot furthest from any road – is found here, and the area stands alone in combining that remoteness with utterly spectacular scenery."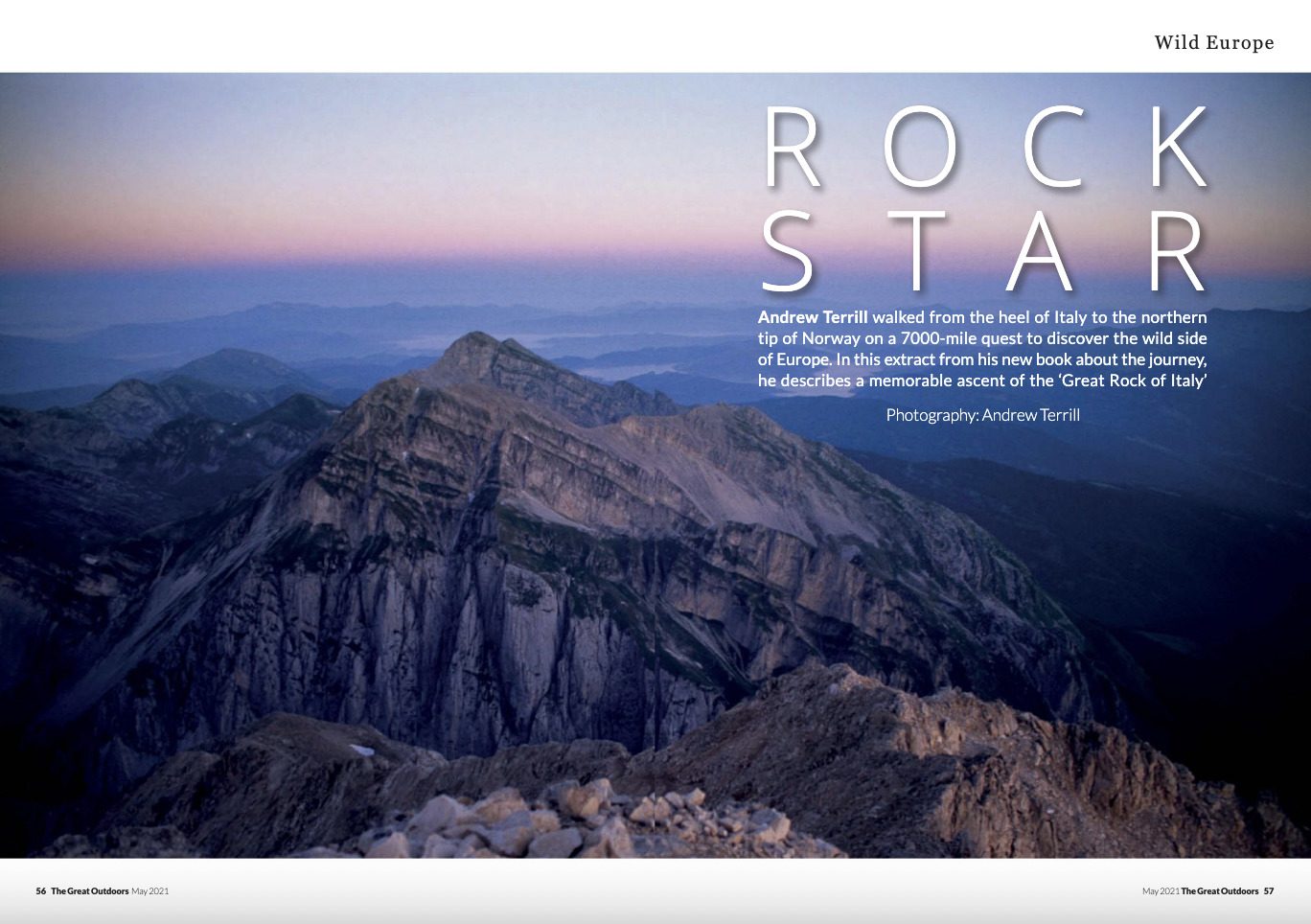 Rock Star: Andrew Terrill walked from the heel of Italy to the northern tip of Norway on a 7000-mile quest to discover the wild side of Europe. In this extract from his new book about the journey, he describes a memorable ascent of the 'Great Rock of Italy'.
"The Gran Sasso d'Italia is appropriately named. At 2912 metres it stands head and shoulders over its neighbours. On the Gran Sasso, rock walls soar. There are buttresses, cliffs, gullies, needles, ridges, slabs, pillars, towers. There is rock everywhere, acres of it; exposed, solid and unyielding. The Great Rock of Italy dominates the landscape with such vertical abruptness that it looks out of place. There is nothing like it in the Apennines."
Order a single copy of this issue and get it delivered with free postage.