Dodge crowds on British mountains, devise your own long-distance walk and take a mind-blowing trek across a desert. Find all this and more in our Spring issue. 
Looking forward to a triumphant post-lockdown return to the hills? You're not the only one. The coronavirus pandemic has driven a new wave of enthusiasm for the outdoors. Wonderful as that is, if you want to escape to the mountains in search of solitude and don't fancy queueing for the chance to touch a summit cairn, you might need to get a bit more creative to find quieter spots. Plus, the more we spread out, the more we lighten the load on pressurised places.
That's why our spring issue is all about heading off-piste to discover the peaks and paths less travelled – places where you can be pretty certain of having the scenery to yourself. We've got some crafty ideas for avoiding the crowds on more popular summits as well.
Here are some of the highlight's from the Spring issue:
James Forrest's top tips for avoiding the summer crowds.
Nicola Hardy embarks on a 200 pilgrimage through the Peak District, the Yorkshire Dales and Cumbria. 
Craig Weldon explains how the 'wrong' way up a hill can sometimes be the right one
Alex Roddie finds solitude on a history-haunted Knoydart backpacking adventure
Fariz Shibli sets out to trek 1,000 miles across the Gobi Desert
PLUS: Top tips for pitching tents in challenging conditions, 3-season boots and tarps tested, Glen Coe's top 10 walks, 7 tips for beginner hillwalkers, 5 mapped 'wild walks'…. and masses more.
How to get a copy
Order a single copy of this issue and get it delivered with free postage.
Take out an annual subscription and take advantage of our new subscriber offer (£15 for your first 6 issues).
Download the digital version to your tablet or smartphone and start reading straight away.
Take advantage of our special lockdown offer (3 issues along with the accompanying digital editions for just £9.99 plus free postage, with no ongoing commitment to subscribe.)
Buy it in shops across the UK (subject to lockdown opening).
Read more: a peek inside the issue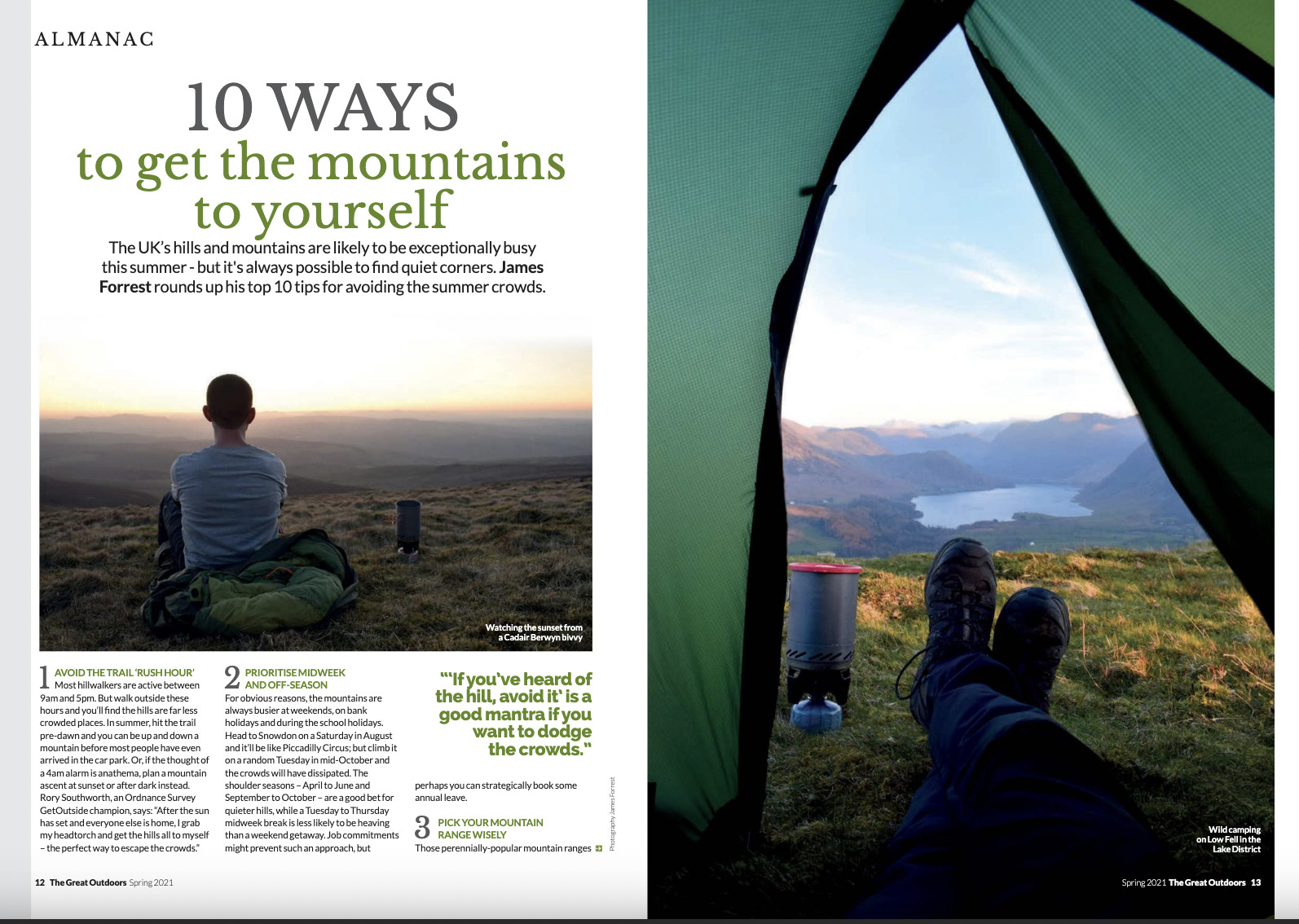 10 ways to get the mountains to yourself: The UK's hills and mountains are likely to be exceptionally busy this summer – but it's always possible to find quiet corners. James Forrest rounds up his top 10 tips for avoiding the summer crowds.
"Those perennially-popular mountain ranges – places like Glen Coe, the Ogwen Valley, Helvellyn and the Yorkshire Three Peaks – will be swarming this summer. So instead why not explore a less fashionable mountain range? For example, the untrendy bits between national parks, those out-on-a-limb peaks most people ignore, and that "I'll do it one day" grassy hill you never quite get around to."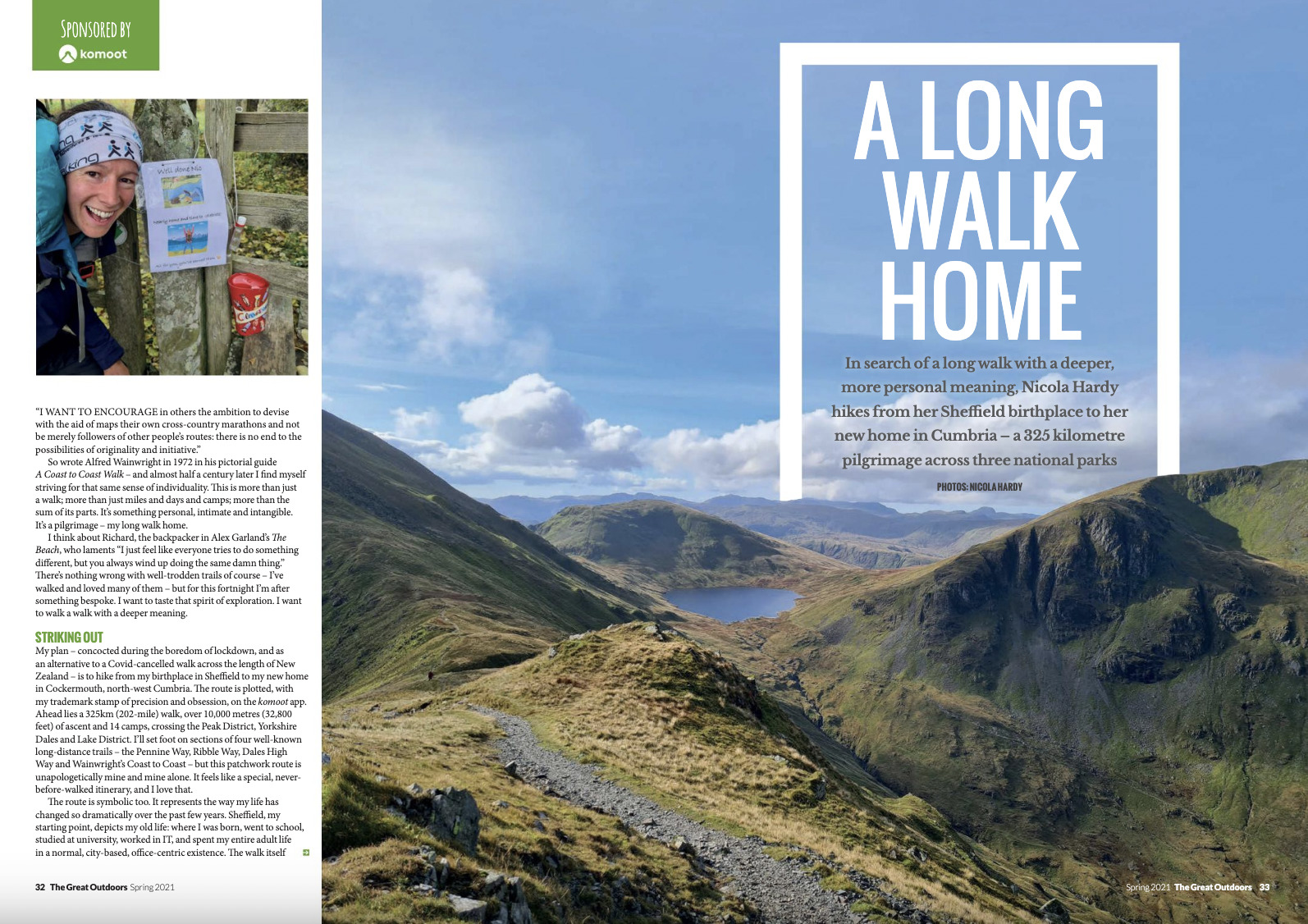 A long walk home: In search of a long walk with a deeper, more personal meaning, Nicola Hardy hikes from her Sheffield birthplace to her new home in Cumbria – a 325-kilometre pilgrimage across three national parks.
"Ahead lies a 330km walk, over 10,000m of ascent and 14 camps, crossing the Peak District, Yorkshire Dales and Lake District. I'll set foot on sections of four well-known long-distance trails – the Pennine Way, Ribble Way, Dales High Way and Wainwright's Coast to Coast – but this patchwork route is unapologetically mine and mine alone. It feels like a special, never-before-walked itinerary, and I love that."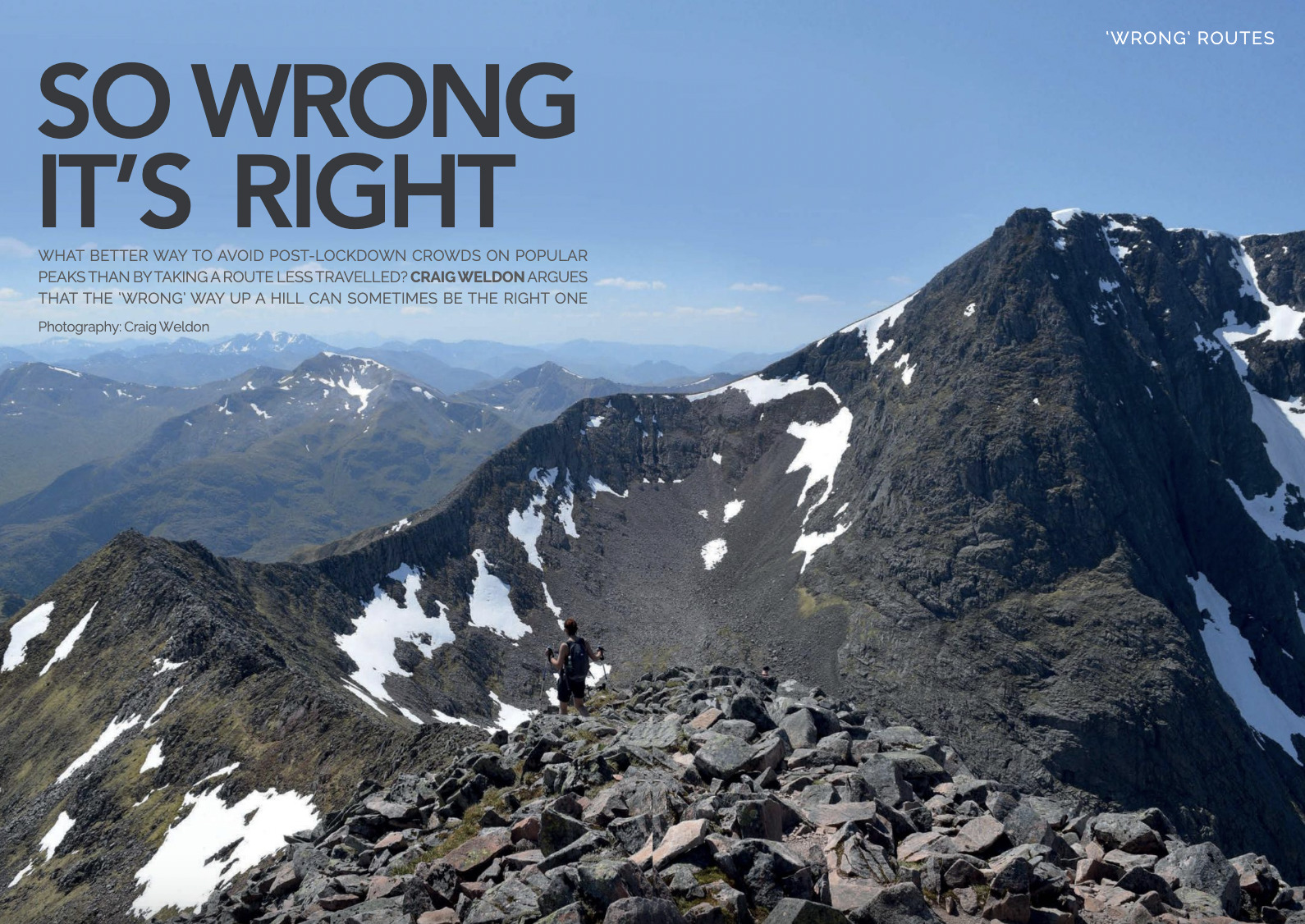 So wrong it's right: What better way to avoid post-lockdown crowds on popular peaks than by taking a route less travelled? Craig Weldon argues that the 'wrong' way up a hill can sometimes be the right one.
"The only thing really 'wrong' with taking a maverick route is that it's not the way everyone else goes. It is no more wrong than preferring heavy metal to Ed Sheeran. And if you're doing the wrong way really right, you'll still need the guidebook: because you want to refer to it, so you know the routes to deliberately avoid. This elevates the approach to a consciously anti-social practice: The Wrong Way, if you will. It is the way that spreads the load on a hill and increases your chance of seeing wildlife, practicing navigation, having an adventure, and getting in tune with nature."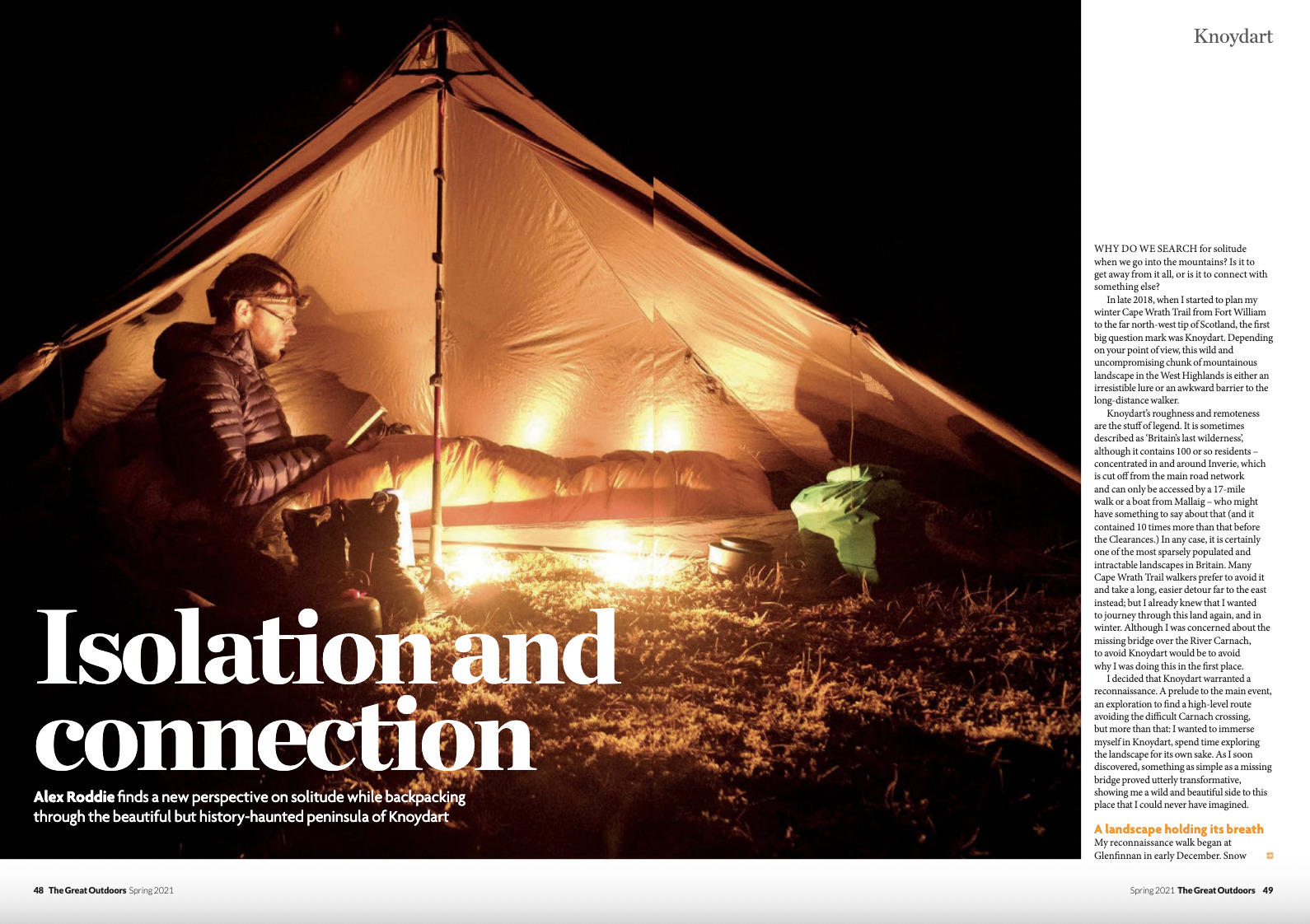 Isolation and connection: Alex Roddie finds a new perspective on solitude while backpacking through the beautiful but history-haunted peninsula of Knoydart.
"Knoydart's roughness and remoteness are the stuff of legend. It is sometimes described as 'Britain's last wilderness', although it contains 100 or so residents – concentrated in and around Inverie, which is cut off from the main road network and can only be accessed by a 17-mile walk or a boat from Mallaig – who might have something to say about that (and it contained 10 times more than that before the Clearances.) In any case, it is certainly one of the most sparsely populated and intractable landscapes in Britain."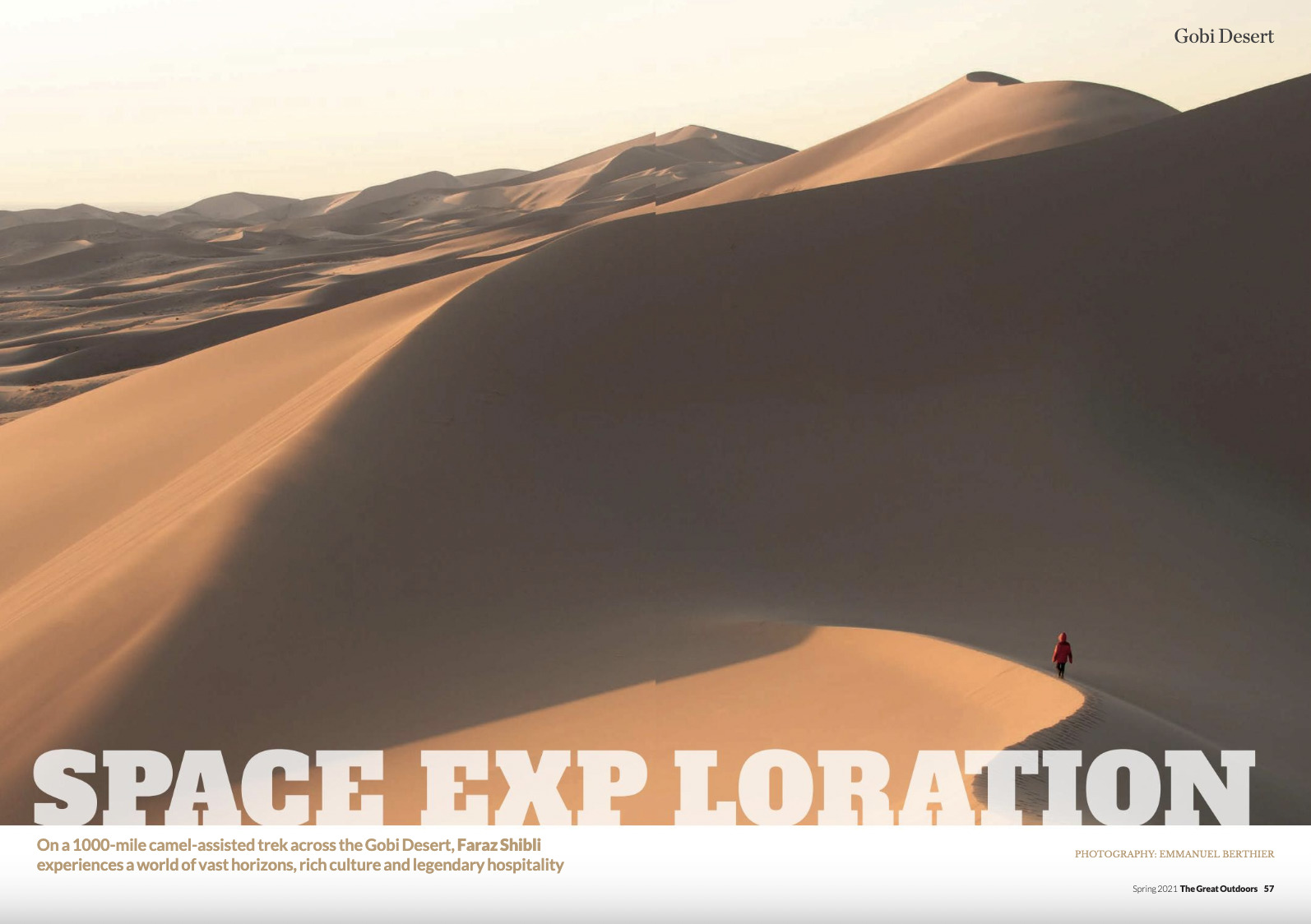 Space exploration: On a 1,000-mile camel-assisted trek across the Gobi Desert, Faraz Shibli experiences a world of vast horizons, rich culture and legendary hospitality.
"Never before on land had I seen so much uninterrupted space. It was a great emptiness – a place without fences and of boundless steppe. The only signs of human habitation were the nomads' gers: round, wooden yurts, wrapped in felt and white canvas. From a distance, they blended seamlessly into the landscape, like daisies in a field."
Order a single copy of this issue and get it delivered with free postage.