Explore wild places and discover the best outdoor gear of the year in the latest issue of The Great Outdoors.
From the remote peninsulas of the Scottish Highlands to Europe's first wild river national park, seeing Sweden via packraft and traversing the hallowed ground of Lakeland, we celebrate wild places and inspiring places in the August issue of The Great Outdoors.
To aid you on your adventures, we're also delighted to announce the winners of The Great Outdoors' Gear of the Year Awards for 2023. Across 16 categories, our expert judges spotlight the best outdoor kit, clothing and equipment available. Now, let's go into the wild…
Cover image: Climbing Mullach Coire Mhic Fhearchair | Credit: James Roddie
Highlights of this issue:
We announce the winners of the The Great Outdoors' Gear Awards
Sarah Jane Douglas roams free in the Rough Bounds of Knoydart
Britain's most unusual paths rounded up by James Forrest
Katy Ellis heads to Albania to walk Europe's last wild river – the Vjosa
For the first time since fatherhood, Alec Forss returns to the Swedish wilds 
10 mapped walking routes to help you navigate new wild places
PLUS: Jim Perrin puts the Hergest Ridge in profile; Mary-Ann Ochota asks if we should bin our dig-and-dump mountain culture problem; expert gear reviews including the best two-person tents and midlayers, an adventurous weekend in Beddgelert, how to hike the Beara Way long-distance trail; and reviews of two of the best mountain books for your bookshelf.
Read more: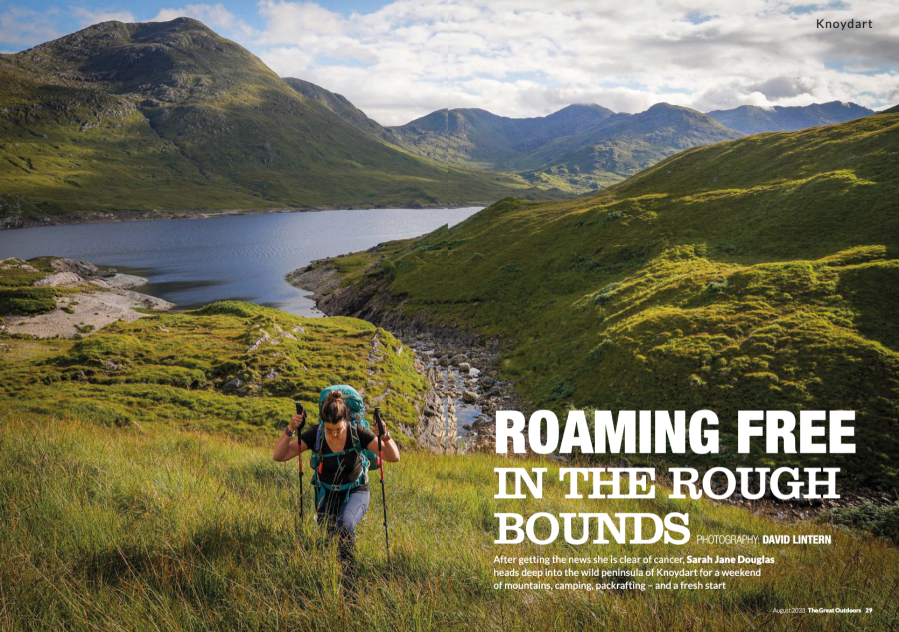 Roaming free in the Rough Bounds: After getting the news she is all clear of cancer, Sarah Jane Douglas heads deeps into the wild peninsula of Knoydart for a weekend of mountains, camping, packrafting – and a fresh start.
"As I paddled across the loch for the last time, I reflected on the things I'd learned during this time out, in some part thanks to chatting things through with my new hill companion. It had felt frightening and uncertain to have had the threat of cancer hanging over me all these years; the possibility of my life ending sooner rather than later was a huge driver behind my desire to do and see as much as I could on the mountains as quickly as is possible for me. Now I had a chance to recalibrate. I didn't have to race round the mountains or be camped at their peaks to enjoy all they have to offer…"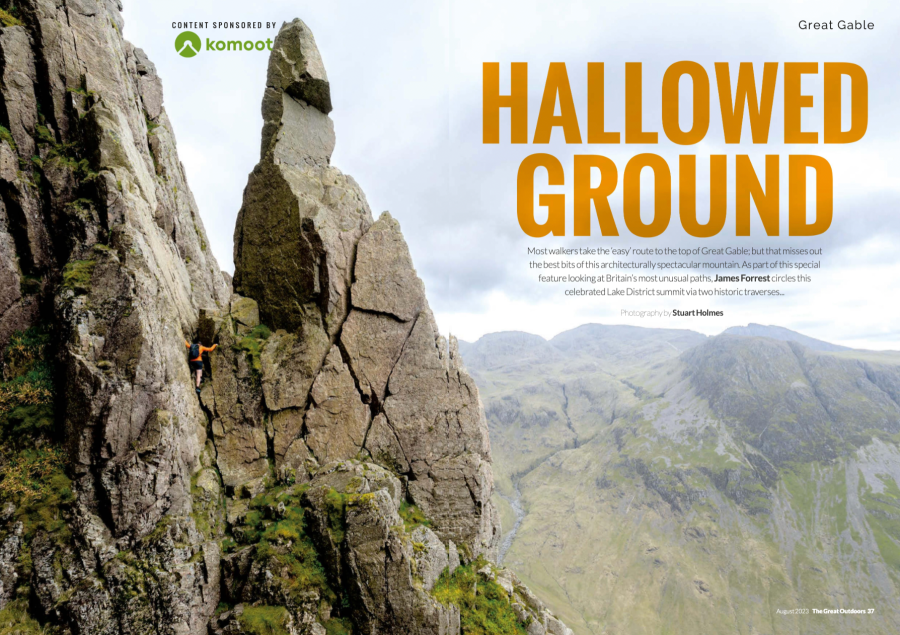 Hallowed ground: Most walkers take the 'easy' route to the summit of Great Gable; but that misses out best bits of this architecturally spectacular mountain. As part of this special feature looking at Britain's most wild, weird and wonderful paths , James Forrest circles this celebrated Lake District summit via two historic traverses.
"It's uncanny. This remarkable rocky outcrop, high on the flanks of Great Gable, forms the Sphinx – like outline of a human head. Not just faintly or tenuously, but distinctively. It's easy to see: strong chin, prominent nose, closed mouth, gentle eyes, sloping forehead and traditional headwear befitting of a chieftain. I can almost sense character in the face too. I see wisdom, poise and resolve, the eyes angled over the landscape with pride, like a benevolent yet fearsome guardian of Gable. Far below, Wast Water stretches sumptuously towards the coast, framed left and right by the heathery slopes of Illgill Head and Yewbarrow. To my left is the faint outline of the trod – a rocky tightrope through the labyrinth – that led me here. Is it the weirdest, most wonderful, most adventurous path in all of Lakeland? Surely it must be…"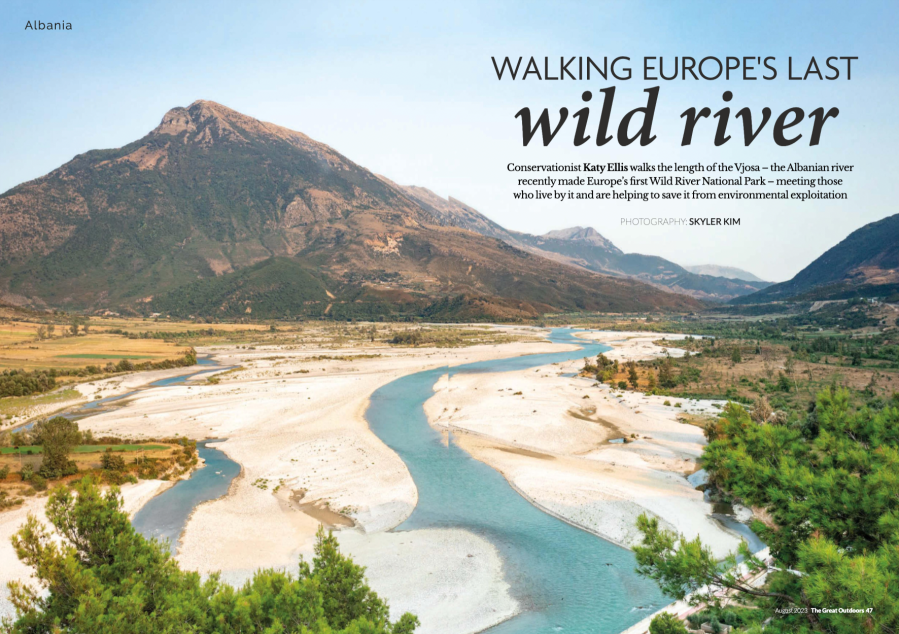 Walking Europe's last wild river: Conservationist Katy Ellis heads to Albania to walk the length of the Vjosa – the Albanian river recently made Europe's first Wild River National Park – meeting those who live alongside it and are helping to save it from environmental exploitation.
"Further near-misses with dog packs and several hours later, we reached a village – and more importantly, a bar. Coffees and beers were served, and spirits revived. The owners were members of the Greek minority living in the border region of Albania. Wild camping is legal in Albania, but they suggested we sleep on the first floor of an abandoned building to avoid any more canine encounters during the night. It was a perfect choice – the walls were not yet built, so we had full mountain views as well as a roof over our heads. As the sun went down, we were enveloped in a chorus of cicadas, excited in a foreign land. We were ready for sleep, but day one wasn't over just yet. An enchanting melody drifted down from the mountains. After some time, Will rolled over to face me. "We have to go and find out what that music is," he said…"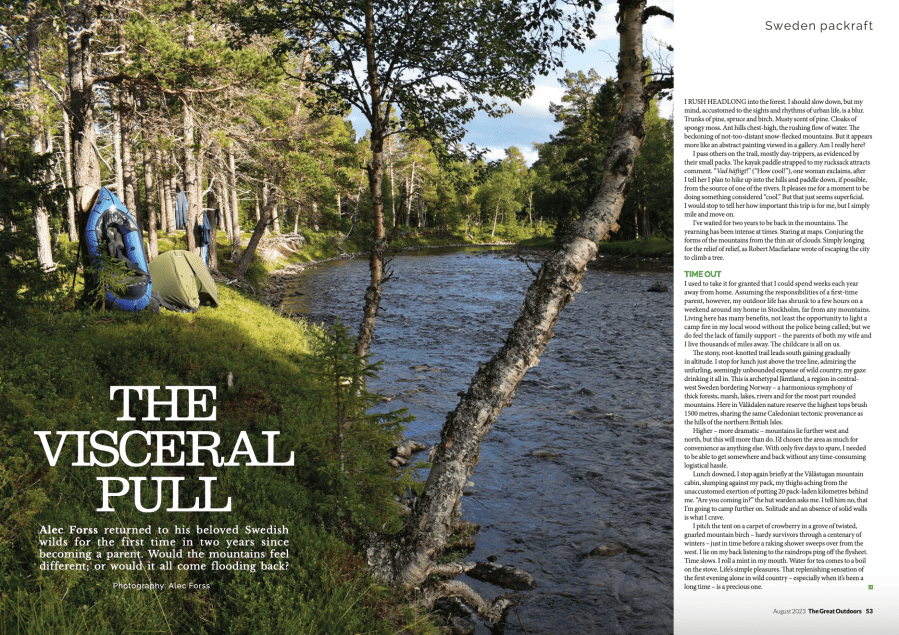 The visceral pull: Alec Forss returned to his beloved Swedish wilds for the first time in two years since becoming a parent. Would the mountains feel different or would it all come flooding back?
"I pitch the tent on a carpet of crowberry in a grove of twisted, gnarled mountain birch – hardy survivors through a centenary of winters – just in time before a raking shower sweeps over from the west. I lie on my back listening to the rain drops ping off the flysheet. Time slows. I roll a mint in my mouth. Water for tea comes to a boil on the stove. Life's simple pleasures. That replenishing sensation of the first evening alone in wild country – especially when it's been a long time – is a precious one. I'd long put off discussion of children until I could put it off no more. I had already seen my companions in the mountains gradually all but disappear due to their work and family commitments until going alone had become the default. Admittedly, in my more anxious moments, the compromise involved in having kids had seemed too great. 'When would I next be able to take a week or two off to go to the mountains?' an internal voice would wonder…"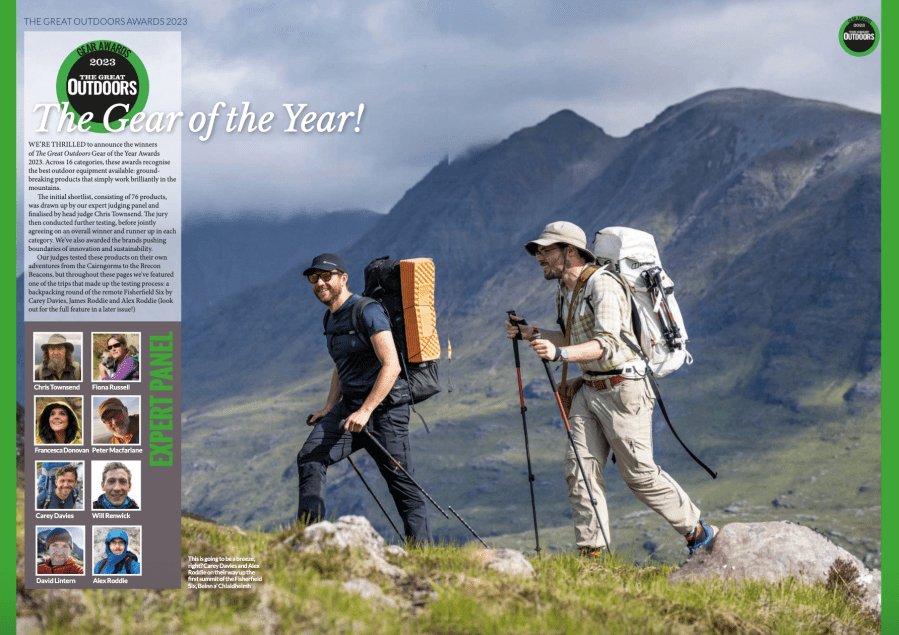 The gear of the year: We're excited to announce the winners of The Great Outdoors Gear of the Year Awards 2023.
Across 16 categories, these awards recognise the best outdoor equipment available: ground-breaking products that – to put it simply – work brilliantly out in the mountains. The initial shortlist, consisting of 76 products, was drawn up by our expert judging panel and finalised by head judge Chris Townsend. We've also awarded the brands pushing the boundaries of innovation and sustainability…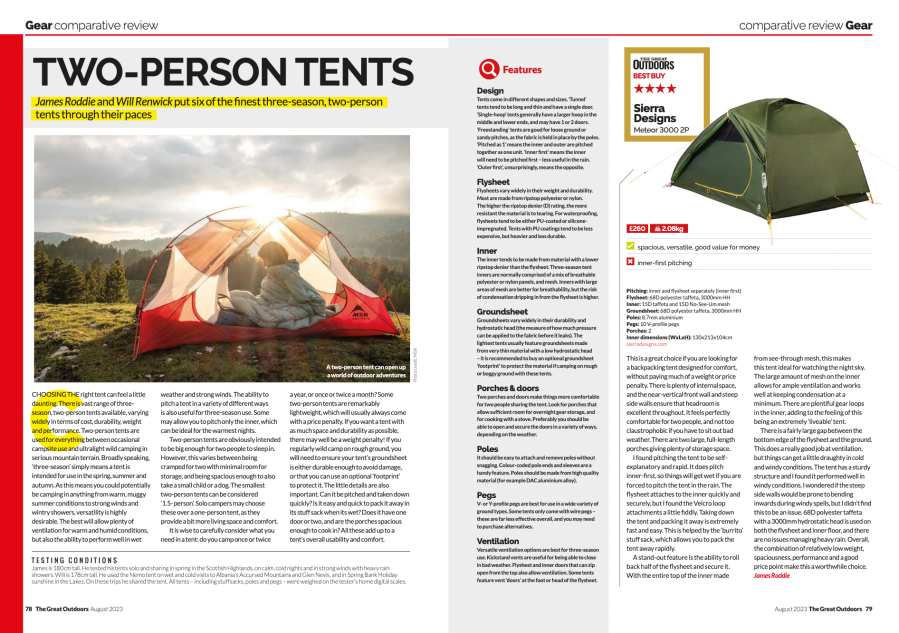 Two-person tents: James Roddie and Will Renwick put six of the finest three-season, two-person tents through their paces.
"Choosing the right tent can feel a little daunting. There is a vast range of three season, two person tents available, varying widely in cost, durability, weight, and performance. Two person tents are used for everything between occasional campsite use and ultralight wild camping in serious mountain terrain. Broadly speaking, 'three season' simply means a tent is intended for use in the spring, summer and autumn. As this means you could potentially be camping in anything from warm, muggy summer conditions to strong winds and wintry showers, versatility is crucial for a good three season tent…"
Order a single copy of this special issue on life-changing walks and get it delivered with free postage.