A classic wild camp, a Roman shrine and the 'real' Batman's lair – here's our pick of Britain's most enticing underground attractions.
This feature was first published in the March 2019 issue of The Great Outdoors.
Forget ticketed and well-groomed show caves – Britain's most intriguing underground places are quiet, semi- secret and only accessible by foot. Some have fascinating archaeological or historical backstories. Others have starred as movie locations or featured in famous legends. A few are remarkable simply for their size and splendour. But all repay closer exploring…
1. Priest's Hole, Lake District
Header image above; © Getty Images
Since it featured on the BBC in 2016, this popular wild camping spot on the side of Dove Crag has lost any last vestige of secrecy. Think of Priest's Hole as you might a bothy, accept that you may have to share, and you're less likely to be disappointed. The views of the Far Eastern Fells are great and bad weather is kept at bay by a low stone wall. If you do find remnants of previous visits, do a good turn and take them with you.
2. Thirst House Cave, Peak District
Archaeologists excavating this Deep Dale cave in the 19th Century found pottery, jewellery and burials suggesting it had been used as a Roman shrine. Local people once called it 'Hob Hurst House', after a goblin who reputedly lived there. Thirst House Cave makes for fascinating exploring on a walk around Deep Dale or a diversion from the western end of the Monsal Trail – just don't stray too far inside the system.
3. The Massacre Cave, Eigg
As you might guess, this cave has a pretty gruesome history. The population of Eigg sheltered here during a 16th Century feud with the Macleods of Skye, only to be killed en masse when the Macleods lit a huge bonfire to smoke them out. Tourists visiting the cave recently found a large collection of human bones that have since been linked to the slaughter. Massacre Cave and nearby Cathedral Cave can both be explored with the help of a torch – if you're brave enough…
4. Alum Pot & Gaping Gill, North Yorkshire
Looking to dip a toe into the murky and mysterious world of caving? Book a guide to take you down Alum Pot, dubbed by those in the know as the finest abseil in Yorkshire. The way out through a labyrinth of tunnels leads through the famously claustrophobic 'Cheese Press' – not a route for the faint-hearted. If you don't fancy venturing below ground, you can still see the open shaft of Alum Pot and the waterfall that cascades into its depths on a walk around Ingleborough that also takes in the entrance to the more famous Gaping Gill (pictured).
5. Henrhyd Falls, Brecon Beacons
To film buffs, the sheltered spot behind thundering Henrhyd Falls might look thrillingly familiar. It was used as one of the filming locations for Batman's lair in The Dark Knight Rises – the key shot shows Christian Bale disappearing behind a curtain of water to enter his secret hideout. There's nothing (other than the prospect of a good wetting) to stop visitors following his footsteps through the waterfall to discover the shallow cave beyond. The surrounding walks in National Trust woodland provide an added enticement.
6. Victoria Cave, North Yorkshire
The walk to this isolated cave, set east of Langcliffe in Ribblesdale, takes you through some of the most dramatic limestone scenery in the Yorkshire Dales. The cave itself is an archaeological treasure: since it was first excavated, in the year of Queen Victoria's coronation, everything from mammoth bones to Roman brooches has been discovered here. Surrounding signs warn that the roof is unstable, so Victoria Cave is best admired from the outside.
7. Millican Dalton's Cave, Lake District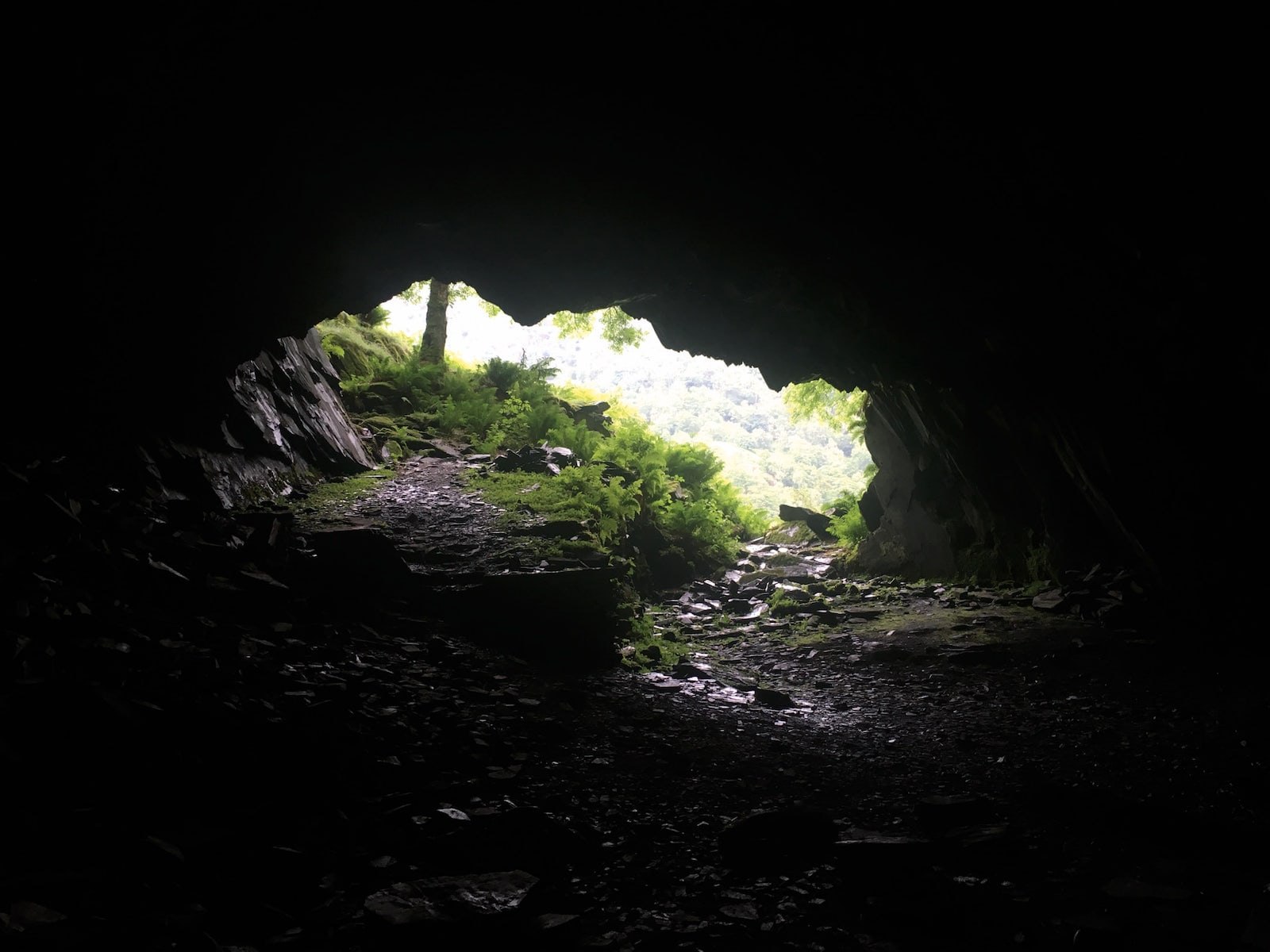 For nearly 50 years, this sizeable cave on the side of Castle Crag was the summer residence of Lakeland eccentric, lightweight gear pioneer and self-styled 'Professor of Adventure' Millican Dalton. Nowadays it's a site of pilgrimage for outdoorsy folk who admire Dalton's philosophy and his legendary quest for self-sufficiency. Reach the cave on a short walk from Rosthwaite, taking in the war memorial on the summit of Castle Crag en route. Keep your eyes peeled for the faint inscription: 'Don't waste words, jump to conclusions'.
8. King's Cave, Arran
Legend says this is where Robert the Bruce had his life-changing encounter with a spider. It's one of a series of sandstone caves that rise above the Arran Coastal Way (nearby Black Cave below Bennan Head is also well worth visiting on a circuit of the island). Aside from the legend, the most fascinating thing about this cavern is the Christian and pre-Christian art adorning the walls, some carvings possibly dating to the Bronze Age.
9. Cathedral Cave, Lake District
Hidden above Little Langdale valley is a disused Lakeland green slate quarry riddled with tunnels and mines. The most spectacular is a 12m-high chamber known as Cathedral Cave. The National Trust sign at the entrance notes that you enter at your own risk, but if you're intrepid enough to venture in then this man-made cavern with its high roof and clear pond is nothing short of spectacular. Elsewhere in the quarry there are some intriguing tunnels to explore, including one that's around 400ft in length.
10. Prince Charles's Cave, Skye
Another Scottish cave with romantic historical association, this narrow tidal cavern played host to Bonnie Prince Charlie during his last night on Skye. Access is restricted to a few hours around low tide, so check tide times before setting forth on the superbly scenic tramp south from Elgol. There are other underground attractions to explore along the way, too – continue around the peninsula to reach the cathedral-like Spar Cave, but plan your walk with care to avoid being stranded by the rising tide.