"One of the hardest parts of going solo is that you are completely alone with the thoughts in your head – if they turn negative, only you can pull yourself out of that"
Jenny Tough has successfully run, cycled, skied, trekked, and paddled her way across six continents, pushing herself to the limits at every stage. We sat down with Jenny to learn more about her 25-day solo expedition across the Tien Shan Mountains of Kyrgyzstan, and how it felt to be the first person to have ever completed the journey.
You were the first person to run solo and unsupported across the Tien Shan Mountains in Kyrgyzstan. What was it about the challenge that enticed you in the first place?
"I grew up in the Canadian Rockies, and mountains have always felt like home for me. My desire to go to the Tien Shan was born from a need to explore mountains, and during my research of this mysterious mountain range I somehow came up with the idea that I would cover the whole thing on my own two feet. I've been a runner for a long time, looking for bigger challenges every year, and I began to wonder just how far it was possible to run. This seemed like a great way to find out."
Kyrgyzstan isn't exactly your typical holiday destination. For people unfamiliar with the country, can you tell us a little about what you learned of it and its people during your time there?
"I have to admit, even when I landed in the capital of Bishkek I still wasn't sure if I was pronouncing Kyrgyzstan correctly! It's an elusive little nation, still bearing the scars of the Soviet era (they were celebrating 25 years of independence when I was there). In addition to the incredible mountains that cover the entire country, one thing that really drew me to Kyrgyzstan was that nomads still live in the traditional way in the mountains, dwelling in yurts with their small flocks of goats, sheep, and horses. Getting to know the nomads and seeing their way of life was a true highlight."
"I think that experiencing other cultures makes you more empathetic. The way the world has shifted politically in the last few years is a scary example"
Cal you tell us about the gear you had with you in Kyrgyzstan?
"My packing list had to be as light as possible – every gram of weight slows down running and increases the chance of injury. I ran in the same clothes all 23 days, and in my 36L backpack I carried:
1-woman ultralight tent
Down sleeping bag
Merino wool base layers
Down jacket
GoreTex jacket
Small camp stove
Dried rations (mainly couscous and porridge)
As much chocolate as possible
3L water bladder
GPS, phone, camera, and power bank"
How much did you have to improvise when it came to your route? Was it a case of having a plan for each day of the expedition, or just taking it day by day?
"Because no maps of the interior existed, the route that I had plotted in my GPS was really just a hopeful guess created through endless zooming on satellite images. I had no idea if my routes would work out, and many times they didn't. I could often find nomads to give me advice, but they would usually only know their small territory, so it really was a case of planning day to day and being really flexible. My original 'route' that I plotted in my GPS did not match very closely to the track that I did in reality!"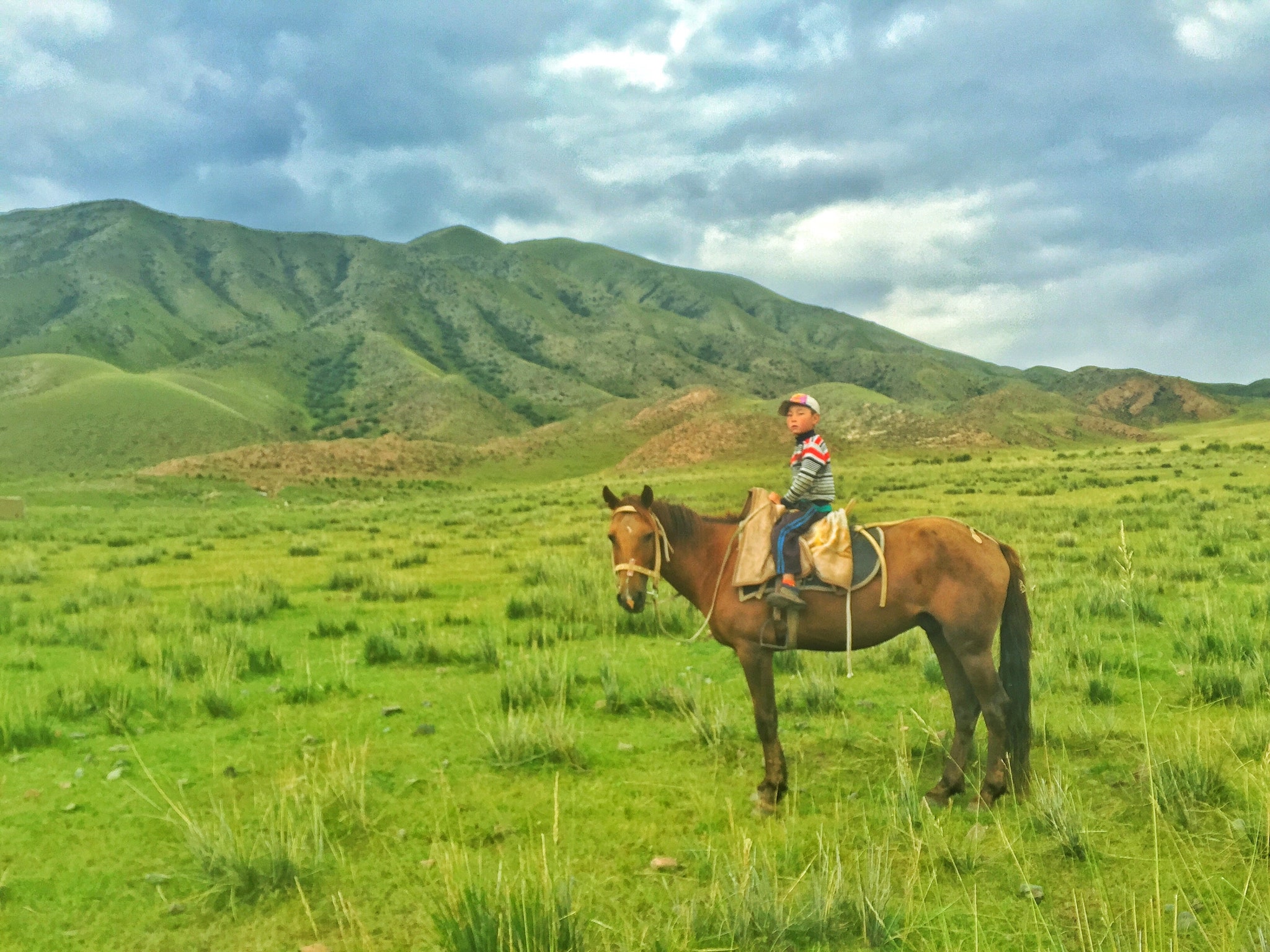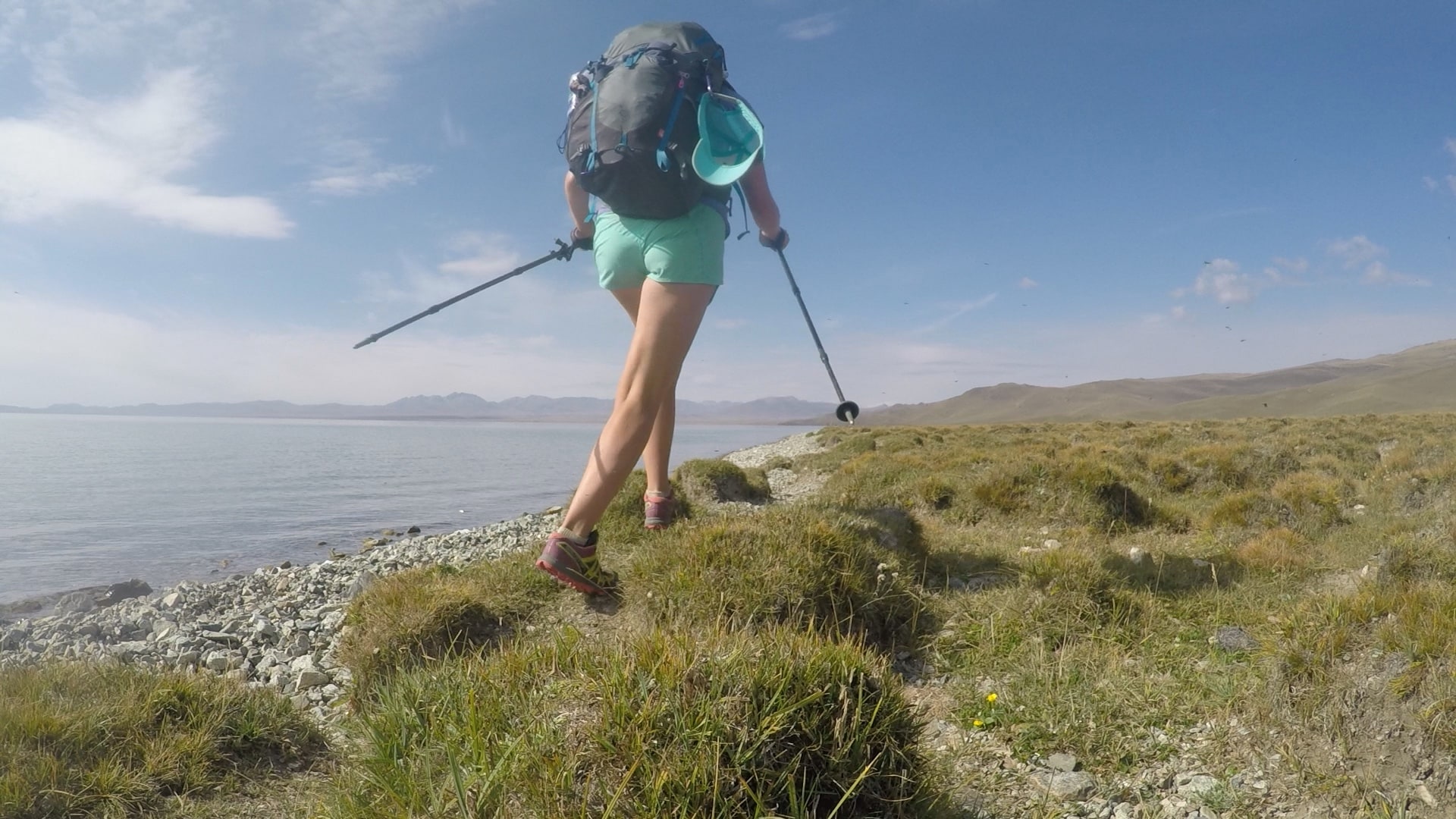 What mental and practices do you follow when trying to cope with the challenges you face along your journey?
"Over the years, I've come up with a few techniques to get me through. One of the hardest parts of going solo is that you are completely alone with the thoughts in your head – if they turn negative, only you can pull yourself out of that. It's important to identify problems and fix them right away. I always carry headphones so I can listen to music that will improve my mood, or tune in to podcasts when I'm feeling bored or the distance is looking too great and I need a distraction.
"A surprise discovery on this adventure was how much having a camera helped me. Setting up my small camera to take footage of the adventure forced me to be more mindful and aware of my surroundings, and also connected me back to the world at home with whom I would eventually share this footage. I never thought that cameras could add purity and connectedness to an expedition."
Was a solo expedition through an unfamiliar environment something you were ever discouraged against because of your gender? Do you think it affected how you were treated whilst out there?
"Constantly. It's funny, though – because everyone I met perceived what I was doing to be far more dangerous because I was a woman, everyone was overwhelmingly hospitable and even protective towards me. There is a global perception that the world is a dangerous place for a woman, and because of that, the global community compensates by being very friendly towards women. In every village I stayed in, people went out of their way to make me feel safe and welcome."
What inspires and motivates you to continue taking up new challenges? Do you have any upcoming?
"One thing I'm learning is that we are all capable of more than we think. When I decided to run across Kyrgyzstan, I truly didn't know if it was possible and I was insanely terrified of how great the challenge was ahead of me. But, I achieved it, so knew I had to try something harder.
"Since running across the Tien Shan, I decided to run across a mountain range on every continent, and I'm specifically picking mountains where remote mountain communities still exist, much like the experience I had with the Kyrgyz nomads. In 2017, I ran across the Atlas Mountains where the Berbers were my hosts, and this year I'm going to run across the Sierra Occidental of Bolivia/Chile where the Quechua live."
How has the exploration of the unknown and the experience of different cultures shaped you as a person?
"I think it makes you more adaptable by taking you away from your comfort zones, and by seeing how other cultures live, question and challenge the way you live your own life (in a good way). But most importantly I think that experiencing other cultures makes you more empathetic. The way the world has shifted politically in the last few years is a good and scary example. I truly feel that if more people shared and experienced other cultures they would have a more empathetic outlook on other communities."
What advice would you give to people inspired by your path and the adventures you've embarked upon?
"Go for it. You have to go for it! If you are dreaming of an adventure, it's important to you, and you need to make it happen. If it doesn't seem possible, make a list of all of the things that stand in between you and your big adventure. Perhaps it's your job, health, money, skills, etc. Make a list and figure out how you can change all of those things, so you can make your adventure happen. Trust me, you're capable of so much more than you think."
Read more about Jenny's expedition through the Tien Shan Mountains of Kyrgyzstan here.