In creating a modern photo-rich guidebook to Skye's peaks, Tom Prentice gained an intimate knowledge of the island's many nooks and crannies. We caught up with him to discuss how The Cuillin & Other Skye Mountains came together and Skye's best climbs for beginners.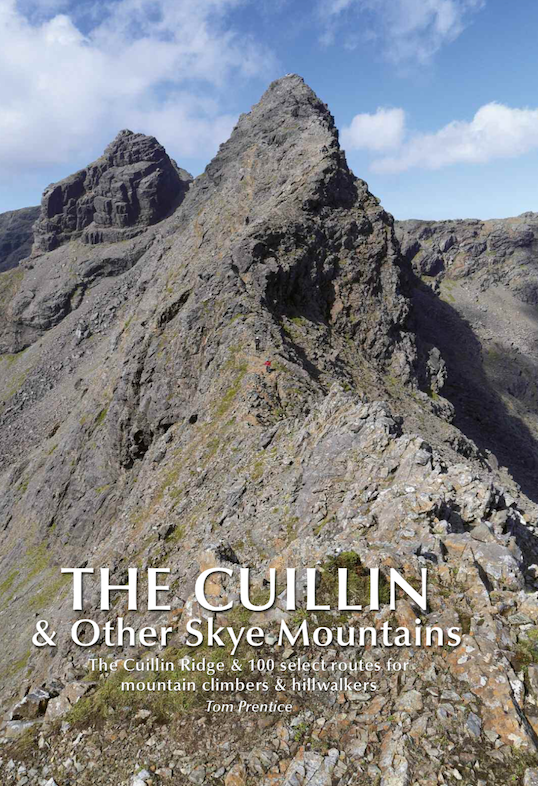 Who are you and what do you do?
I'm a very lucky person. Back in the 1980s two of the main climbing and hillwalking magazines, Climber & Hillwalker and TGO were part of Scottish company, which also owned a number of national and local newspapers. Jobs on these magazines were few and far between. In 1981, I moved from London to Scotland, got a job as a reporter on one of the company's local newspapers and waited for something to come up. In 1988, my boat came in; Cameron McNeish, Peter Evans and Roger Smith were looking for an Assistant Editor for both titles. I applied and got the job.
By 1994 I was Editor of Climber & Hillwalker. In 1998 after a decade in magazines, I left to go freelance writing anything for anyone, but with a feeling I wanted to move into books. The books I had in mind were the hillwalking and climbing guidebooks published by the Scottish Mountaineering Club, which I'd become a member of in 1992. Since the outstanding success of the SMC guide to The Munros in 1985, the club's guidebooks had been overseen by a Publications Manager, Donald Bennet. In 1999 Donald announced his retirement. I applied and got the job.
During the course of the next 19 or so years I co-ordinated and oversaw the generation, creation, design, print and distribution of 25 or so guidebooks, from a new edition of The Munros to a new guide to Ben Nevis and Hostile Habitats, the best exploration of Scotland's mountain environment in print.
In 2009 myself and Rab Anderson launched Mica Publishing with two guides to walks in Loch Lomond & The Trossachs National Park, swiftly followed by a guide to walking in The Pentland Hills outside Edinburgh. In the past decade eight more books have followed covering walking, cycling and winter climbing.
In your feature for the August issue of TGO, you explain how the book came into being, but what was the actual process of research like and how did you decide what made the cut? 
The Cuillin & Other Skye Mountains is a comprehensive guide to Skye, covering all the classic peaks and rounds in the Cuillin and elsewhere. The beauty of Skye is that it has such variety of hillwalks from rugged peaks that, with the edition of some snowslopes and some altitude, wouldn't be out of place in the Alps, to peaks more reminiscent of Wales, Lake district or Peak District. There really is something for everyone.
The Scottish Mountaineering Club has two brilliant guides to Skye; Skye Scrambles and Skye The Cuillin which covers rock and ice climbs. There are assorted other guides to Skye's mountains, but most are more than 20 years old. It was clear to me that Skye needed a modern, full colour, comprehensive guide to the island's mountains that was both a practical no-nonsense guidebook and a photographic inspiration.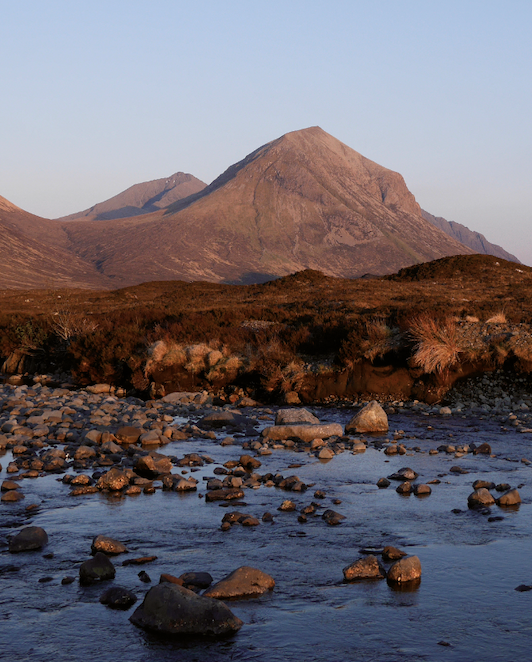 The book does give full coverage of the main Cuillin Ridge, with a text description, photos, topo-diagrams and pages of notes on planning and equipment for a successful traverse. Not many people succeed on the main Cuillin Ridge first time on sight, that is without already being familiar with some sections. I certainly didn't.
Furthermore, it was clear from my visits that many people in the Cuillin were just interested in doing the 11 Munros and 8 Munro Tops, not a whole traverse. So, I've tried to structure the book to satisfy everyone. Those wanting to do the main Cuillin Ridge 'on-sight' have a description to help them achieve that. However, if they want to research some of the critical sections they can via the various corrie rounds described, while the Munro Baggers can also follow the corrie rounds, or just take up and down routes as they wish. And, for those who want to look round a few more corners, there's also routes up a number of Cuillin Peaks that are neither Munros, nor on the traverse of the main Cuillin Ridge, fine peaks like Sgùrr an Fheadain, Sgùrr Thuilm and Sgùrr Dubh Beag.
The best guidebooks to anywhere are the result of constant visits and this is no exception. I've been visiting Skye for more then forty years in all, although I've only been working in earnest on the guide for the last five or so years. In that time I guess I've probably spent about four or five months on the island, checking and re-checking, photographing and re-photographing. The thing with a guidebook full of route photos and photo-diagrams showing route lines is that there's no point going out when visibility is poor or uncertain. That may well be the experience of many on the hill, but it's no use if you want a bright, clear photo to show the route options on the South-East Ridge of Sgùrr nan Gillean, the so-called Tourist Route.
What was your first climb in the Cuillin – and what would you recommend as a first climb for beginners?
My first route in The Cuillin was an attempted traverse of the main Cuillin Ridge in 1976, and it was a total failure. We only had a vague weather forecast, we had too much equipment and we didn't really know what we were getting into. We got hit by a storm early on, struggled back to Glen Brittle to wrecked tents and holed up in the car until things had calmed down and the ferry had started running again. Then we left!
Despite appearances, there are some good introductory peaks in the Cuillin. The Munros and Tops, Bruach na Frithe, Sgùrr na Banachdaich and Sgùrr Sgùmain are all climbable without any scrambling, while Sgùrr a' Mhadaidh, Sgùrr nan Eag and Skye's highest peak Sgùrr Alasdair, require a little more 'hands on'. However, scree is abundant and navigation can be particularly difficult in poor visibility. These are still mountain climbs, not hillwalks.
Describe your very best moment in the mountains of Skye.
I've had lots of great days on Skye. I love the Granite hills, but I guess the gabbro has given some of the best memories. The view into Coruisk from Sgùrr na Stri is a must for everyone and solitude is certain on the big round of the Druim nan Ramh ridge.
In addition to classic mountain books by Poucher and Stainforth, which other books about mountains have made an impression on you over the years, and why?
I'm sure young people would regard Poucher's 1965 book The Scottish Peaks as desperately old fashioned with all the black and white photos. But they should just stop and take a closer look at the content. A selection of 74 routes on Scottish mountains including a list of all current Munros and Munro Tops, Bartholomew maps with the numbered routes marked on, annotated photo-diagrams showing the line of the route on the peak and text descriptions, all in a 'pocket sized book'. Took a long time for everyone else to catch up with that and no one has done much better since.
Gordon Stainforth's photographic essay The Cuillin is an inspirational book, but it obviously only covers the Cuillin & Gabbro Outliers. The other books that have inspired me and probably did the same for many of my generation were Ken Wilson's classic Hard Rock in 1974, The Big Walks in 1980 and Wild Walks in 1988. Ken's design wasn't new "Im Extremen Fels", or Extreme Alpine Rock, as it was titled in the UK, used the format in 1970, but we've all been aping it since. It's a brilliant design concept, one that has lasted the passage of time and I make no bones about having copied some of its look and approach for The Cuillin & Other Skye Mountains.
Where can readers buy your book?
Most of my guidebooks are available at online bookshops. The Cuillin & Other Skye Mountains can be bought at all online bookshops or direct from the publisher for £22 inc p&p.