Will Copestake recalls the challenges of a Cairngorms winter, encountered during his year-long, non-stop challenge to paddle around Scotland and climb its highest mountains
---
I stood buckled against the fierce rip of an icy wind on top of a summit I couldn't see. I was stuck in a freezer. For many hours I had seen nothing but the frozen red fabric of my father's borrowed 1980s Antarctic mitts gripped upon the map, and the waving arrow of my compass. My goggles were frozen thick to my Bu which, coated in ice, stuck fast to my stiff , cardboard like jacket. I was encased in my own personal ice cube. With a barely audible clink I pushed my axe into the summit cairn of the highest peak of the Cairngorms, Ben Macdui, and did my habitual celebratory star jump. As I leapt, the wind caught my snowshoes with a hefty push, sending me into the snow with an amused thud. Another one down, lots left to go, I thought, with the momentary satisfaction I had been chasing for months.
In a world with no visual reference points – just cloud and mist and the occasional glimpse of a sun never strong enough to cast a shadow – the mental challenge was as punishing as the physical. I had begun my day in the pitch black, pulling the anchor of my tent from my ice axe buried in the snow, before stuffing everything into my bag. I knew that any ice I failed to brush off would melt as I descended to the valley, soaking my gear as I went – another damp night loomed. Led on the trust of the faintly glowing compass in my hand, I watched the day slowly fade to grey and then a canvas of perfect white. The only colour was in my mitts and the little red needle I followed. In a few hours the short winter days would fade back from white to black. It made little difference – the visibility would be zero either way – yet I found I often raced to be in my tent before darkness fell. Somehow it was comforting.
The unexpected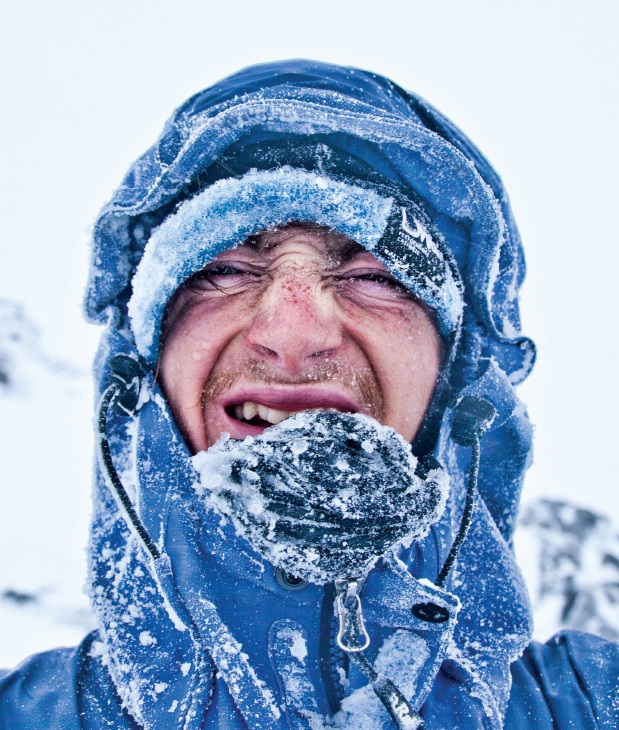 Leaving the summit of Macdui with the wind at my back I ducked my head and pushed downhill along the ridge. Whhooommph… My stomach lurched, my arms flailed. I watched my poles disappear above my head, gravity had turned off… I was falling!
For just a few seconds I plunged through the air. In total white I was unable to tell down from up; I was in limbo, awaiting a painful crack from a rock in the unknown. Thud! My snowshoe caught the snow, pulling from my boot and sending me spiralling into a soft bank. Had I just fallen into the Lairig Ghru? I was totally disorientated. I thought I had been miles from the cliff! What on earth had happened? For some reason I laughed… I wasn't hurt but I was confused.
Pulling my GPS from my pack I huddled under a curling wash of snow drifting over corniced at the top of the slope. I had fallen about five metres and was still on the Plateau. The plummet had been into a huge bowl carved into a deep snow-drift ; unable to tell land from sky I had simply not seen it and wandered off the edge. It worried me how easily I had let myself fall, how quickly I had lost my trust in my navigation. I had to be more careful.
A small part of a big quest
On a mission to discover my own backyard, I was nine months into a journey which had seen me kayak 1600km solo around Scotland's coast and tackle 175 winter Munro summits. The plan was to bag them all, but I was already two months behind schedule; by my original plan I should have finished already. A kind summer on the sea had given way to a brutal winter where constant depressions had swept relentless wind and snow across the upper slopes.
It had slowed my pace, shredded my clothes and left me struggling stubbornly across the tops determined simply to finish. One more mountain, I muttered though cold breath, resetting my map and heading on into the fading light. One more mountain – it had become my mantra. Pushing my cold wet glove against the handle of a frozen door held fast by a deep snowdrift, I shoved my way inside a small stone shelter. Ice flurried around my back, drawn inside on the wind with a glittering shower across the fading beam of my headtorch. It was dark. I had been going 14 hours since leaving my tent and was exhausted. From Macdui I had struggled along a narrow ridge in atrocious wind to tap my axe on another frozen summit: Carn a'Mhaim – one more mountain.
RELATED: The Lochaber Traverse in winter
Defrosting as I descended, I could feel the stiff ice on my clothes turn to water and saturate deep through my layers. I had hoped to find Bob Scott's Bothy for a welcome night away from my tent but the bothy wasn't there. As it later turned out I had missed it by just 50m. My 1970s OS map marked the original before it had moved; the building I had found was locked and abandoned. Disheartened at the thought of another night pitched in wet snow, I hiked another three hours back into the mountains to reach the Hutchison Hut, an unassuming stone shelter that in a moment became my private castle. Those cold stone walls brought a welcome tranquility against the wind; the cold clink of steel as my snowshoes crunched across broken concrete seemed to echo a delightful peace around my own empty room.
Bothy life

I had grown used to the solitude of quiet bothies. In the beginning I had been afraid of them; they had a cold eeriness that reminded me of an old ghost story where faces appeared in the windows. For months I had been struggling with stress-induced sleep paralysis dreams. I would wake with heart thumping, cold sweat and wide eyes to hear nothing but the wind and my own heaving breath in the silence. But slowly, over time I became
accustomed to these places; they were my home away from home, not least for the simple luxury in swapping a damp tent for spreading out across a bench. I still had the dreams but now I felt safe when I woke: the creaks were just the wind; the patters of feet were just mice on my sleeping bag.
If I was lucky I would find company. These temporary homes gave me the chance to hear a voice other than my FM radio, which had become a sort of ally I had nicknamed Crackle. I saw the bothy culture of whisky and shared tales as the finest of motivators. It turned strangers into friends and black moods into blind optimism. But for tonight I was alone.
I started a ritualistic routine. After months of hard travel I was in autopilot. I de-layered my shredded clothes (half frozen and half soaked they smelt like old socks) and then I unfurled my damp sleeping bag and crawled inside. Peering beyond my cosy cocoon with a mouth filled with buttery pasta I experienced comfort for the first time all day. A single log I had found buried against the wall in the snow outside smouldered in the
iron fire beside my head, the tiny flicker of flame was barely enough to escape the grate but gave just enough heat for hope of less damp socks in the morning.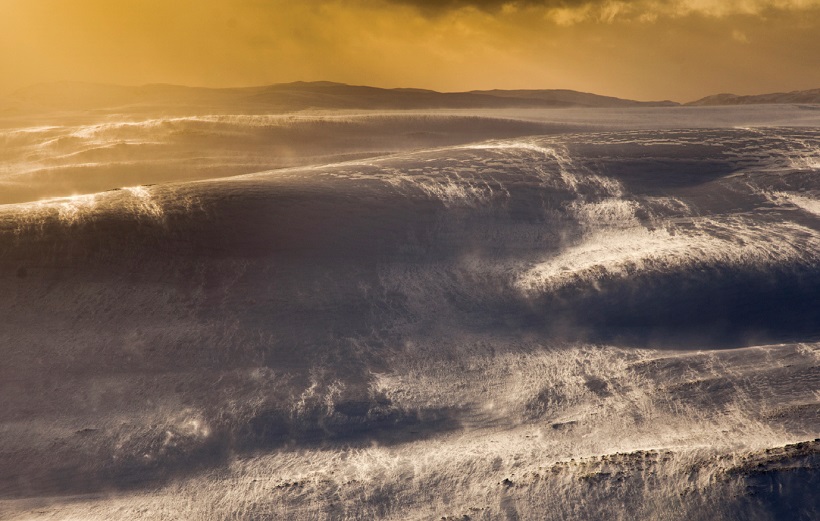 Above the worn wooden bench I had claimed as a bed, a tattered poster hung from a rusty pin, 'The legend of the grey man of Ben Macdui' foretold upon its peeling laminate. In the two days I would be stormbound here, I would re-read the ghost story a hundred times and remember none of it. Thus was the way of passing time and boredom. I had read that to tackle the winter Munros safely I must religiously wait for manageable conditions; so far there had been a lot of waiting.
It is easy to write about the hard days of an expedition. Those days where things go wrong – falling into unseen drifts, battling elements and tackling low morale – have a natural intrigue about them. They are the stories that want to be told, but for me the times idle inside a bothy or wandering on an assured bearing in a blank space are equally as significant. The unsung value of the monotonous moment is the true reality of a long journey. It's those moments that really test the mind and soul.
Finding beauty
The Cairngorms had been the most demanding of the Munros so far and much harder than I had expected, yet in the greatest challenge and emptiest of spaces they brought the most memorable rewards. A life of television and internet had handed me an expectation of instant gratification; the Cairngorms had taught the value of finding beauty in a canvas without paint. Memories of gliding my bike across the Spey valley with whoops of joy or lazy afternoons propped against my kayak, toes in the sea and sun on my back, now spurred my tired mind onwards. Then, when the spell broke and reality returned, it was spectacular.
One such day had been on Lochnagar; the mist had lifted for just a few minutes, revealing a sunset of sapphire blue and blazing gold that cast shadows across the windswept expanse of the plateau. That fleeting glimpse had more value than the entire week of sunshine I remembered on the very same mountain when I'd visited it on a university trip. As it faded back to mist, the glimpse brought hope and new daydreams for blizzards to come. I knew that in a few months' time, when I'd bagged my final Munro and handed back my dad's tattered old mitts, it would be those fleeting encounters that I would remember most clearly – standing out alongside all the nights in the bothies and the daydreams in the mist.

Machair to Munro
The episodes described here took place during Will Copestake's continuous round of the Munros, itself part of his 'Machair to Munro' expedition. Over 364 days, starting in May 2013, he completed a unique journey – first sea kayaking around the coast of Scotland and then returning home via the summits of all 282 Munros, using a bike to ride between them. The kayaking trip took four months, while the continuous Munros round took eight.