Ed heads out with a guide to access some of Scotland's remotest hills by boat, and is dismayed to find himself thwarted by Scottish weather
Ed Byrne is currently touring Britain with his new show, Spoiler Alert, as part of which he shares some hilarious insights into the trips he's made into the hills for The Great Outdoors magazine. To celebrate, we are publishing one of his archive features each week as a treat for Ed's fans and readers of The Great Outdoors.
This feature was first published in our Autumn 2011 issue
---
Neil Simon knows a thing or two about comedy. He wrote some of the finest comic plays in history including The Odd Couple and The Sunshine Boys. It was in the latter, a story about an old squabbling vaudevillian double act played by Walter Matthau and George Burns, that Matthau's character, while waxing professorial on the business of making people laugh, declared, with some authority, that words with a K sound in them are inherently funny. So a trip that involves kayaking and hill walking should be hilarious. It should be three times funnier than simply going canoeing, which only has one K sound and even then it's being made by a C. Another oft quoted rule is that comedy = tragedy + time. Which means that eventually I will find my recent attempt at a kayaking adventure terribly funny, because while maybe not being a tragedy, it certainly couldn't be said to have gone well.
I spent August of this year the way most of my fellow comics spend most of their Augusts, performing at the Edinburgh Festival Fringe. I had one day off and was determined to spend it doing a mixture of kayaking and hillwalking. TGO set me up with Jeremy from Wilderness Scotland. His brief was to find a bothy and some hills that were easier to access if approached from the water. Obviously, Knoydart was a top candidate, however the forecast said that the weather there was going to be atrocious and, uncharacteristically for Scotland, that we had a better chance of good weather further north. So, after my Tuesday night show in Edinburgh, I drove for two and a half hours to Newtonmore to stay at the Craigerne Hotel. Then the next morning, Jeremy and I drove a further three hours north to Kylesku, from whence we planned to paddle across Loch Glencoul. That's right, I was driving over five hours to get to some hills that were 'easier' to access if approached from the water. It's the easy/hard paradox that we outdoorsy types are constantly bumping up against.
I was filled with excitement which Jeremy was doing his best to temper by staring grimly at the loch and shaking his head
The plan then would be to drop our stuff at the bothy, nip up a hill, overnight in the bothy, grab another hill in the morning, paddle back to the car by lunchtime and drive back to Edinburgh for my show on Thursday night. What could possibly go wrong?
As we unloaded the car and carried the boats down to the water's edge I was filled with excitement which Jeremy was doing his best to temper by staring grimly at the loch and shaking his head. "Looks like a solid force 3 we'll be paddling straight into. It's not going to be easy, but we'll give it a go." The wind was quite strong and so the waters were anything but tranquil, but on the plus side it's often easier to paddle directly into the wind and waves than to have them coming at you from the side.
Jeremy didn't seem terribly confident that we would make it to the head of the loch but I had that 'let-me-at-'em' enthusiasm and 'can-do' optimism that's normally displayed in the early stages of a horror film by a character who will very shortly be disembowelled by some monstrous thing that's very good at disembowelling cocky brats.
I had done a tiny bit of kayaking a long time ago and so was familiar with the capsize procedure (pull the handle, get out, try to hold onto your boat) but it was important to give me a lesson in controlling my craft. This would normally be done on the water but as conditions were so awful, we had to do it on dry land. I say 'dry land', but this being the far north of Scotland, the land was far from dry.

Lesson over, we got kitted out with our various element-battling, life-preserving gear. Regular readers will know I can be a bit of a gear fetishist and sea kayaking offers some excellent kit. My favourite bit of gear was a special glove that goes over your paddle and your hand. It has the double advantage of both keeping your hands relatively warm in bad weather and, more importantly, making you look like some sort of amphibious human mutant with a paddle growing out of the ends of your arms. Nice.
We hit the water and I was instantly struck by two surprising sensations. The first was how much it feels like you are actually wearing your kayak like an outfit rather than feeling like you're merely sitting in a boat. The manner in which your thighs are braced against the inside of the kayak makes it feel weirdly part of you. The other, less pleasant surprise was how unstable the whole thing feels. Despite feeling a wonderful sense of 'oneness' with my kayak I was also feeling incredibly precarious. I had a sense that I was going to tip over any minute.
This feeling passed and Jeremy and I started making headway towards Eas a' Chual Aluinn and the promise of a walk up to the highest waterfall in Britain. At Jeremy's behest we stayed fairly close to the shoreline where we were afforded a certain amount of shelter from the oncoming gale. Jeremy would toss out a few instructions here and there, his voice rising in pitch and volume occasionally when it looked like I was going too far off perpendicular in relation to the waves. Twenty minutes in he said: "What do you reckon?" to which I replied: "Well I think we'll make it to the bothy, anyway," because, as difficult as it was, it genuinely felt like we were making decent progress.
---
Five tips for using a kayak to access the hills
If you're paddling to a bothy, or camping for the night, take a few logs with you for a fire.
Make sure everything is in dry-bags. If it could get a bit wet in a rucksack, then it could get very wet in a kayak!
Use a buoyancy aid with loads of pockets, and get a deck bag. Water, snacks, a compass, map, VHF radio and sunscreen aren't so useful if you can't get to them while you're on the water.
Become an experienced paddler by paddling with experienced paddlers – join a club.
Be familiar with the coastal forecast and the mountain forecast and make sure someone responsible is aware of your intentions, but be prepared to change them if necessary.
Wilderness Scotland is an adventure travel and ecotourism company, specialising in small group walking holidays and adventure holidays in the Highlands and Islands of Scotland.
Further information from 01479 420 020, www.wildernessscotland.com
---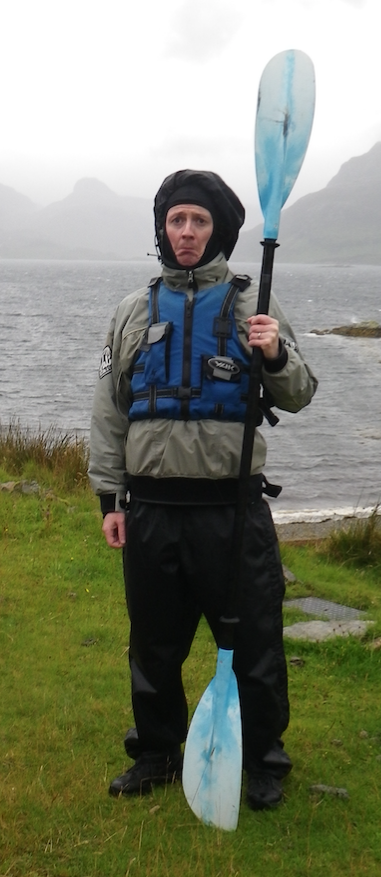 After about 90 minutes of paddling we stopped for a rest behind an island close to the shore. Over a couple of cereal bars, Jeremy and I discussed how hard the last 100 metres or so had been. Jeremy reckoned the wind was picking up, but – and he swears he meant this sincerely – that I really looked like I knew what I was doing.
With a renewed sense of confidence doing battle with my increasing sense of fatigue, we headed out into the headwind again. Now Jeremy's voice was yelling orders as loudly as it could and with a much increased sense of urgency. Fifteen minutes in and Jeremy suggested that we might want to think about calling it a day. He reckoned the wind was up to about force 5 and there was very little chance we were going to make it to the head of the loch. I suggested that we should still give it a go. I was now resigned to the fact that we probably wouldn't be hillwalking this evening but at least we'd get to the bothy. We agreed to give it another 15 minutes and see where we were then. Fifteen minutes later Jeremy said: "Sorry Ed. I'm going to have to pull the plug." This was not what I wanted to hear – partly because I didn't want to have come all this way and still be beaten by the weather, and partly because the phrase "pull the plug" just doesn't sound right when you're in a boat.
The thing that annoyed me was that I felt we were still making progress, slow though it may be. But Jeremy pointed out that we hadn't actually moved AT ALL in the last 15 minutes. We were running to stand still. Having Jeremy point this out was very reminiscent of the moment in a Road Runner cartoon when Wile E. Coyote realises he's run off the edge of the cliff. Before he looks down and realises he's suspended above the Earth, he keeps furiously running for a few moments, completely oblivious to the fact that he's not actually going anywhere. That's what I had been doing for the past quarter of an hour.
With hearts heavy, beaten by the inclement Scottish weather, we turned around and headed for shore. It took us 15 minutes to travel the distance back that had taken two hours in the other direction. My attempt to combine kayaking and hillwalking had failed. Tomorrow we would salvage something of the trip by climbing Ben Macdui and Cairn Gorm on my way back to Edinburgh but for now, of all the letters in Kayaking, the one I this thinking about was Y?