Alex and Hannah Roddie review a lightweight two-person quilt from Therm-a-Rest
Lightweight down quilts are everywhere these days, but what if you want a quilt big enough for a couple? That's the problem Therm-a-Rest sets out to solve with the Vela 20F, a high-quality two-person quilt that's light enough to take backpacking.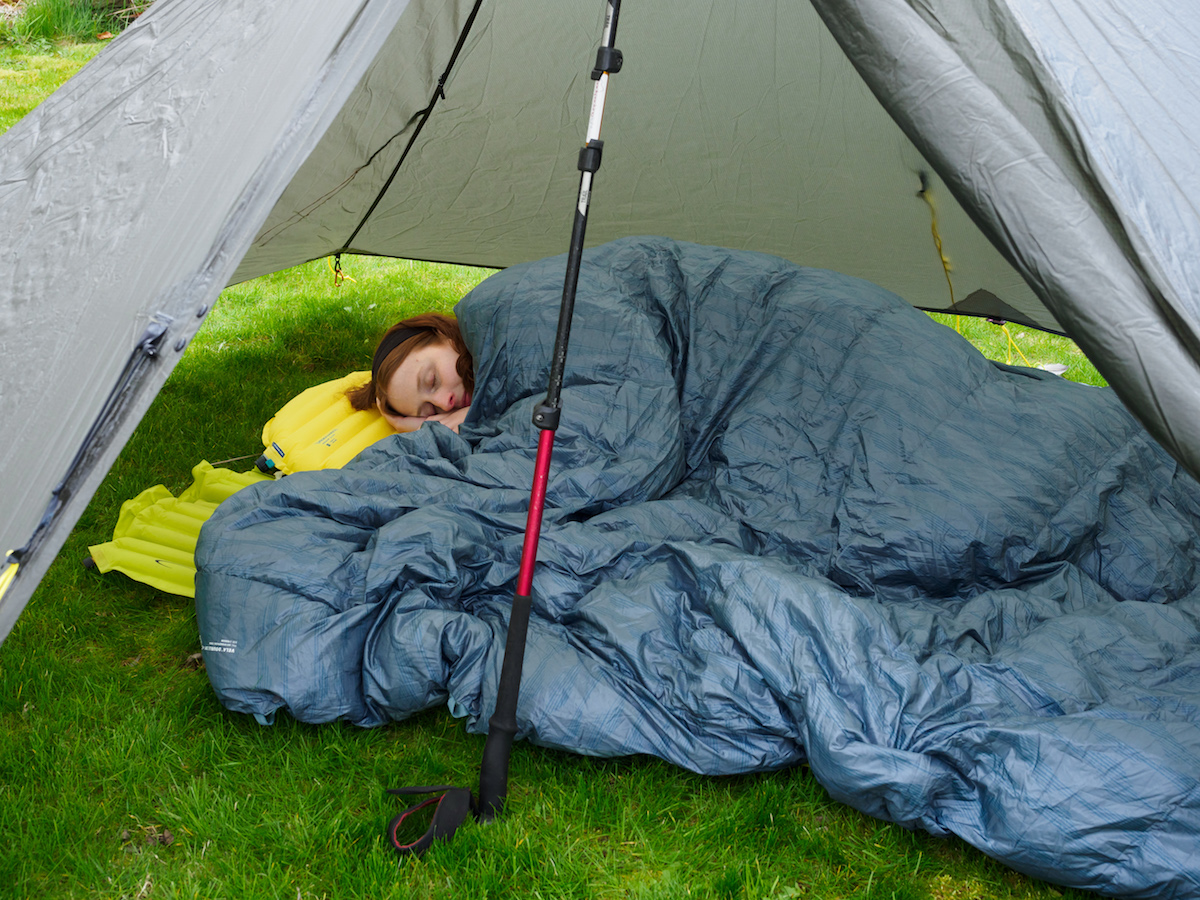 The quilt is stuffed with 890g of 650fp Nikwax Hydrophobic Down. That's far from the best fill power available, which means that warmth-to-weight ratio is less than optimal. However, hydrophobic down is a welcome feature, making it more resistant to dampness and moisture – very useful for British backpacking. The down is Responsible Down Standard-certified, too, and is held in place with box-baffle construction to help prevent heat from escaping. Shell fabrics are 20D polyester, and the outer shell is DWR-treated to repel condensation.
The classic quilt design is open for around four fifths of its length, with a closed footbox that's roomy for two people. There are four pairs of poppers down the length of the quilt. You can snap these shut to close the quilt around you, rather like a sleeping bag, but the Vela 20F does not come with elasticated straps to attach it to sleeping pads or provide greater adjustment. It is, however, designed to attach to other Therm-a-Rest quilts, blankets and sheets.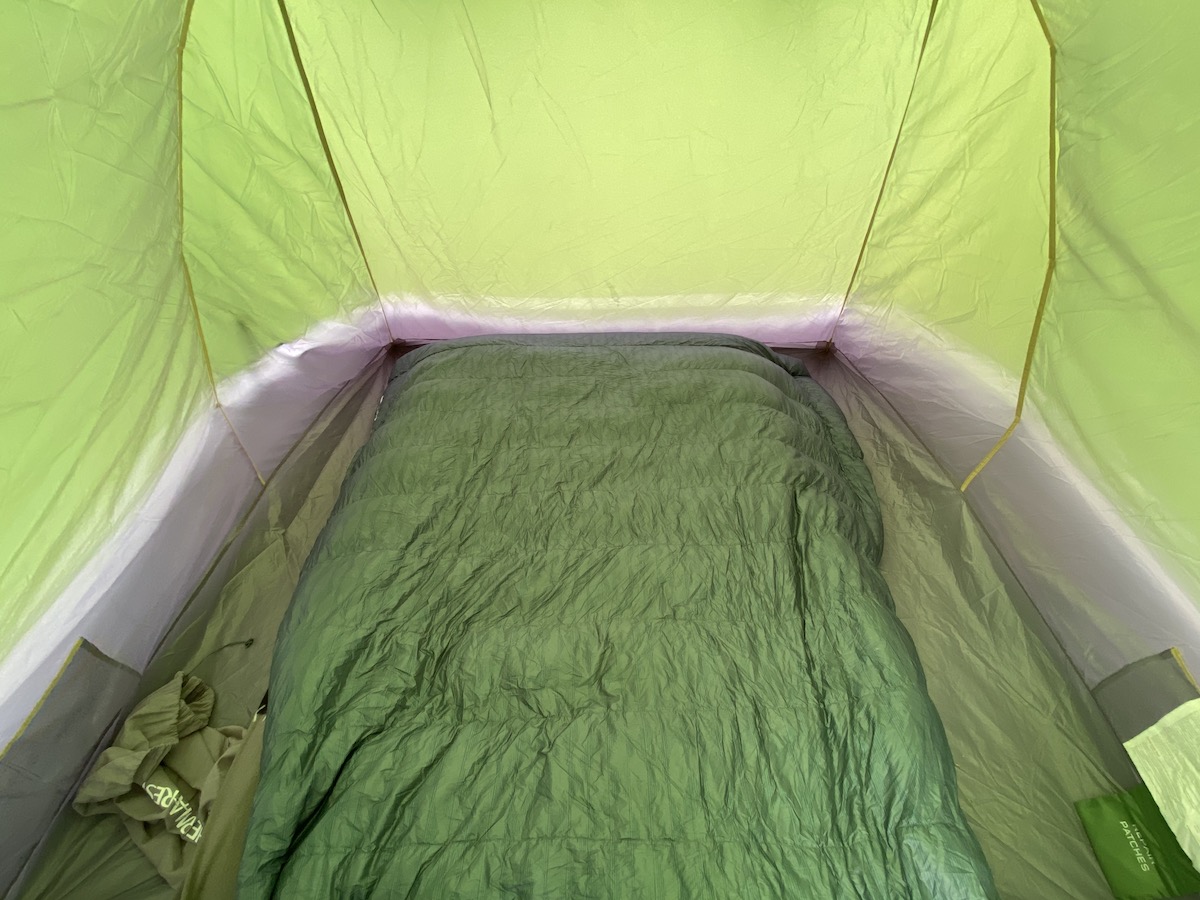 Therm-a-Rest give a 'comfort' rating of 0°C and a 'comfort limit' of –6°C. It comes with a basic drawcord stuffsack and a larger storage bag.
In use
I have been testing the Vela 20F with the help of my wife, Hannah, who is also an enthusiastic hillwalker and camper. We have used the quilt for several nights since autumn 2019. Regrettably, the Coronavirus pandemic led to a cancelled Lake District camping trip, which meant that we weren't able to test the quilt as extensively in the hills as we'd planned. That didn't stop us from using it in garden 'wild' camps, though.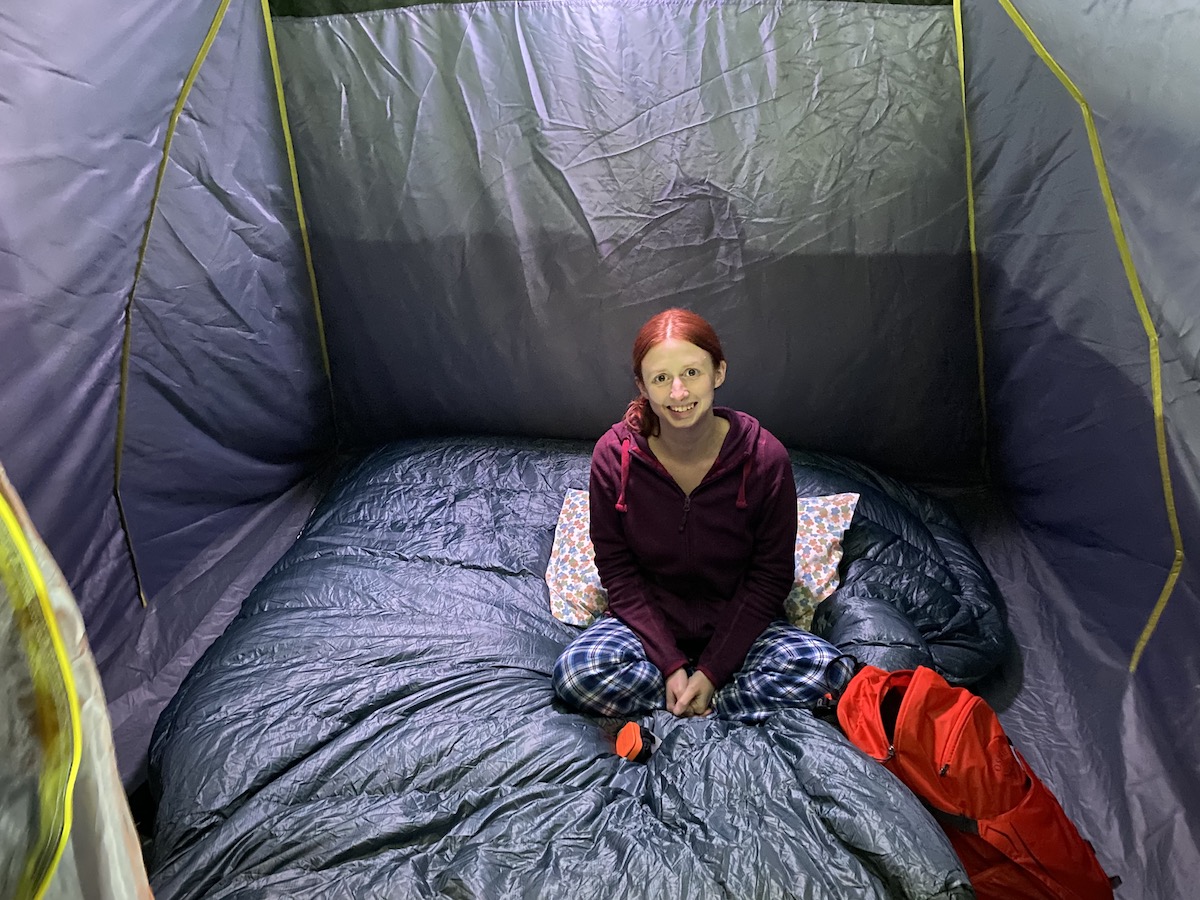 First impressions were positive. Quality is top-notch. I was surprised at the size; the quilt is huge, roughly the size of a king-sized duvet. "It feels snuggly and comfortable," Hannah said, "and I like the closed footbox." I was impressed at how well it packed down for a two-person quilt. Pack size is roughly a third again as big as an equivalent lightweight one-person quilt. (Pictured next to Therm-a-Rest Vesper 20F.)
One minor downside I immediately noticed is that the outer shell and lining are almost the same colour, which can make it hard to tell at a glance whether it's inside out.
In use, we've found it to be warm down to low single-digit temperatures, although with two people generating heat there are even more factors at play than usual. One night, when sleeping on an uninsulated airbed in temperatures of 5°C, we found it to be slightly chilly; this was almost certainly due to the lack of ground insulation, however.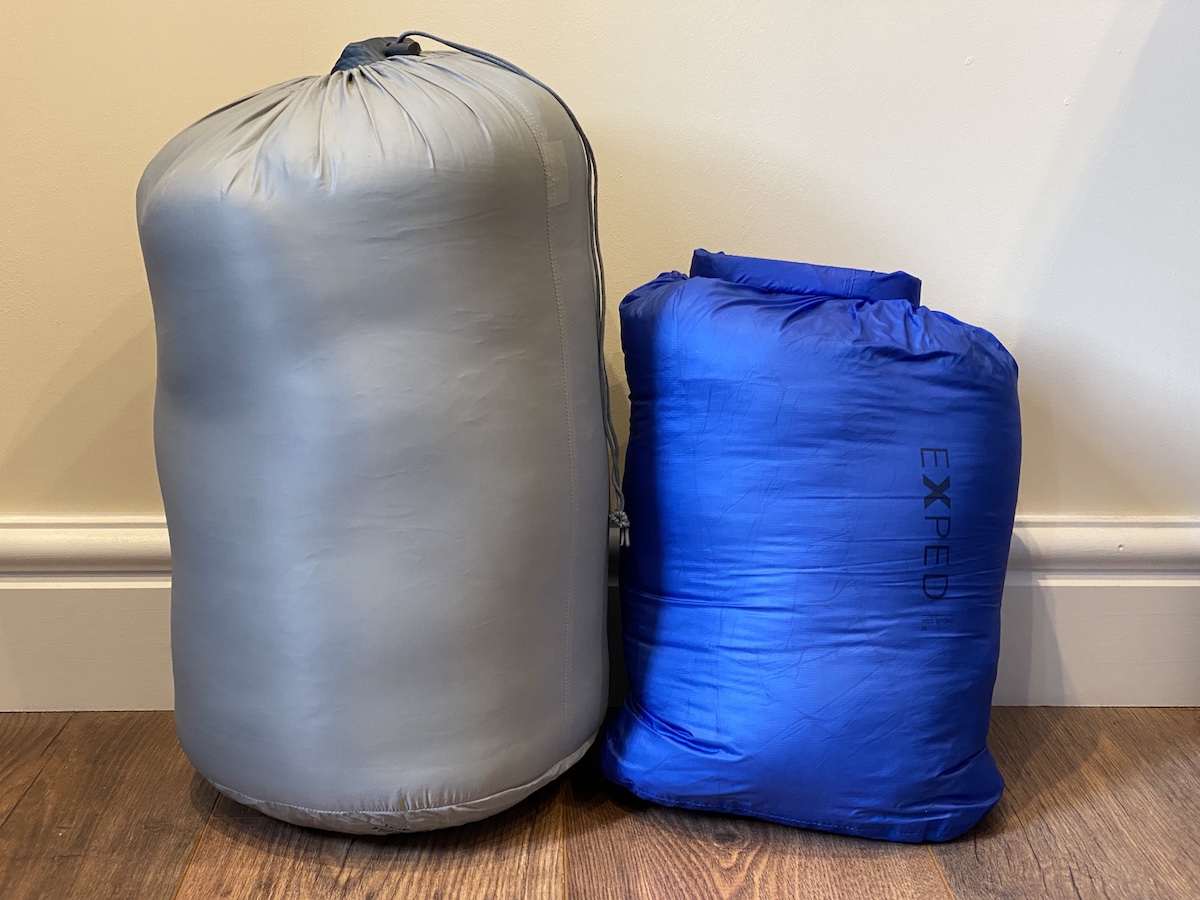 Both of us found it a little too big. In a small tent or shelter, the quilt takes up a huge amount of room, and it can be challenging keeping it away from a wet flysheet or the ground. "I sometimes found it difficult to reach the footbox with my feet," Hannah said. "I often wanted to fold the top of the quilt over to help me reach it, as I didn't like the quilt covering my face." The quilt is significantly longer than Therm-a-Rest's one-person Vesper 20F. We're both relatively short, and there's room not only to pull the quilt over our heads but also to reach up with our arms (even then, Hannah can hardly reach the top edge). This is a quilt made for tall people.
Width was far more suitable, although we were annoyed by the lack of elastic straps that could help fine-tune fit or help attach the quilt to sleeping pads. The Vesper 20F, by contrast, comes with elastic straps as standard. Closing the quilt by attaching the poppers directly to each other leads to a relatively snug fit, great for colder conditions.
The baffles are very broad, which led to down migrating during the night and a few cold spots. This can be a useful feature – it's easy to move down to where you want it – but some will prefer tighter baffling.
Verdict
"It's so much better than having individual sleeping bags when we go camping," Hannah said. "I like to be able to reach you overnight, and there are no hoods or zips getting in the way. It's like a quilt from bed at home but technical enough for the mountains."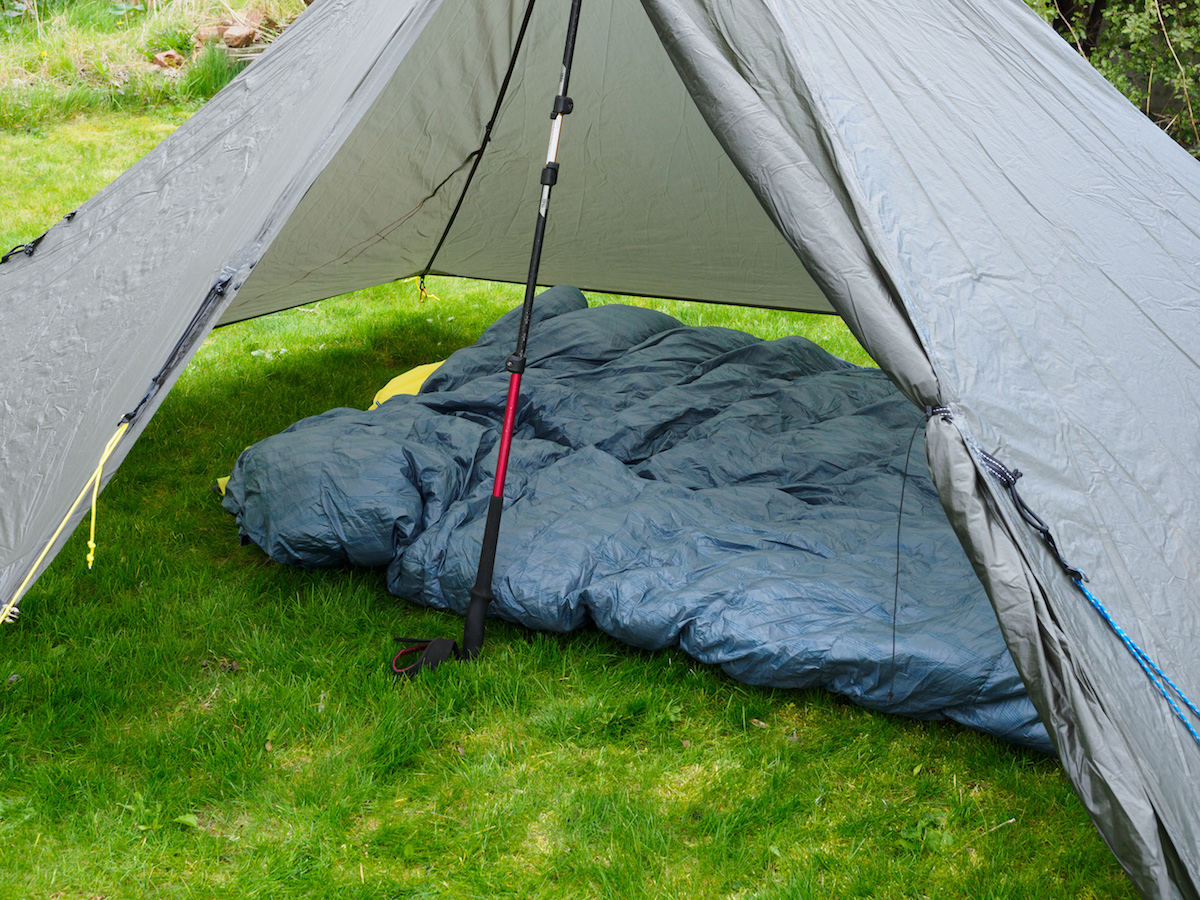 We're both converts to using a double quilt when we camp together, and the Vela 20F is certainly warm enough for three-season use in the British hills, but it isn't perfect. It's a bit too big for us, and I'd like to see elastic straps included. While the cost isn't bad for what you get, I'd be willing to pay a little more for better-quality down and a lower weight. At over 1.3kg, there is no weight advantage for carrying this instead of two one-person quilts. Competing products from other brands achieve much lower weights for equivalent warmth, albeit at a higher price.