Alex Roddie tests an interesting new high-end GPS from the Ordnance Survey – a capable device but not without its quirks
The Aventura is an interesting device. Launched at a time when more and more walkers and backpackers are using their smartphones as part of the navigational toolkit, you might be forgiven for wondering how an expensive additional device like this fits in. What does it offer? More importantly, is it for you?
Video review
Want a more in-depth take? Read on…
---
Mapping
The device comes with the standard 1:250,000 Ordnance Survey base map included. This is not detailed enough to navigate with, but you are also entitled to 12 free 1:25K Explorer map tiles, which you have to select and download via the TwoNav website. Tiles are 25x25km in size. They have to be loaded onto the device from a PC or Mac via a wired connection, which is a rather slow process.
12 free tiles is a decent allowance – big enough to cover the walking areas of the Lake District and Snowdonia combined, for example – but there is no 1:50K Landranger coverage out of the box, which means the zoom transition between the overview map and detailed Explorer mapping can be a bit abrupt. Of course, you can always purchase 50K tiles as well.
The device comes with three years of free access to the OS Maps service, which is a great web tool both for route planning and printing paper maps. You get unlimited access to 25K and 50K OS maps through this service. Planned routes can be synced to the device over Wi-Fi. Somewhat confusingly, you can't access this unlimited mapping from the device itself – purchased map tiles are completely separate from the OS Maps service, which runs in your web browser or on your phone.
Additional tiles are usually £5 each for Explorer or £1 each for Landranger tiles, but at the time of writing they're on special offer for a lower price.
Currently, it is not possible to purchase the unit as a bundle deal with complete OS mapping included out of the box, but a spokesperson from the Ordnance Survey told us they would consider this if the demand is there.
SeeMe location broadcasting service
SeeMe, unique to these devices, allows you and your specified contacts to know exactly where you are without the need to connect to a separate mobile phone. It's an intriguing option – although in our testing it only worked in certain areas, as it relies on GPRS coverage. If your phone has no signal, SeeMe won't either. Although it's no replacement for a personal locator beacon, it's a feature lacking from most competing handsets and some users might find it worthwhile.
You get a six-month free subscription to SeeMe out of the box, and thereafter it's £25 per annum (subject to fluctuation, as it's based on the Euro).
First impressions
It's a chunky unit made from soft-touch plastic, and it feels reassuringly robust in the hand. Although it's well-made, it doesn't feel precious like a smartphone, and I think that's deliberate – this is a tool meant to be used in the outdoors, not something you'll be afraid to scratch (that said, it does cost £499).
Setup was straightforward, although there were some quirks such as spelling mistakes on the initial version of the software that came loaded on the device. I also had early difficulties connecting to Wi-Fi. After a software update, these quirks largely disappeared, and I'm confident that production models will not ship with these issues – the Ordnance Survey were very responsive to my queries.
The Aventura doesn't come with a wrist loop or neck strap, but there is a small strap lug (although it's in a weird place, on the top right of the device as you look at it).
On the trail
The Aventura is simple to use. It's clear that the OS is targeting people who are not GPS power users – people who just want a relatively easy device to follow routes and look at mapping (but also people who want something more than a phone for doing this). While there is a GPS signal strength page, it's hidden away, and the settings screen is quite sparse.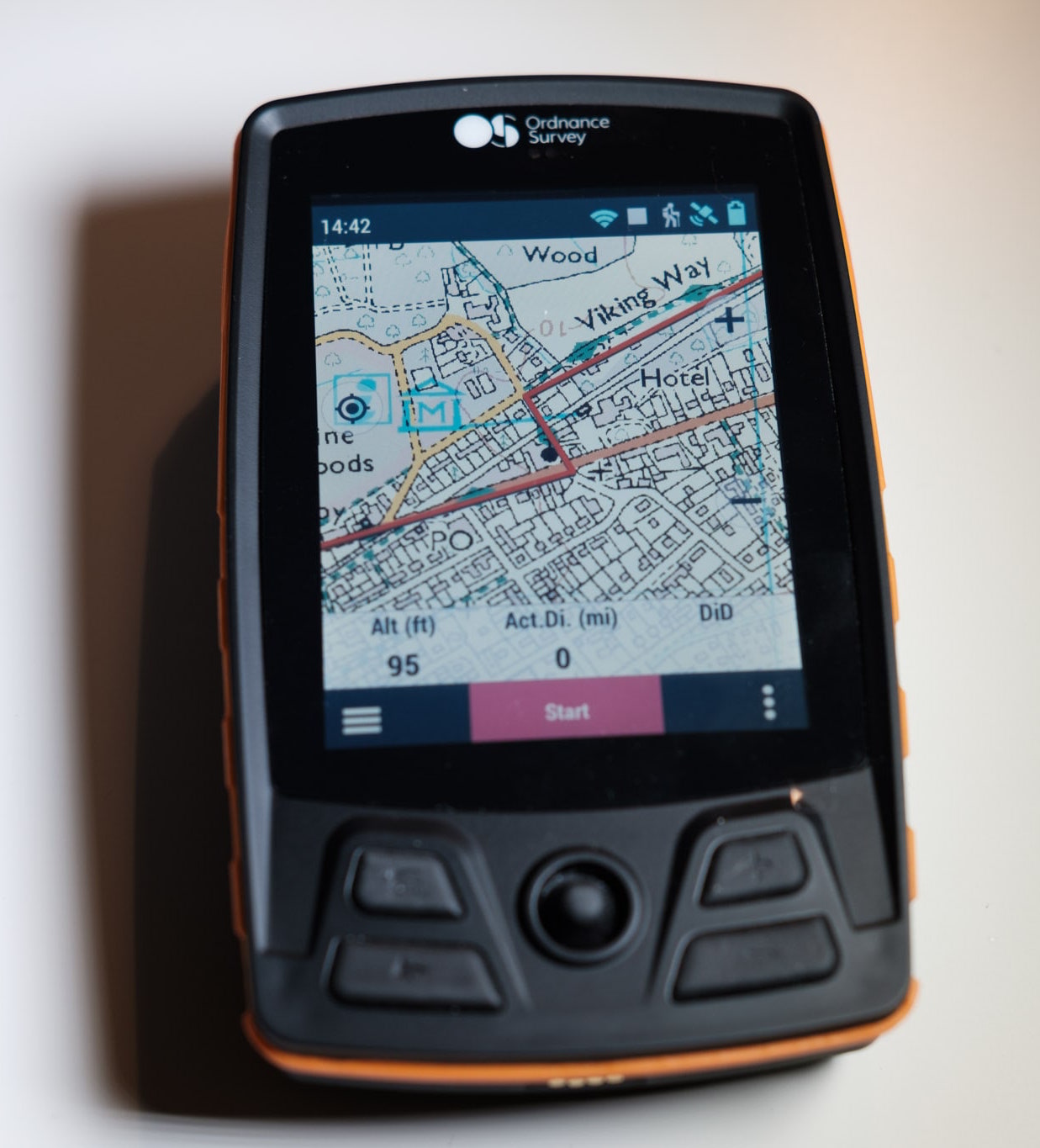 All the most important features for basic use are there, though, and the fact that you can easily sync routes across from OS Maps is a real benefit. I often prefer OS Maps to ViewRanger for planning on my computer screen, and it's great not to need the tedious intermediate step of exporting and importing GPX files.
Following a route couldn't be simpler: just select it and go. Similarly, recording tracks is very easy, and like most GPS handsets it's trivial to customise the trip computer display to show the data fields you need. However, some of the data fields are labelled with confusing abbreviations such as 'CuPa (min/km)' or 'Acc.Prof.Dist'.
It's also straightforward to create a new ad-hoc waypoint and then navigate to it. This is a key task for any GPS, and the Aventura does it with no fuss.
When you've finished recording your track, it saves it as a standard GPX file (which can sync to OS Maps, or be downloaded to your PC via USB cable) and displays a very handy screen showing statistics for the trip, including calories burned. You need to enter your height, weight and a few other statistics to get a reasonable estimate for this.
The screen has pros and cons. On the plus side, it's a resistive screen so you don't need special touchscreen-compatible gloves, and it can even be used with a 'dumb' stylus such as the blunt end of a pen or a stick. At 100% brightness, it's clear enough to be read in direct sunlight. On the other hand, because it isn't a modern capacitive screen it can feel frustratingly imprecise and laggy at times – a world away from the slick, responsive experience you'll be used to in a smartphone navigation app. It isn't a mult-touch screen either. The screen is physically small compared to any modern smartphone, and it doesn't react to local light conditions.
The overall system also seems to be a little slow, from panning and zooming the map to scrolling through menus, although it's difficult to tell how much of that is down to the touchscreen hardware.
The buttons are a useful addition although the device can't be controlled entirely with the buttons. I found the joystick mushy and unreliable; it was almost always easier just to use the touchscreen.
Battery life was excellent. I racked up a total of 21 hours, 40 minutes of normal use before I needed to put it on charge for the first time (with screen brightness at maximum, which it needs to be in order to be visible in sunlight). This is close enough to the manufacturer's estimate of 24 hours and far superior to that of its closest competitor, the Satmap Active 20, which failed to achieve 12 hours in our testing.
The Aventura can't use AA batteries, but you can change batteries in the field if you need to (although the battery door has a fiddly catch that could be frustrating if wearing gloves). It's easy enough to top up the charge with a USB cable and power bank, which most backpackers now carry.
Is the Aventura for you?
The Aventura has a few notable downsides: laggy and basic screen, no access to OS Maps subscription mapping on the device, a few software quirks, and it's less feature-packed than some competitors. This is clearly pitched as an easy-to-use device for people who want something simple, which makes the £499 asking price somewhat hard to swallow – especially when you consider that the base model of the Satmap Active 20 is £100 cheaper and offers a more robust feature set (including, optionally, the ability to use AA batteries, a feature some power users still want).
However, the Aventura integrates well with the OS Maps suite, and if you're a heavy user of that system on your PC and your phone then this is the natural option. Battery life is also far superior to that of the Active 20, and the screen – for all its quirks – is perfectly usable in the worst weather without having to buy special gloves. The Aventura also doesn't rely on a fiddly and easily-lost rubber flap to cover the USB port.
Is the Aventura for you? If you mostly walk in summer or in decent conditions, the OS Maps app on your smartphone is a better (and much cheaper) option. Or you might consider the power user's choice of ViewRanger, which has recently launched a subscription service giving unlimited access to OS mapping. However, if you do a lot of walking or backpacking in severe winter conditions then it's still worth considering a dedicated handset for superior weather resistance and usability while wearing gloves. No normal smartphone can withstand winter conditions as well as the Aventura. There's also battery life to consider – if you want to keep your phone battery life for more important tasks such as emergency calls, you might want to consider a dedicated unit. And the Aventura's battery life is superb.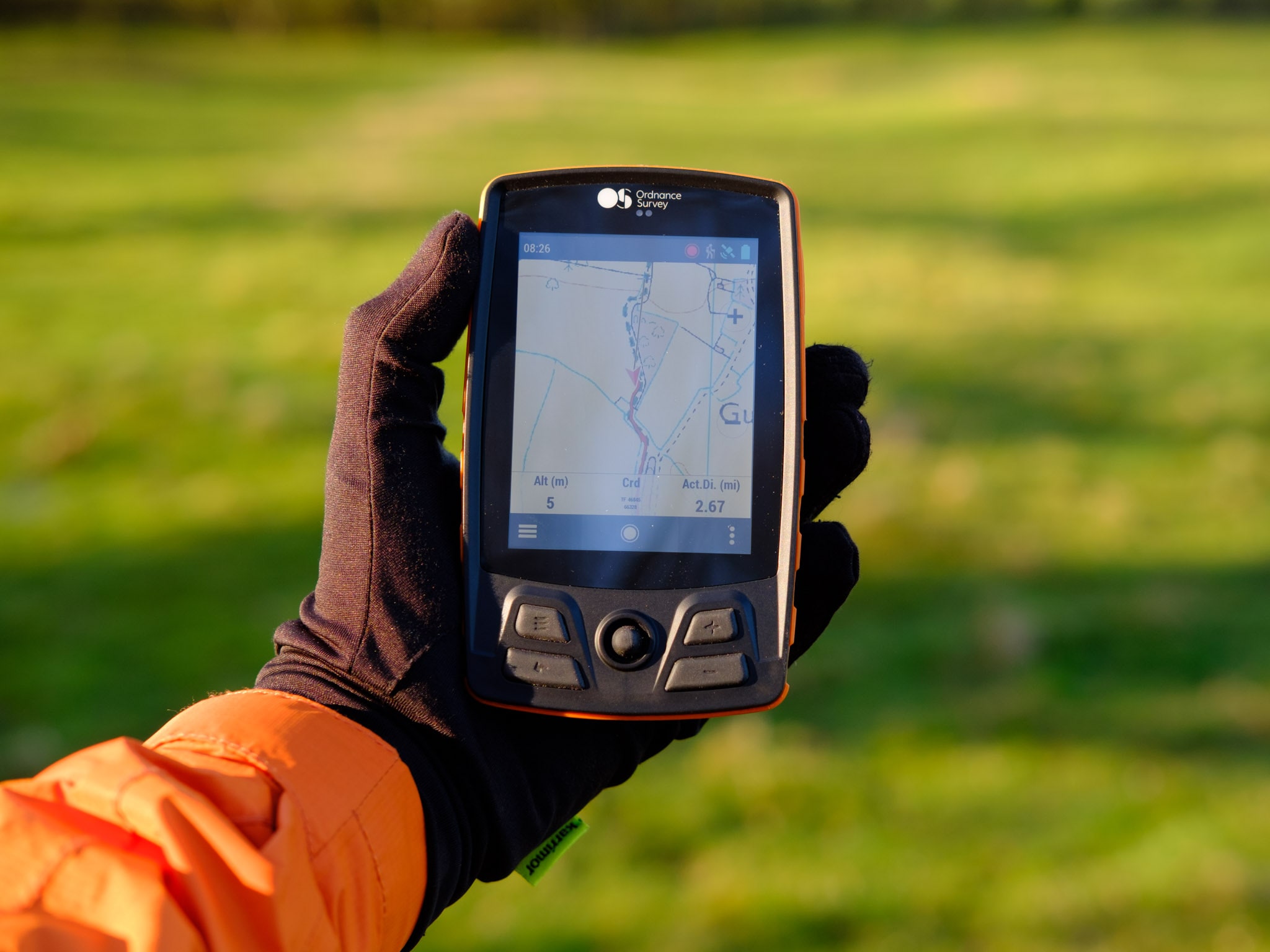 It's clear that the Ordnance Survey is serious about digital mapping and wants to ensure that its users are equipped in all conditions. If you're a winter warrior who prefers the OS Maps platform to ViewRanger, want a simple device uncluttered with bells and whistles you don't need, and can afford the premium asking price, then the Aventura could be for you.