Outdoor Research market the Interstellar jacket as a do-everything, go-anywhere waterproof shell for year-round use. Alex Roddie tests that claim in both summer and winter.

At 310g (men's Medium, measured), the Interstellar jacket falls into the category of lightweight waterproofs. There are much lighter jackets out there, but they tend to be minimalist garments strictly for summer use, with major compromises between features and weight. Most high-end technical jackets worthy for use in the British winter mountains weigh roughly 400–700g, so by any yardstick the Interstellar is very light for what it offers – if it lives up to the hype, that is.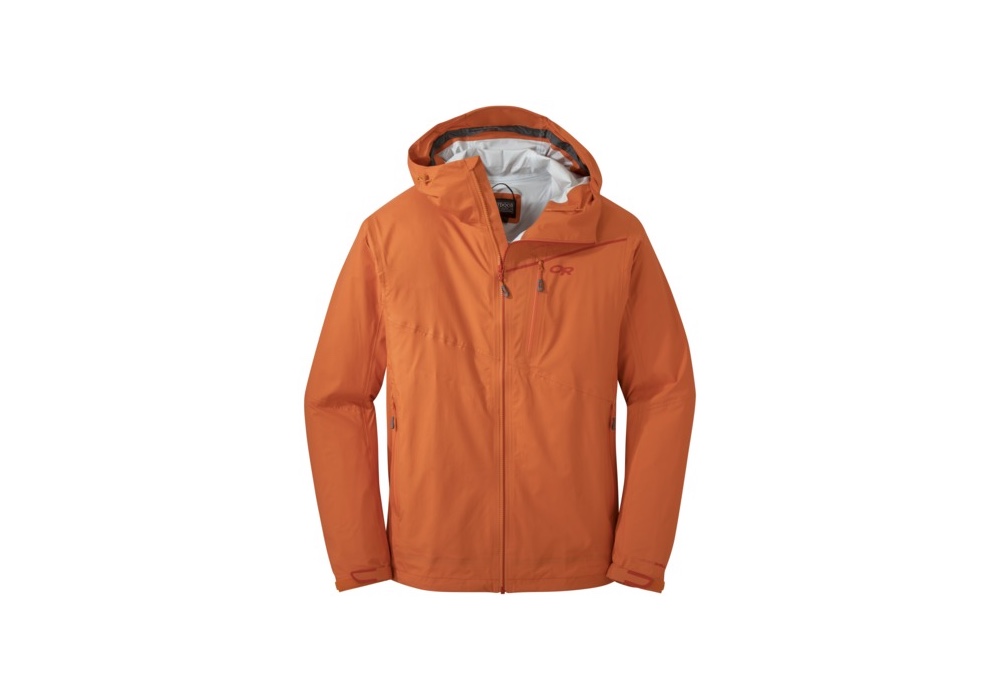 Outdoor Research say: "Totally waterproof, highly breathable and incredibly lightweight, the Interstellar has an innovative AscentShell membrane that provides high-exertion athletes with complete protection again rain, snow, wind and inclement weather, yet broadens their comfort zone throughout aerobic activity in changing conditions."
They also claim it's "undoubtedly one of the most comfortable waterproof jackets we've ever made."
The secret to the jacket's low weight is in the fabric. AscentShell is an 'electrospun' membrane-backed fabric with a good degree of stretch. It feels thin, flexible and soft, both inside and out.
Features include a fully adjustable hood that moves with the head (complete with a good stiffened peak), three exterior pockets with water-resistant zips and backed with mesh on the inside, stretch cuffs with Velcro adjustment, and a water-resistant main zip protected by an interior storm flap (no external storm flap, I'm afraid). Ventilation options are limited to the pockets, which can be opened for airflow; there are no pit zips. The jacket feels very light and rolls up to a tiny package, not much bigger than a windshell.
On the hill
In my opinion, the brand's claims about comfort are justified. It has a very comfortable fit, helped by the stretchy fabric, and it's extremely breathable – not as breathable as a windshell, but noticeably less clammy than most Gore-Tex garments I've used. In mild, dry conditions, breathability remains excellent and the interior surface of the fabric stays dry no matter how hard you're exerting yourself. This is superb performance. I'm used to most waterproof jackets getting a bit damp with condensation after an hour or two under such conditions.
Add rain to the equation and breathability stays at a good to very good level. Of course, like every waterproof/breathable jacket ever made, you'll eventually come to a point where the membrane is overwhelmed and you'll start to feel clammy – but the Interstellar manages to delay that moment for longer than most other jackets I've used. In the Austrian Alps last August, the Interstellar kept me dry in a torrential four-hour deluge at 15˚C while I was hiking 1,300m uphill. By any standards, that's pretty good.
The water-resistant front zip is ok but can let moisture through eventually, like most designs of this type. The hood is mostly very good although I've found the chin guard a little loose, even when battened down; in the foulest conditions I'd prefer a tighter fit at the chin. Another snag is that the side pockets are obscured by your rucksack hip belt. While the pockets are great for venting, leaving them open does run the risk of rain getting through the mesh.
The jacket still performs well in milder, drier winter conditions, but it starts to fall behind when you pit it against the very worst winter weather. The problem is that the jacket's fabric is quite thin and flexible. This makes it less windproof, which can make it feel colder in winter weather. Even when it's just above freezing, if you throw a few hours of mixed sleet and rain into the equation with high winds on an exposed mountain ridge, this jacket can start to feel less secure than a heavier-weight garment designed for 4-season use. You might need an additional mid layer, and cold moisture might start to penetrate at weak points such as the mesh-backed pockets, the loose chin guard, and the front zips. Below freezing, the Interstellar does perform better, but again it will feel colder than competing garments that weigh more.
Durability
I've worn this jacket extensively from late summer 2018 to spring 2019. By January 2019 I had started to notice a decline in the performance of the outer DWR, which is to be expected after heavy use, particular where the fabric rubs against shoulder straps, rucksack hip belt, and my camera strap. I cleaned and reproofed the garment with Nikwax Tech Wash and TX Direct, after which performance was good as new.
Like most waterproof jackets, you'll need to clean and reproof it regularly to maintain performance. I have not noticed any wear or damage.
Who the jacket is for
For UK use, I think the Interstellar is a 3+ season jacket. It's very good as a lightweight summer, spring and autumn waterproof that can also perform in better winter weather, but in a gnarly winter blizzard on the Cairngorm Plateau you may want the security of something heavier, with thicker fabric and beefed-up features such as an exterior storm flap. That isn't to say the Interstellar can't be made to work in a UK winter – it certainly can, but it isn't the best option unless weight is your only priority.
Although the Interstellar is a bit lightweight for my tastes when it comes to Scottish winter backpacking and mountaineering, I remain very impressed by its exceptional breathability and comfort. I think it's a top lightweight choice for most 3-season use.