It might not be holiday reading, but Alex Roddie finds that this comprehensive reference manual goes a long way towards demystifying outdoor gear technology.  
Keeping dry and staying warm on the hill: it sounds simple, doesn't it? You might think that modern technical clothing would make this easier than ever, but as this remarkably comprehensive book from Outdoor Gear Coach sets out to prove, it isn't quite that simple. The book aims to win the 'battle of understanding', bridging the gap between the technical capabilities of gear and the user's expectations. With contributions from some of the world's leading experts on mountaineering, hillwalking, fabric science and outdoor equipment, the result is an authoritative training resource and reference manual.
Outdoor Gear Coach is a non-profit organisation founded by innovation specialists Mary Rose and Mike Parsons, who both played major roles in the creation of this book. Other members of the organisation (and contributors to this project) include TGO's gear editor Chris Townsend, design and engineering professional Chuck Kukla, high-altitude mountaineer Alan Hinkes, and editor Marian Parsons. Frequent quotes from contributors with points of view, anecdotes, and tales from the mountains help to reinforce the text's authority while also adding a human touch to what might otherwise be quite dry and dense writing.
'Despite what advertising may imply, the garment does not do it all for you.' The gulf between manufacturer claims and actual capabilities is at the heart of this book. We've all wondered why we're getting wet in a jacket that's supposed to be waterproof and breathable, and this book sets out to inform the reader exactly how different items of clothing will perform in different conditions – and why.
Keeping Dry and Staying Warm is aimed more at mountaineering instructors, salespeople, gear reviewers, educators, writers and other outdoor professionals than the average consumer, and this is reflected in its format. It's exhaustive rather than easily digestible. However, the average hillwalker who is looking to demystify outdoor gear and make the best possible purchasing decisions will learn much too. It isn't exactly a page-turner – the book opens with a 30-page introduction followed by a glossary defining 50 industry words and terms – but it's designed to be a reference manual, not holiday reading. Technologies, concepts and designs are described comprehensively, with many custom diagrams, photos and illustrations.
Topics covered range from a thoroughly modern look at the traditional layering system to emerging technologies. The book really aids the reader in understanding what drives garment innovation, and I think it will prove an invaluable resource.
Although the value of the information is beyond question, presentation and implementation could be improved. Its comprehensive nature is a weakness as well as a strength. Because the subject matter is both very broad and also very deep, there are times when it loses focus, and I believe that structural editing could help to significantly tighten it up. Further editorial work could improve the work at a sentence level, too; the writing is unrefined in places, small grammatical and stylistic errors remain throughout the book, and hyperlinks don't always work. Overall, however, these are relatively minor quibbles.
One downside is that the electronic edition of Keeping Dry and Staying Warm is available only as a fixed-format e-book. This means that it can't be viewed on Kindle devices; it's only really usable on a tablet or computer. On a smartphone the pages are much too small for comfortable reading as the text cannot be resized. If you don't have a tablet, I recommend buying the paperback edition.
Overall, if you're looking for an authoritative source on outdoor clothing technologies for hillwalking, mountaineering and backpacking, this is by far the most comprehensive I'm aware of. It's a great reference manual and training aid for outdoor professionals.
Keeping Dry & Staying Warm (Part 1): How to stay dry, warm or cool in the outdoors is published by Outdoor Gear Coach (January 2020, £15.95 paperback, £9.95 Kindle)
Stay inspired: subscribe to The Great Outdoors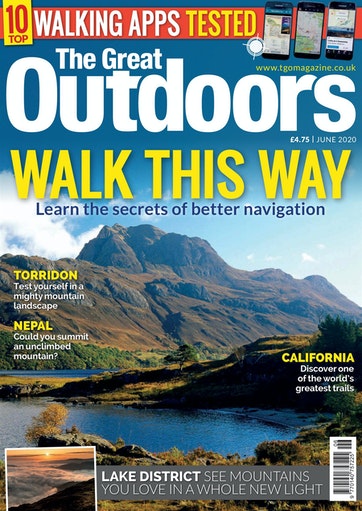 The lockdown is beginning to lift, but a 'full' outdoor life is still some way off. Even so, we're working keep your outdoor spirit alive, take you to places you can't go, and conjure the feelings that walking, wild camping and backpacking in the hills and mountains inspire. 
To show our readers our gratitude for their support, current subscribers have had their subscriptions upgraded to include free access to the digital edition of the magazine. We're also continuing to offer new readers: