Looking for a versatile sleeping bag designed to cover a huge range of temperatures? TGO's gear editor Chris Townsend puts the latest models to the test.
A three-season sleeping bag is generally thought to be one suitable for spring, summer and autumn use. That period covers a huge range of temperatures from well below zero to well into double figures. Designing a sleeping bag to cope with this is quite difficult. In fact, many sleeping bags termed three-season are too hot for summer unless you are a really cold sleeper and are actually two season ones – spring and autumn – while for others the three seasons in question are autumn, winter and spring. It's easy to increase the warmth of a bag by wearing insulating clothing in it. It's not so easy to cool down if the bag is too hot.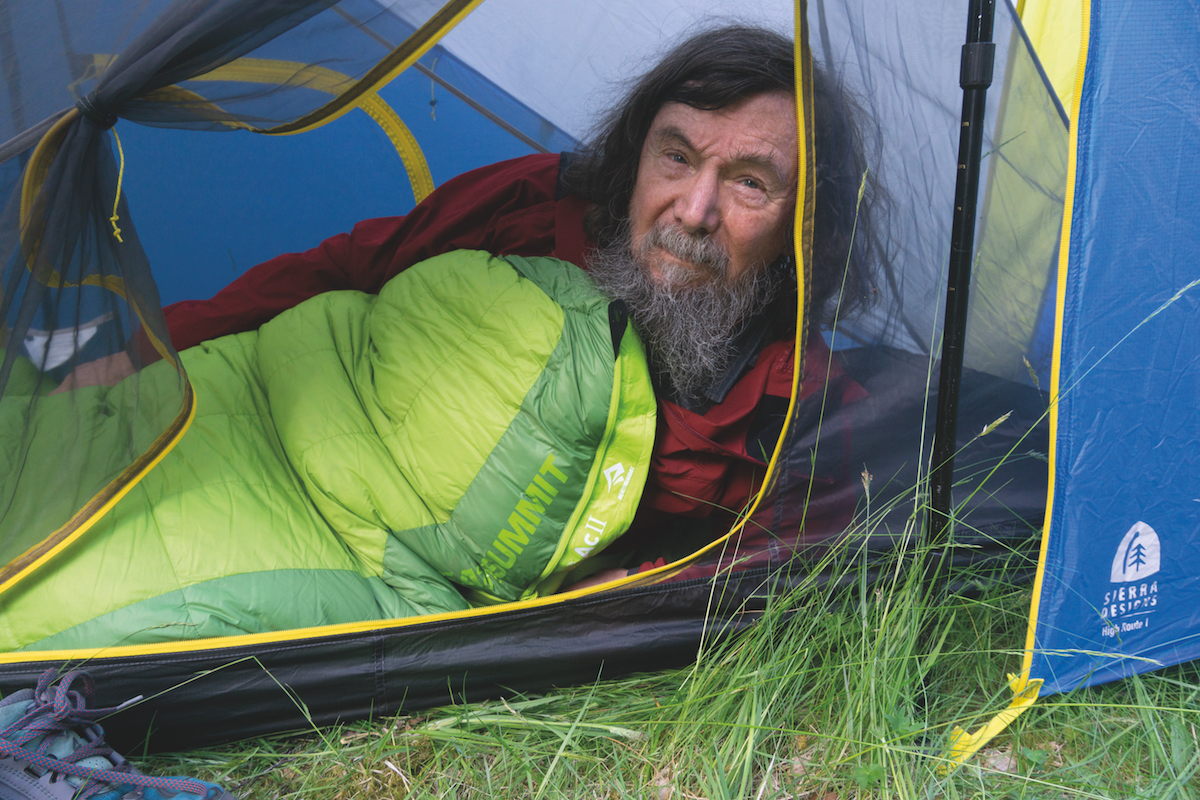 What to look for
For comfort over a wide range of temperatures a sleeping bag needs ventilation options. At the very least this should mean a long zip so the bag can be opened up and used as a quilt. Ideally this should be a two-way zip so the foot end can be opened for ventilation and if necessary, your hot feet stuck out. More sophisticated are bags with zipped panels that can be opened for more room, which as well as comfort means less warmth, or zips both sides so the top can be opened up. One unusual bag has no zips at all but a fold-over section at the top and a slot for your feet.
For cold nights bags need to have a hood that can be closed round the head, insulated baffles behind zips, a shaped foot, and a construction without sewn-through seams – all the bags reviewed here have these.
For more tips on what to look for, check out this article on how to choose a three-season sleeping bag.
The following bags were all top performers in a comprehensive test for the August issue of The Great Outdoors. You'll find more options, including budget sleeping bags, in the print edition – out soon.
BEST BUY: Robens Couloir 350      
               
The Couloir 250 (825g) is the only bag with a centre zip and the second lightest bag reviewed. The down used has a high fill power and is RDS certified. The design is a standard mummy in shape but there's a centre rather than a side zip. I like this as it makes it easy to sit up in the bag and use my arms, which is useful when it's chilly. There are double baffles behind the zip plus an excellent close-fitting hood, a thick neck baffle, a wide shaped foot box, and an anti-snag strip along the zip. The hood and neck baffles have drawcords either side, making them easy to adjust.
The Couloir 250 is quite tapered and fits closely round the legs. I'm happy with this but some people might prefer a little more room here. If the bag is too warm it can be unzipped and used as a quilt. The centre zip is no hindrance to this.
The shell fabrics are soft and feel fine against the skin and the bag is very comfortable. I would expect it to keep me warm at or below the -4C comfort limit rating. Last year I used the lighter Couloir 250 on the TGO Challenge which has a comfort limit of +4C and found it comfortable down to freezing.
The only drawback to this bag is that it only comes in one length. This is fine for me but not for anyone tall. The cost is quite low for a bag with such high quality down.


Sea to Summit Ascent II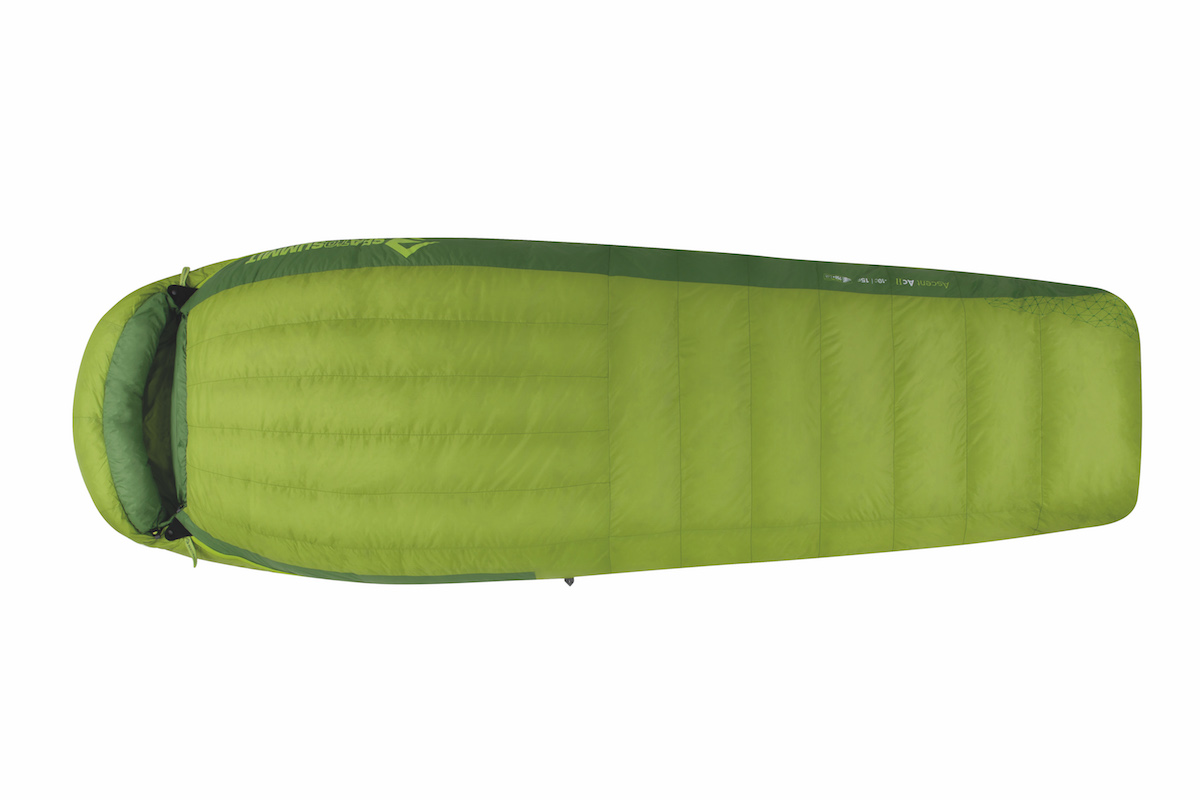 The Ascent II (1095g) is an unusual bag. It's not a mummy shape but a tapered rectangle with a hood, baffle, and shaped foot. The shape means it's much wider than mummy bags, allowing complete freedom for stretching out and moving in your sleep. For anyone who finds narrow bags confining it could be ideal. The Ascent II also has three zips to give multiple ventilation options. There's a standard full-length side zip on one side, a half zip on the other side, and a foot zip. All the zips are two-way ones. With them you can fold back the top of the bag as a mini quilt or open the bag flat for use as a full quilt as well as unzip sections for ventilation.
There are thick baffles – Sea to Summit calls them over-sized – behind the zips, and round the hood and neck. The internal baffles on the chest are vertical not horizontal to prevent down going to the sides. 60% of the down is on the top, 40% on the bottom. In standard mummy bags I don't like this feature as I often turn over with the bag, so the base ends up on top. However, it's fine on the Ascent as I can easily turn over inside it.
The Ascent is an innovative bag that I really like. The comfort is superb. The weight is reasonable given the warmth (comfort -4c, lower comfort -10c) and the size. The cost is high, but this is a top-quality bag that really should cope with a wide range of temperatures.
Buy now: £370; www.seatosummit.co.uk
Mountain Hardwear Lamina Eco AF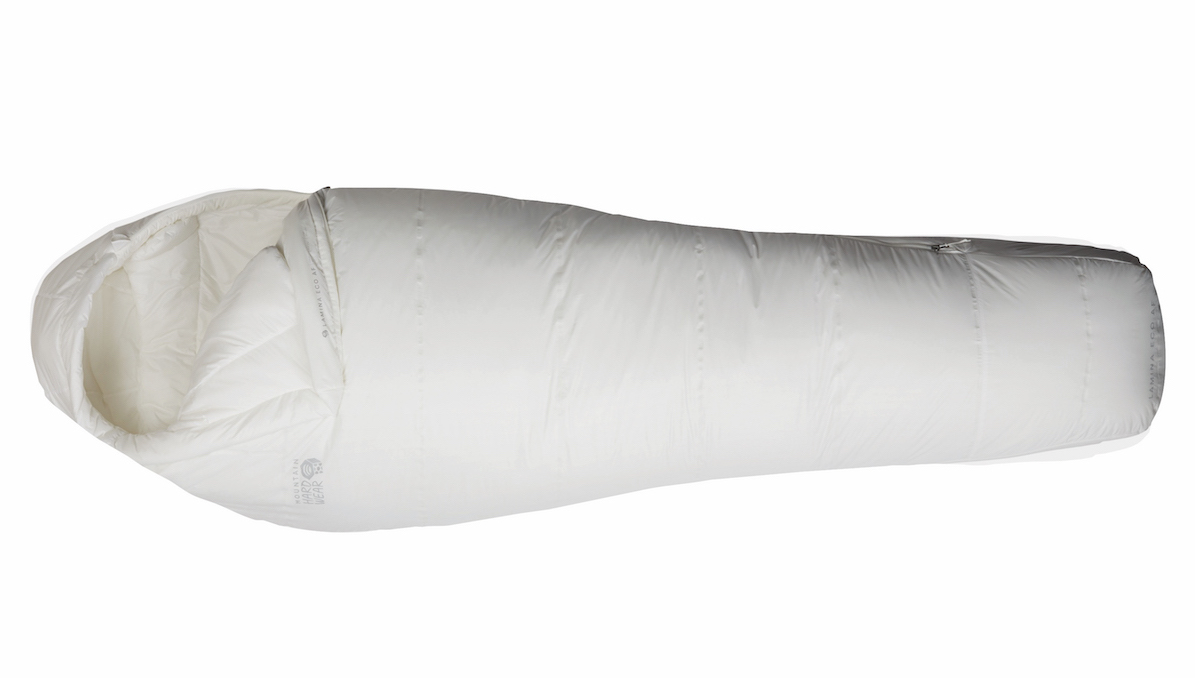 The main story of this bag is that it's as environmentally friendly as possible, being mostly made from recycled materials. What's noticeable though is the colour, or rather lack of it. To save chemicals and gallons of water the fabric isn't dyed. It's white. Does this show the dirt? Yes. But maybe that means it'll be cleaned more often. After all, the dirt will still be there on a dark bag, it just won't show.
The design is a standard mummy, tapering to the foot, though not so much as to feel restrictive. There's a good adjustable hood, a neck baffle, a boxed foot and a ¾ length zip with baffle. The insulation is welded to the shell so there are no stitched seams. For a synthetic bag it packs down quite small and the weight (1113g) is reasonable given the temperature rating (-9c).
I've found the bag more comfortable than most synthetics, the fill feeling more flexible and hugging the body rather than standing away. In temperatures around freezing it's very warm. I have used this bag in sub-zero conditions. At -6C I was warm. For me, the three-seasons for this bag are autumn, winter and spring.
The Lamina Eco is quite expensive for a synthetic bag but there's nothing else like it.
Buy now: £220; www.mountainhardwear.eu
Lightwave Firelight 350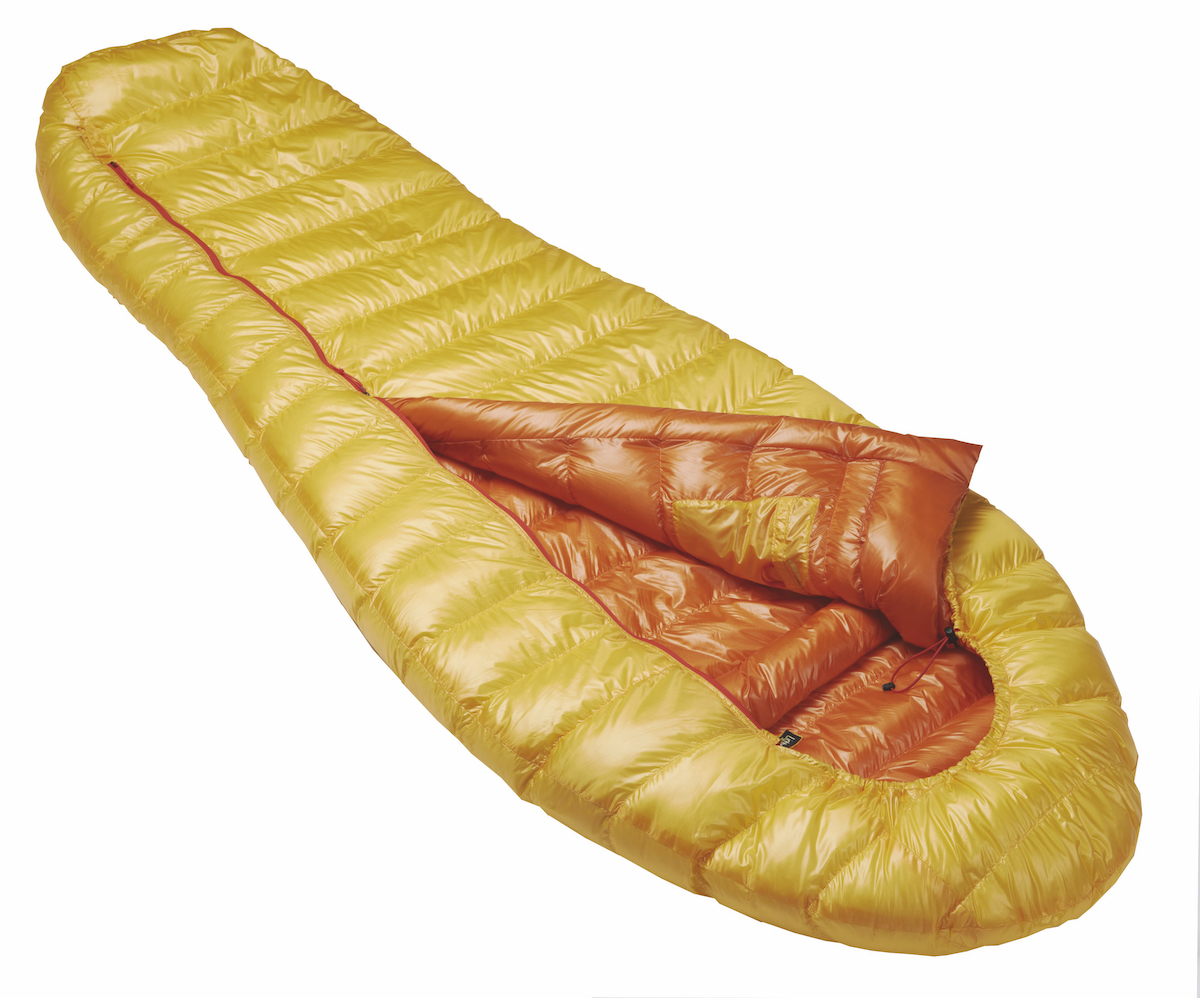 This is by far the lightest bag reviewed (620g) and the most expensive. Both are due to the fill, which has an extremely high fill power of 900. The shell fabrics are very light too. This bag has the best warmth to weight ratio of all those tested (comfort +3c, lower comfort -2c). The down, which comes from Poland, isn't RDS certified but Lightwave says it's harvested without live-plucking and the geese aren't force-fed.
Whilst the Firelight has a mummy shape it's not as tapered as most, so there's more freedom of movement. There's the usual snug hood, neck baffle and boxed foot. The zip has the usual baffle and anti-snag strip too but rather than on the side it's on the top but offset. I found this makes it easier to adjust than a side zip.
The Firelight is one of the most comfortable bags I've used. I think it's just the right balance between too close-fitting and so roomy warmth is reduced. I reckon I'd be warm in it in temperatures below its rating as I was very warm at +2C.
This is a luxurious sleeping bag, but it does come at a luxury price. It should last though, and it is ultralight.
Buy now: £449; www.lightwaveuk.com
Sierra Designs Cloud 800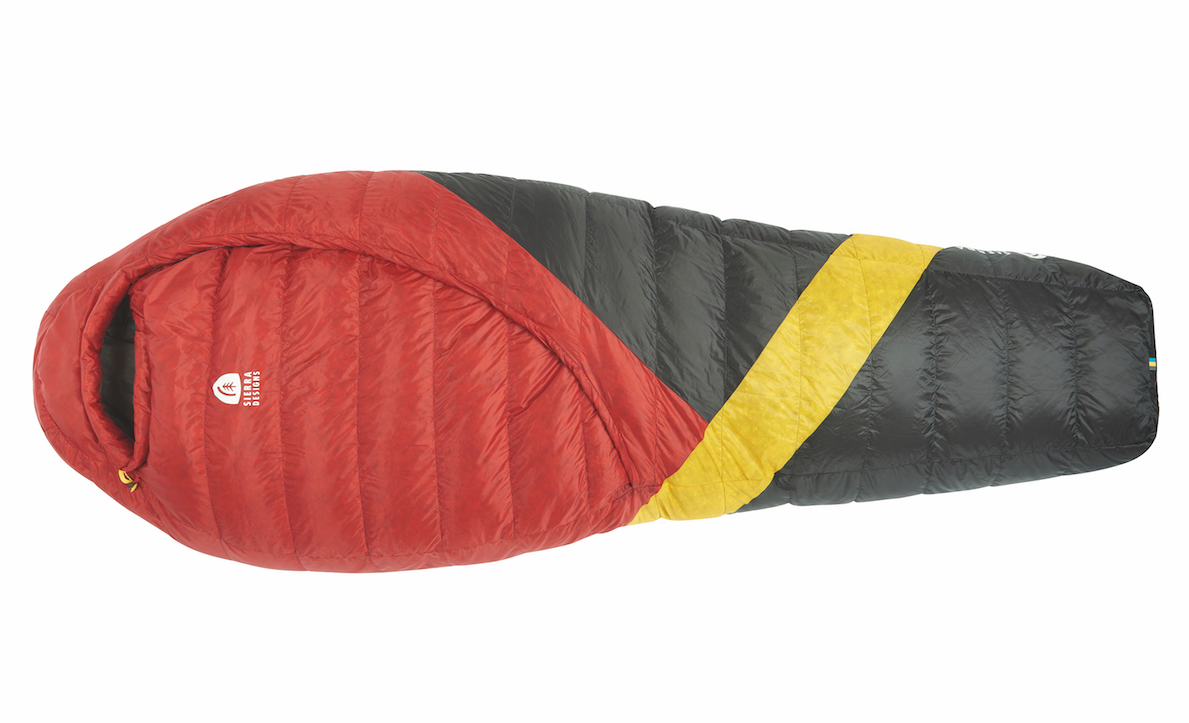 Unusually, this bag has no zip but still opens wide at the top. That's due to a wrap-around comforter that runs across the chest. There's a big overlap between the end of the comforter and the edge of the bag and so far I've had no problems with drafts. With no zip to undo flinging open the bag for ventilation or to get out is easy, giving a feeling of freedom. The top can be folded down too.
Under the bag there's an uninsulated sleeping bag sleeve. It runs about a third the length of the bag at the top. Usually I don't like this design as I can't turn over with the bag or comfortably sit up. However, I don't mind it in the Cloud 800 as I can turn over in the wide bag easily and keep it under me. Indeed, I have slept in it without inserting a mat inside and as it's stayed under me this hasn't been a problem.
The Cloud 800 also has a vent for your feet near the foot that is self-sealing, so you don't lose heat when your feet are inside. There's a good adjustable hood too. The leg area is quite roomy. The temperature rating is comfort -3C, comfort limit -10C.
I'm impressed with this design. It's effective and comfortable. The Cloud 800 is very light too (875g). It is expensive but the design is unique, and the down fill is high quality.
Buy now: £335; www.sierradesigns.com
Notes:
The weight is without stuffsacks. All bags weighed on my digital scales.
The temperature ratings are those provided by the company. I've not been able to try most of the bags at the lowest rating as testing has been in the spring and early summer.
All the bags come with stuffsacks. These are not fully waterproof unless otherwise stated.
RDS = Responsible Down Standard. Weights are for regular/medium length bags.