The Great Outdoors rounds up the best Christmas gifts for hikers that the wild person in your life will love.
'Tis the season of crisp walks and wintery views. Indeed, nothing beats a day outdoors for most hillwalkers. But these Christmas gifts for hikers should put a smile on their face come Christmas morning while they eagerly await the annual festive walk.
Words: Francesca Donovan | Main image: Umar Andrabi
1. A trip to the mountains
Making memories is often worth more than something materialistic to those who love spending time outdoors – and it could be a more sustainable option. Write them an IOU for a day out on their favourite hill – and offer them some pub grub after the peak. And if you want a really wild weekend, check out three of the best weekend backpacking routes across Scotland for inspiration.
2. A personalised map (from £6.99)
Help your hiker explore with a bespoke map by Ordnance Survey. With personalisation options – including your choice of cover photograph and text – these maps can be framed to serve as touching mementos, or come folded. The OS Custom Made Maps are also a great gift for cartophiles to pour over as they plan their next adventure.
3. LifeStraw (£23.35)
The LifeStraw Personal Water Filter system is a great addition to any hiker's emergency prep kit. Ultralight, easy to clean, and durable, it filters water and protects against bacteria, parasites, microplastics and dirt so you can drink from source in emergencies. LifeStraw is also a Climate Neutral Certified B Corp and with every product sold, ensures a child in need receives safe water for a year.
4. Ice Axe (varies)
If you want to splurge on gear without hitting triple figures, consider helping them up the ante on the winter skills front. An ice axe, for example, is a big investment for any outdoors person; a generous gift they'll greatly appreciate. Even better, it will help keep them safe in the snow we're all wishing for this Christmas. Check out Lucy Wallace's top picks – no pun intended – of ice axes. The Lord of the Rings quotes do not come included.
5. Classic Hip Flask (£23.99)
Does your outdoorsy person also love a wee dram? Rest assured they'll be raising their hip flask to you in these moments if you gift them a lightweight and durable means of carrying their favourite tot. The Stanley Classic Easy Fill Wide Mouth Flask is designed to fit in a pocket, is dishwasher-proof, and comes with a 25 year warranty.
6. Wild camping hammock
Give the gift of relaxation in the outdoors this Christmas. This fair-weather tent alternative is sure to please the woodland wanderers who want to spend a night outdoors in Mother Nature's best-rated hotel. There are plenty of feature options with varying price points to check out.
7. OS Maps app annual subscription (£28.99)
If they're new to hiking, perhaps they'd be keen to boost their outdoors arsenal with an app subscription to help them find new trails and navigate the mountains more easily. Nominated as one of the best hikers' apps in the TGO Reader Awards, the OS Maps app is the go-to mapping app for many outdoors folk.
8. The Deuce #1 UUL Trowel (£19.99)
The Deuce #1 UUL Trowel is for the weight fanatics in your life. Made from aerospace-grade aluminium, this takes weight-saving to the next level. It's made of thinner material than a regular backpacking trowel but weighs in at no more than 12.8 grams. Sea to Summit does a good but heavier option costing £7.99.
9. Foraging workshop (from £17)
On their adventures, your hiker might've noticed the abundance of foragable food to be found in the great outdoors. Take them on a foraging workshop to explore this interest. With sessions catered to every need, from beginner taster sessions to full-day cooking experiences, ForageBox runs workshops in the country's mountainous regions including the Lake District and North Wales.
10. Personalised camping mug (£14.75)
An 'outdoorsy' twist on a Christmas classic; camping mugs. Stick with brand recognition and plump with the likes of a YETI mug or opt for something more personalised with an enamel mug from independent makers such as That's Nice That.
11. JOBY GorillaPod Starter Kit (£26.96)
For hikers who head into the hills solo, a tripod can help them capture the memories in moments of solitude. Cheaper versions are available, but JOBY offers flexible – literally – rig solutions for smartphones, vlogging equipment, and DSLRs. Often, we recommend outdoor products that will go the distance, but a trusty GorillaPod will sit tight in awkward spots and ensure your smartphone does, too.
12. The Great Outdoors Magazine Subscription (£39.99)
We may be biased, but we think a subscription to The Great Outdoors would make a cracking gift. With authentic voices, stunning photography, insightful commentary, and the most robust and reliable gear reviews, the UK's original mountain magazine has been leading the way to high places for over 40 years. Add it to your list of Christmas gifts for hikers – or maybe just treat yourself.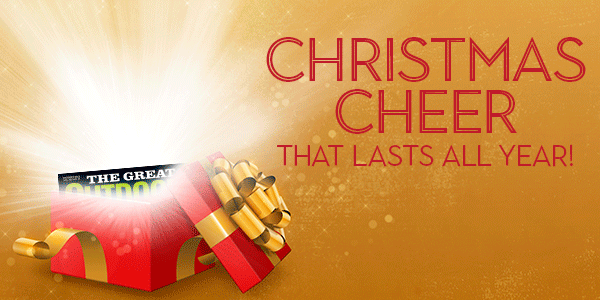 13. GoPro Hero 8 Black (£260)
Are they always snapping photographs to post on Instagram? Or filming TikToks in Torridon? With one of our more expensive Christmas gifts for hikers, splash out on the tried and tested adventure videographer's ultimate gadget; the GoPro. You don't need to grit your teeth as you opt for the top-of-the-range model, though. The Hero 8 Black will save you over £100 and still shoots solid 4K action videos and 12-megapixel stills so you can let the mountains do the rest of the work.
14. Nature Meditations Mindfulness Deck (£13.99)
Do they head into the hills for their mental health? This Nature Meditations Deck could be for them, whether they are in the hills or gazing out of their window waiting for the next adventure.
15. Donation to Mountain Rescue
You never know when you're going to need the help of your Mountain Rescue Team, either in England and Wales or Scotland. They save lives outdoors, any day, in any weather. Give the hard-working volunteers a boost on behalf of your loved one with this gift for hikers you can feel good about.
16. Wuru Wool (£19.99)
Designed as premium blister prevention, Wuru Wool's natural properties provide cushioning, absorb moisture, reduce friction and promote breathability. Just pop a bit at the blister hot points and walk off into the sunset.
17. Kula cloth (from £20)
A great gift for those loyal to the Leave No Trace principles, the Kula Cloth is a reusable and hygenic antimicrobial cloth for those who squat when they pee outdoors. Ultralightweight, washable and resistant to odour, the specialised fabric means you can stay comfortable on backpacking trips without carting around reams of toilet paper.
18. Mountain patches (from £5)
Great stocking fillers, these patches celebrate mountains, hills and landmarks. The Adventure Patch Company offers a wide selection across the UK's mountainous regions, as well as a series of outdoor 'firsts' while Peak District Walks have released a collection in support of the seven Peak District Mountain Rescue organisations.
19. Binoculars (£65)
Help create magical mountain moments by giving the gift of super-sight! Keep them lightweight but powerful like these entry-level, high-quality binoculars from RSPB. Supplied with a case and strap, a handy bird identification guide and a free pin badge, they are good value for beginners.
20. A mountain field book (£6)
This is a great Christmas gift for hikers who like to bag peaks. Likewise, those who feel inspired to sketch or write about their experiences will appreciate something like this weather-proof field book from Rite in the Rain so they can take notes whenever the mood takes them.
21. Winter Skills Course
Help your hiker level up with a winter skills course, like this one from Glenmore Lodge. They'll have to be on Santa's Nice List as these specialist courses can get quite expensive, but there are plenty of non-residential options to help cut costs while maintaining a high standard of expertise and safety.
22. Rawlogy Ultralight Mini Cork Massage Balls (£16)
Hillwalking can cause strain on the joints and muscles. Rawlogy Ultralight Cork Massage Balls are durable, firm and are made from 100% sustainable cork. These are also more lightweight and compact than traditional massage balls, so could quite easily pack on day hikes, and come with a guide on releasing tension in specific muscles.
23. Glenshee Pottery 'Wee' Bothies (from £11.99)
For the days when bothies feel far away, why not gift them a slice of the outdoors in the adorable form of these 'Wee' Bothies. They are handmade in Brechin by the 'Bothy Ladies' Gail, Angie, and Sheena. The cheery colours are bound to put a smile on their face when they pull one of these out of their stocking. 
24. Navigation Workshop
Need some help navigating the plethora of Christmas gifts for hikers out there? Why not join them on a navigation course? Look for a qualified Mountain or Hill and Moorland Leader-provided course. There are plenty of service providers throughout the UK's national parks suited to all skill levels – check out Mountain Training's 'Find a course' facility on the front page of their website.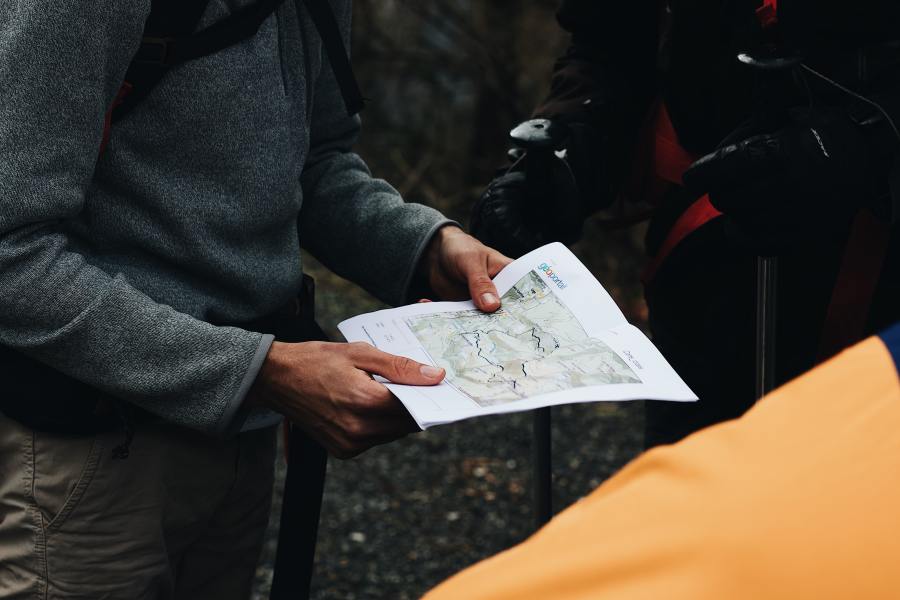 Credit: Maël BALLAND
25. Full-day llama trek (from £150)
What to get the person who has hiked every hike and climbed every mountain? How about a different perspective on a high place? The team at Alpacaly Ever After, based in the Lake District's Northwestern Fells, lead hikes with groups of their resident rescue llamas over 2000ft, ticking off at least two Wainwrights and basking in views over Derwentwater. As a Non-Profit Social Enterprise, all the income from the llama hikes goes back into re-homing and rescuing alpacas and llamas, and providing free and subsidised activities for third-sector organisations.
We hope these Christmas gifts for hikers have hit the spot for the outdoor lover in your life. May your Christmas be merry and your mountains be snow-capped.