A trekking pole might just be the most useful hillwalking tool at our disposal. David Lintern tests the best trekking poles on the market.
Trekking poles have long proved worthy as a support for aching limbs. In the UK, walking sticks were often hazel, which grows long and straight and was coppiced explicitly for the purpose.
However, the use of twin poles – an idea imported from alpine skiing – took longer to catch on. Even now, some still see their use as a sign of decrepitude. As ancient as I might be, I'm here to tell you that after navigation tools, boots and a waterproof, walking or a trekking pole might just be the most useful hillwalking tool at our disposal.
Words: David Lintern | Main Image: David Lintern
Why should you use a walking stick or trekking pole
Trekking poles help you balance, save energy and protect your joints. They reduce the chance of hip, back, knee or ankle injury. This is because, when in use we have at least two or three points of contact on the ground at any one time. Compared to walking without, when in motion we will be balanced on only a single foot. When carrying heavier or multi-day loads, I see them as essential, as the larger load is shared between lower and upper body.
Now consider the difference between a path in your local park and a remote mountain. As the terrain becomes more uneven, their practicality increases still further. When the trail runs out, poles can help support your whole body as you navigate the lumps and bumps. Then there's bog to negotiate, and rivers to cross. Poles allow us to 'feel out' these slippery unknowns before we enter them, gain purchase and transfer weight carefully from one limb to the next.
The same goes for snow and ice, where poles provide extra security when post holing, crossing streams that are snow-covered, and probing for weaknesses in the snowpack to prevent losing an ankle or worse to the abyss. Should the worst result, and a limb needs to be 'set' in an accident, a pole makes for an excellent splint – particularly if you wrap gaffer tape around the stem for emergencies. And for lightweight tent or tarp users, they can even be used to hold up a shelter.
There's nothing wrong with an old-fashioned walking stick. However modern trekking poles come in uniform pairs, are height adjustable and generally lightweight. They can be collapsed or folded away in transit, and have wrist straps.
---
Trekking pole contents
---
What makes a good trekking pole?
Materials – Most modern trekking poles are made from aluminium, which is reasonably environmentally friendly (around 75% of all aluminium is recycled) or, increasingly, carbon, which has a good strength-to-weight ratio. Shaft diameter as well as material will determine whether the pole is reliable in use and durable over the longer term.
Handle – Often made of foam or cork, these need to be grippy in all weathers and provide some insulation from the main pole shaft. Check that the grip will fit easily in your hand and that it extends some way down the upper shaft – it's useful when contouring to quickly move your hand up and down the pole without altering its height.
Straps – Straps vary in design, from simple hoops that loop around the wrist to complex systems that are designed to improve leverage. Be cautious on very steep ground – breaks or sprains can result from being 'tied in' to poles in this way.
Locks – When not in use, trekking poles can be folded away or collapsed down to save space. The three most common connections are twist lock (a friction-based system), flick lock (hinge-based), or fold lock (by tension, which depends on the cord that runs down the length of the shaft internally). The latter often collapse smaller and more lightweight but are generally less durable and cannot be completely disassembled. The joints also allow the user to adjust the height of the pole. Check that the pole you purchase has enough height adjustment for your body height.
Baskets – Baskets stop the pole sinking into the ground. Some poles are supplied with two sets – a smaller trekking basket, and a much wider snow basket
for winter conditions.
Ferrule – The most common tip is a metal point, which provides excellent grip but can contribute to soil erosion in popular areas. Some poles are also supplied with a rubber foot that fits over the top of these points. which is fine for less technical terrain. When not in use, poles should always be transported on your pack with their points facing down. Mountain Rescue has plenty of grisly stories that show why.
---
Here are six of the best trekking poles for hiking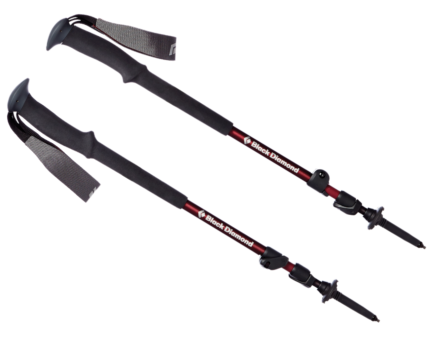 Black Diamond Trail - Best buy
Pros: Price, durability 
Cons: Not the lightest
Price: £95 (pair)
Weight: 256g each
Materials: aluminium shaft, foam handle | Features: 3-section pole, fabric straps, flick lock system, 3-season and winter baskets supplied | Sizes: packed length 64cm, fully extended 140cm
The Black Diamond Trail is a tried and true trekking pole whose strength lies in its simplicity. It's a 3-section aluminium pole with instantly readable measurements in metric given on the lower two sections, and a good range of height adjustability. The foam handle is well suited for medium-sized hands and comes in a single, long piece, with very basic moulding for the bottom of the palm. In combination with a reasonable price, the BD Trail gets my Best Buy.
Read the full Black Diamond Trail review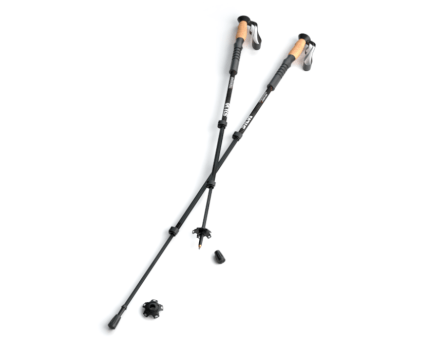 Silva Trekking Poles Carbon - Recommended
Pros: Comfy handle material, robust in use, lightweight
Cons: Large handle, flick lock adjusters prone to snagging
Price: £120 (pair)
Weight: 215g each
Materials: carbon shaft, cork handles | Features: cork handle, fabric strap, 3-section pole, winter basket and rubber feet supplied | Size: packed length 66cm, fully extended 140cm
Silva all-carbon poles are lightweight, comfortable to use and exceptionally robust. The handles are luxurious and provide excellent sweat management, but the grips are on the large size, even for my 'size large' hands. Thinner carbon poles tend to bend or wobble under strain, but these are well-made, wider-diameter shafts that have held a shelter up in high winds without complaint. In conclusion, there's lot to recommend here, especially if you have big mitts.
Read our full Silva Trekking Poles Carbon review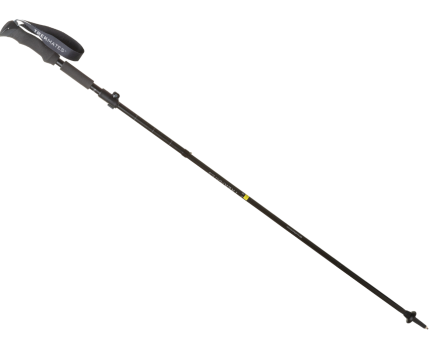 Trekmates Fold Lock
Pros: Cost, small size when packed, solid aluminium shaft
Cons: Small lower handle, fold lock system not as durable
Price: £30 (single)
Weight: 269g each
Materials: aluminium, foam handle | Features: 3-section pole, fabric strap, fold lock system with flick lock height adjuster, 3-season basket supplied. | Sizes: packed length 35cm, fully extended 125cm
The Trekmates are the budget option here and would be my personal choice of the two in this review that incorporate a folding lock system. It's advertised as a five-section unit, but in practical use it's four. The pole sections are 'aircraft grade' aluminium (marketing speak for 'tough'?). and the unit is held together by a plastic-coated wire cord.
Read our full Trekmates Fold Lock review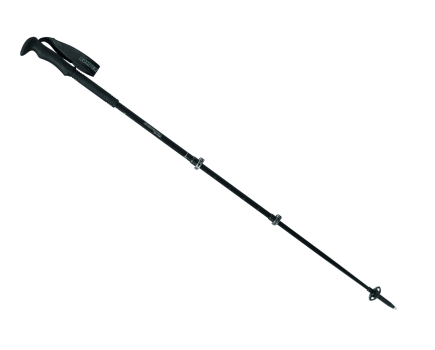 Komperdell Carbon C3 Cloud Compact
Pros: Small packed length, lightweight, very rigid, good handle
Cons: Irregular shaft diameter (won't accept connector for pyramid tarp use), expensive
Price: £130 (pair)
Weight: 206g each
Materials: carbon shaft, aluminium locks, foam handle | Features: 3-section pole, fabric straps, flick lock system, 3-season baskets supplied. | Sizes: packed 57.5cm, fully extended 121cm
The Cloud Compact from Komperdell is the lightest pole in this test, but very tough and well-designed. It's a three-section, all-carbon pole, with the sections being adjusted by flick locks. In use, the use of carbon throughout means the weight balance shifts towards the upper third of the pole, but they are so lightweight overall they are hard not to enjoy using.
Read our full Komperdell Carbon C3 Cloud Compact review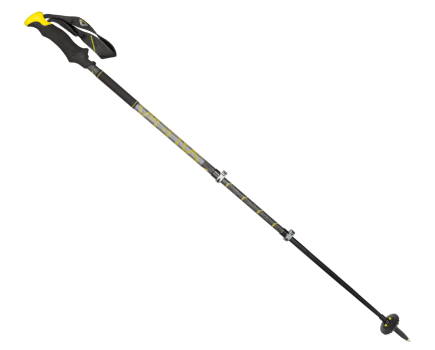 Salewa Carbonium Ascent Poles
Pros: Very robust, ball basket design
Cons: Weighted heavier at tip end
Price: £125 (pair)
Weight: 232g each
Materials: carbon (upper) and aluminium (lower) shafts, foam handle | Features: 3-section pole, fabric straps, foam handle, flick lock system, 3-season basket supplied. | Sizes: packed 68cm, fully extended 138.5cm
The Carbonium is a three-section, composite pole – the upper two are carbon and the lower third is aluminium. Each section is held together with flick locks, tensioned by recessed Phillips screw. In use, the poles proved secure and rigid, but the use of carbon in the upper sections and aluminium lower down means the pole feels unevenly weighted at the tip.
Read our full Salewa Carbonium Ascent Poles review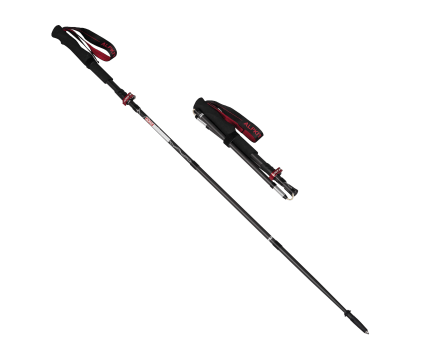 Alpkit Carbon Marathon
Pros: Cost, weight
Cons: Narrow range of useable length 113-130cm, fold lock durability, poor strap
Price: £80 (pair)
Weight: 229g each
Materials: carbon, foam | Features: 3-section carbon, foam handle, fabric strap, fold lock with flick lock height adjuster, 3-season basket and rubber feet
supplied | Sizes: packed 42cm, fully extended 130cm
All-carbon, five-section, folding lock-based pole that folds small and is quite lightweight. The sections go together easily, but the brass pin that holds the sections once assembled is prone to sticking. I've managed to field repair with a penknife each time. Sadly, in use the poles wobbled and bowed, and felt very insecure once off a groomed trail.
Read our full Alpkit Carbon Marathon review